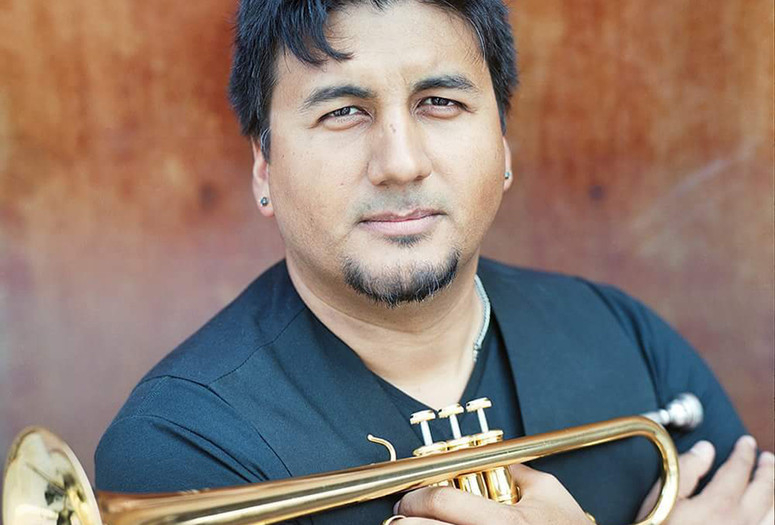 Michael Rodriguez, trumpet; John Ellis, tenor saxophone; Gary Versace, piano; Carlos Henriquez, bass; Obed Calvaire, drums
Michael Rodriguez (b. Queens, NY, 1979) is a Grammy-nominated trumpeter and composer who has performed and toured with Clark Terry, Bobby Watson, Quincy Jones, Joe Lovano, Toshiko Akiyoshi Orchestra, Jessica Simpson, the Chico O'Farrill Orchestra, Lincoln Center Jazz Orchestra, and Lincoln Center Afro-Latin Jazz Orchestra. Among his many recordings are albums with Charlie Haden's Liberation Music Orchestra and Gonzalo Rubalcaba Quintet. In 2013 Mr. Rodriguez released his debut solo recording, Reverence, on the Criss Cross label. He and his brother, the pianist Robert Rodriguez, have recorded four albums together; their most recent, Impromptu, received a 2016 Grammy nomination for Best Latin Jazz Album.
Rodriguez writes that his Summergarden premiere, Pathways, "pays tribute to the influences that have sculpted my creative course of action. . . . The pivotal moment came when I was introduced to Louis Armstrong's artistry. It absolutely enriched what I have been absorbing musically in both [jazz and Latin jazz]. In writing Pathways, I attempted to include the aesthetics of all these influences from both musical worlds that continue to inspire me."
The Museum of Modern Art established Summergarden in 1971. In keeping with MoMA's history of presenting jazz and classical music in the Sculpture Garden, this year's concert series once again welcomes the participation of The Juilliard School and Jazz at Lincoln Center. Titled New Music for New York, the series comprises four evenings of adventurous contemporary music, with premieres each night. Juilliard concerts are performed by members of the New Juilliard Ensemble and the Ansonia Quartet, under the artistic direction of Joel Sachs. Mr. Sachs has assembled two distinctive programs of recent compositions, which are enjoying their New York premieres. Jazz at Lincoln Center has selected two stylistically different jazz ensembles whose concerts emphasize original works, each with one world premiere.
Summergarden is free and seating is on a first-come, first-served basis. The Sculpture Garden may close if attendance reaches maximum capacity. Entrance to Summergarden is through the Sculpture Garden gate on West 54 Street between Fifth and Sixth avenues. The Sculpture Garden opens at 7:00 p.m., and concerts start at 8:00 p.m. and run approximately one hour to 90 minutes. The Sculpture Garden closes at 10:00 p.m. In the event of rain, concerts will be held in The Agnes Gund Garden Lobby, and the Museum's 54 Street entrance will open at 7:30 p.m. The exhibition galleries are closed during Summergarden. The Garden Bar, located on the northeast end of the Sculpture Garden, features a selection of homemade snacks, draft beer, wine, and nonalcoholic beverages. In the event of rain, the Garden Bar is closed.