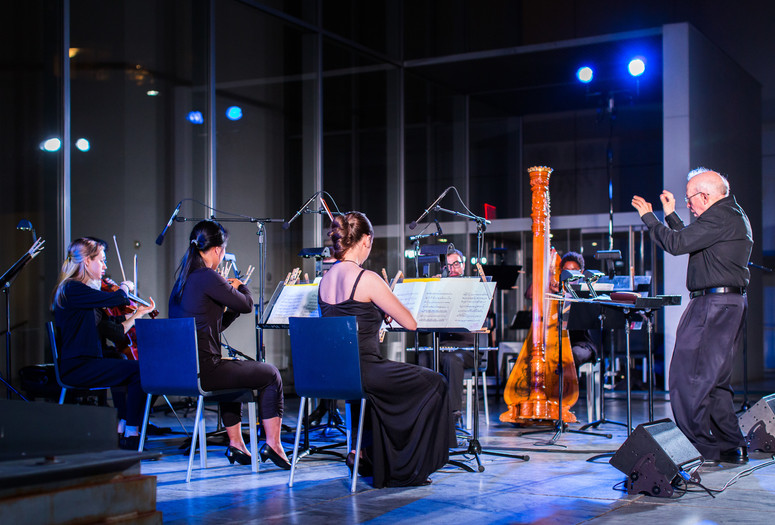 Members of the New Juilliard Ensemble: Joel Sachs, director and conductor; Emily Duncan, flutes; Shen Liu, clarinets; Sae Hashimoto, percussion; Rieko Tsuchida, piano; Parker Ramsay, harp; Julia Glenn, violin; Sofia Basile, viola; Yu Yu Liu, cello; Anneliese Klenetsky, soprano
Shin-ichirō Ikebe (Japan, b. 1943)
Tanada II (2004)
New York premiere
Shin-ichirō Ikebe has enjoyed a long career as a professor of composition at the Tokyo College of Music. He has written a large portfolio of music for ballet, film, theater, radio, and television, as well as a huge amount of symphonic music. Of Tanada II, commissioned by the Mito Arts Foundation, the composer notes, "Tanada is the Japanese for 'terraced rice fields.' They gave me the inspiration for this composition: a sound that wants to stay in a high range cannot support itself, and it continues to come down and down, and finally finds a place to rest at a certain level. . . . Repetitions hidden in the piece make it different from typical minimal music you hear."
Philip Cashian (United Kingdom, b. 1963)
Leonora Pictures (2017)
United States premiere
The visual arts are a rich source of inspiration for Philip Cashian, who studied with Oliver Knussen and Simon Bainbridge, and has been the head of composition at London's Royal Academy of Music since 2007. He writes, "Inspired by the fantastical characters and landscapes of Leonora Carrington's surreal paintings, Leonora Pictures is a 22-minute journey through a series of interconnecting panels, each drawing on the virtuosity of different combinations of instruments. The piece is scored for flute, clarinet, percussion, piano, harp, violin, viola, and cello, and was commissioned by Psappha—a new-music ensemble in Manchester—in 2017."
James Primosch (United States, b. 1956)
A Sibyl (2017), on texts by Susan Stewart
Anneliese Klenetsky, soprano
New York premiere
When James Primosch asked his friend Susan Stewart for song texts, she responded with six poems that are, in the composer's words, "reflections on the mysterious prophetess spoken of in Virgil and Ovid. . . . Having been granted eternal life, but failing to ask for eternal youth, she is reduced to no more than her voice. I understand the sibyl as an archetype of the musician who sings for us of fate and the mysteries of life, death, and love; who guides us in moonlit and shadowy places; and whose prophetic voice resounds unendingly, in power, and in vulnerability." Primosch teaches at the University of Pennsylvania; his principal teachers were Mario Davidovsky, George Crumb, and Richard Wernick.
The Museum of Modern Art established Summergarden in 1971. In keeping with MoMA's history of presenting jazz and classical music in the Sculpture Garden, this year's concert series once again welcomes the participation of The Juilliard School and Jazz at Lincoln Center. Titled New Music for New York, the series comprises four evenings of adventurous contemporary music, with premieres each night. Juilliard concerts are performed by members of the New Juilliard Ensemble and the Ansonia Quartet, under the artistic direction of Joel Sachs. Mr. Sachs has assembled two distinctive programs of recent compositions, which are enjoying their New York premieres. Jazz at Lincoln Center has selected two stylistically different jazz ensembles whose concerts emphasize original works, each with one world premiere.
Summergarden is free and seating is on a first-come, first-served basis. The Sculpture Garden may close if attendance reaches maximum capacity. Entrance to Summergarden is through the Sculpture Garden gate on West 54 Street between Fifth and Sixth avenues. The Sculpture Garden opens at 7:00 p.m., and concerts start at 8:00 p.m. and run approximately one hour to 90 minutes. The Sculpture Garden closes at 10:00 p.m. In the event of rain, concerts will be held in The Agnes Gund Garden Lobby, and the Museum's 54 Street entrance will open at 7:30 p.m. The exhibition galleries are closed during Summergarden. The Garden Bar, located on the northeast end of the Sculpture Garden, features a selection of homemade snacks, draft beer, wine, and nonalcoholic beverages. In the event of rain, the Garden Bar is closed.