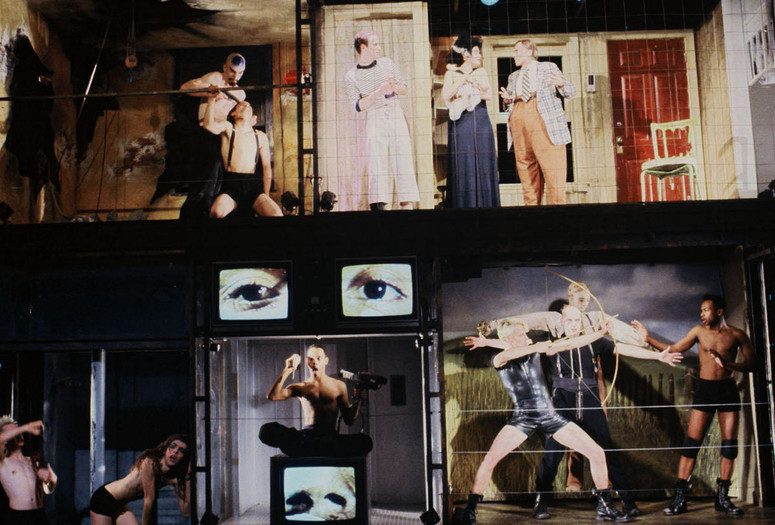 At our Summer Open House, explore new solo exhibitions featuring the work of Reza Abdoh, Seth Price, and Sue Coe, as well as the group exhibition Body Armor, which brings together works by Maryam Hoseini, Delilah Montoya, Ana Pellicer, and Zadie Xa . Enjoy conversations between artists and curators, and see a rare performance of selections from key Abdoh productions performed by members of the artist's original company. The entire day is free and open to the public.
At 1 p.m., on the occasion of the opening of Sue Coe: Graphic Resistance, the artist joins Peter Eleey, Chief Curator, for a conversation focusing on the politics of witnessing and art as activism. They will consider the various ways in which Coe has combated abuses of power—animal cruelty, xenophobia, sexism, racism—in her artwork for the past forty years. The discussion will be followed by a sale of Coe's prints to benefit the Skylands Sanctuary and Animal Rescue.
At 3 p.m., Fernando Palma Rodríguez will join Ruba Katrib, Curator, for a conversation exploring intersections between robotics, language, the environment, and indigenous cultures in his exhibition In Ixtli in Yollotl: We the People. A trained engineer as well as an artist, Palma Rodríguez also runs a foundation dedicated to the preservation and cultivation of Nahuatl, one of the most important languages in the pre-Hispanic Americas.
At 5 p.m., to celebrate the opening of Reza Abdoh, four actors from the artist's original company will reunite in the exhibition galleries to enact selections from Abdoh's plays. Tom Fitzpatrick, Juliana Francis-Kelly, Jacqueline Gregg, and Tom Pearl will read from Bogeyman (1991), The Law of Remains (1992), Quotations from a Ruined City (1994), as well as from an unrealized treatment of the Faust legend, which Abdoh penned in 1986.