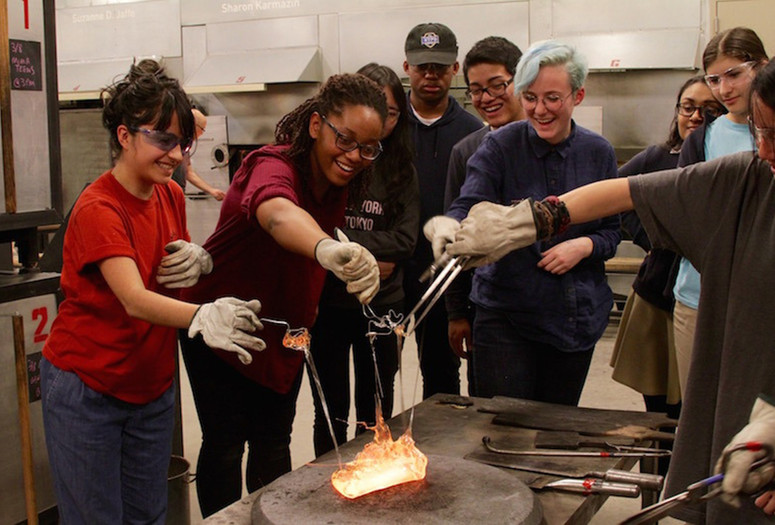 Free hands-on art courses for NYC high school students. MoMA provides all materials, food, studio space, and more. Each course meets three times a week, on Tuesdays, Wednesdays, and Thursdays.
Applications are due May 29, 2018. Please note: these courses are available to New York City residents only. No experience necessary!
E-mail [email protected] for more information or call 212-333-1252.
Go Big or Go Home!
Large-Scale Sculpture with No Limits
Tue, Wed, Thu, 10:00 a.m.–1:00 p.m
July 10–August 16
From the pyramids, to skyscrapers, to massive billboards, humans have always been fascinated with larger-than-life scale. But at a time when everything seems to be programmed to fit into our pockets, on screens, and in tiny NYC apartments, what does it mean to create massive, space-filling, towering things? Taught by artist Rotem Linial, this course will explore the unapologetically colossal, messy, and over-the-top ways that artists can use space and dimension to express themselves in a big way. Using traditional and unconventional materials to make statements that take up space, we'll try to answer the question—what does a whisper sound like when it's blasted through stadium speakers?
The Pleasure Principle
Paintings that Fight Back Against Depression and Distress
Tue, Wed, Thu, 10:00 a.m.–1:00 p.m
July 10–August 16
The darkest times have always called upon artists to pave the way towards freedom, truth, and happiness. In this class, led by artist Sophie Grant, we will experiment with the medium of painting to create artworks that are full of life and possibility! Beyond the joy of moving paint around, we'll experiment with materials such as glitter, beads, and sequins, and use our own bodies along with processes such as collage, transfers, performance, dyeing, embroidery, and mosaics. From hippie culture to disco, cults, meditation, psychedelic experiences, and more—we'll draw on society's fascination with rituals and celebrations that bring us closer to the trippy and timeless desires we crave!
Whose World is This?
Exploring Storytelling and Community through Clay
Tue, Wed, Thu, 2:00–5:00 p.m.
July 10–August 16
Sculptures can tell stories. Not just the stories that we see on the surface, but stories about the culture, context, and community behind an artwork. What happens when humans work together to create new narratives that imagine how our society and communities could be? Led by artist Shellyne Rodriguez, participants in this hands-on sculpture course will create characters and construct environments using clay and coiling techniques. We'll explore physical forms, current fashions, outdoor spaces, neighborhoods, and more as we create our own worlds out of clay!
Boom Bap Cinema
Making Video and Audio Production on the Go
Tue, Wed, Thu, 2:00–5:00 p.m.
July 10–August 16
Sometimes filmmaking can't be contained within a set or studio. Sometimes music moves us in a way that extends far beyond the physical realm. In this digital art course, run by multimedia artist Ali Santana, participants will experiment with a variety of storytelling techniques using video editing and music production software to craft a series of audio/visual collages. Using transportable recording devices, the group will explore the city streets and bring back raw materials to mix, loop, stretch, scratch, chop, and reassemble into intricate and electrifying artworks. No prior experience is necessary—if you've ever filmed a video on a phone you're already qualified to start telling stories, sampling sounds, and remixing your experiences into something amazing.
In the Making provides free hands-on studio art courses for NYC high school students every summer. No previous art-making or arts experience is necessary to take part. MoMA provides all materials, food, Metrocards, and other costs. In the Making courses meet three times a week for six weeks, culminating in a Teen Art Show featuring participating teens' artworks. More information on each of the courses can be found below. Please note: In the Making classes take place at MoMA PS1, located at 22-25 Jackson Avenue, Long Island City, NY 11101. Summer 2020 courses run from July 7 through August 13, and applications are due June 1.
Summer 2020 programs have been postponed indefinitely. Please contact [email protected] for more information.
For inquiries about ItM, contact [email protected] or call (212) 333-1252.