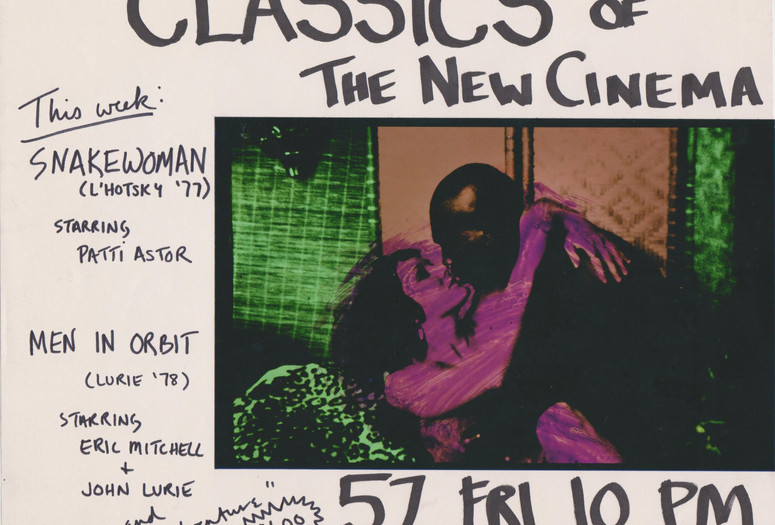 Replicating a Club 57 homage to the New Cinema organized by Patti Astor in 1981, this program brings together two inventive examples of the camp and genre-inflected Super8 narratives being created on the scene. In its 1979 premiere at the Saint Marks Place New Cinema Super8-to-video screening room, John Lurie's Men In Orbit was billed as "a simulated documentary of an Apollo mission." Lurie and Mitchell play a pair of astronauts who "take off in a capsule built in a Lower East Side apartment—and eat hamburgers and banana cake for five deranged days in space." What J. Hoberman described in the Village Voice as sci-fi povera is completed with Michael McClard's voice as Mission Control. Snake Woman, created by Downtown artist and beloved Queen of the Mudd Club Tina L'Hotsky, stars Astor as a waylaid heroine fending for herself in the wild. Filmed guerilla style in Central Park, the film's exotic élan and theatrical performances express an homage to 1940s-era jungle movies and the underground cinema of Jack Smith.
Snake Woman. USA. 1977. Directed by Tina L'Hotsky. With Patti Astor, Eric Mitchell, Marvin Foster, David McDermott. Cinematography by Michael Oblowitz. Video from Super8mm. 15 min.
The Museum of Modern Art, New York.
Men in Orbit. 1979. USA. Directed by John Lurie. With Lurie, Eric Mitchell, Arto Lindsay, Michael McClard. Cinematography by James Nares. Digital video from Super8mm. 45 min.
Andrea Callard Papers, Fales Library and Special Collections, New York University.