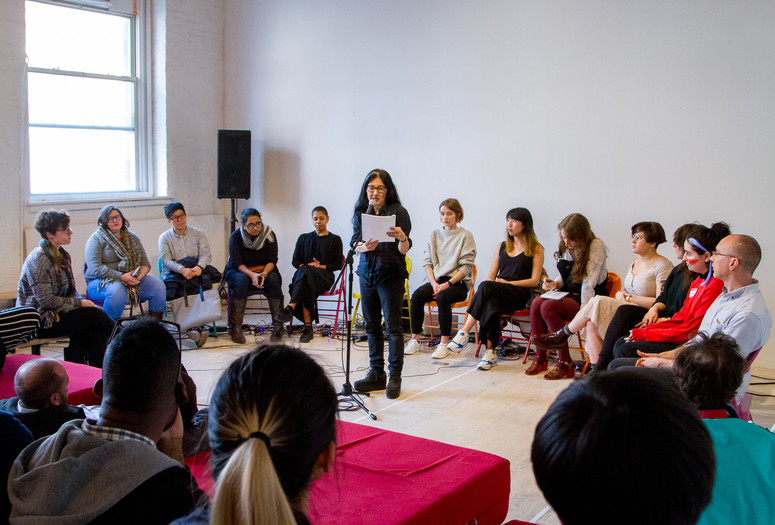 Composer, performer, and sound artist Miya Masaoka considers the vagina to be the "third ear," a site for new ways of listening and perceiving. Guests are invited to sit on chairs, each tuned to a specific frequency and transformed into an unorthodox loud speaker. Performers will wear handmade vaginal inserts that track the internal sounds of the body. These sounds combine to create a collective hum, documenting the sound of participants' orifices and movements. Miya Masaoka will read excerpts from her forthcoming essay and manifesto to be published in kunstMusik later this year.
This event takes place at Artbook @ MoMA PS1.
MoMA PS1's acclaimed VW Sunday Sessions program welcomes visitors to experience art live and in real time. Embracing performance, music, dance, conversations, and film, the program vividly demonstrates how these art forms can push us to engage with our contemporary world in creative, illuminating ways. With an emphasis on artistic practices that blur and break traditional genre boundaries, the program supports and commissions new work, inviting artists, curators, and other cultural instigators to share their latest projects. MoMA PS1 offers one of the most extensive museum programs dedicated to live art in the world, representing a core component of the institution's mission since its founding.
VW Sunday Sessions is organized by Taja Cheek, Curatorial Assistant, MoMA PS1; and Alex Sloane, Curatorial Assistant, MoMA PS1, with Alexandra Rosenberg, Associate Producer.

VW Sunday Sessions and the VW Dome at MoMA PS1 are made possible by a partnership with Volkswagen of America, who have supported the program for six years since its inception.