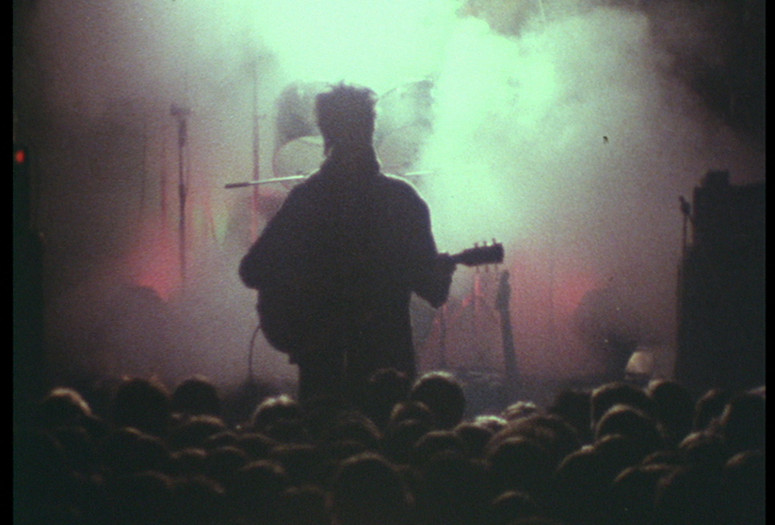 While music television hastened the spread of pop culture icons to audiences far and wide, artists used video to achieve more radical and artistic ends. Avant-garde filmmaker John Smith was commissioned by Warner Brothers Music to create an Echo and the Bunnymen promo for release with the new wave band's 1981 EP Shine So Hard. The 30-minute film, like so much of Smith's moving-image work, upends the medium's underlying structures. (The work disappointed its backers and has been shown rarely). Concert footage centering on frontman Ian McCulloch is scarcer than quiet moments with the bandmates at mealtimes or artful vistas of pubs and snowy streets, all stringed together without hierarchy into an abstracted, avant-garde collage. On the social front, the television technicians union ACTT produced videos in support of the 1984 miners' strike, in alliance with politically active artists and the miners themselves. This episode of The Miners' Campaign Tapes focuses on the anti-miner narrative and personal attacks on strike leaders by mainstream television and press outlets. The easily produced and affordable video technology allowed the trade movement to create what film historian David E. James has called "working class television" as an alternative means of disseminating information, strengthening social bonds, and mobilizing resistance to the Thatcher government. The program concludes with examples of the Scratch Video movement, a loose grouping of artists in the early 1980s who drew on remix culture and television in their rapid-fire, punchy video assemblages. Pairing news, TV programs, and film broadcasts with graphic effects and new wave music, George Barber, the Duvet Brothers, and other Scratch artists created subversive and highly colorful video art—all packaged in Barber's influential and knowingly titled compendium The Greatest Hits of Scratch Video Volume 2.
Program 76 min.
Echo and the Bunnymen: Shine So Hard. 1981. Great Britain. Directed by John Smith. Digital video from 16mm. 32 min.
The Miners' Campaign Tapes: The Lie Machine. 1984. Great Britain. Directed by ACTT. Video. 16 min.
The Greatest Hits of Scratch Video Volume 2. 1984. Great Britain. Produced by George Barber with work by Barber, The Duvet Brothers, Tim Morrison, Kim Flitcroft, Sandra Goldbacher, Gorilla Tapes. Video. 28 min.