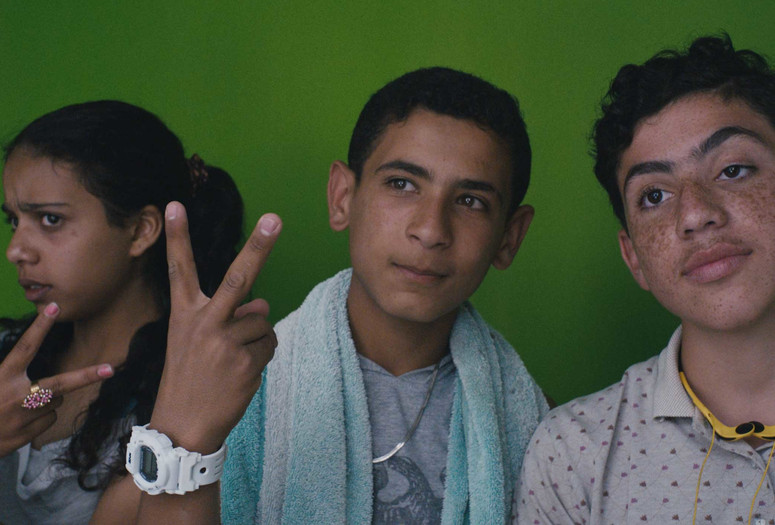 From an atmospheric thriller set in Iran, uncanny and moving sketches of displaced people, to a musical documentary and an atypical dance film, these five bold shorts evoke the struggles and joys of communities from around the world.
Program 98 min.
City of Tales. 2018. France/USA. Directed by Arash Nassiri. In Farsi; English subtitles. 20 min.
North American Premiere
Los Angeles plays Tehran in Arash Nassiri's uncanny, nocturnal meditation on memory and place, which follows a group of people during Nowruz, the 13-night celebration of the Iranian New Year.
Rupture. 2017. Jordan/Canada. Directed by Yassmina Karajah. In Arabic; English subtitles. 18 min.
Unable to communicate with the world around them, young Arab teenagers attempt to navigate their new town on a sticky summer day, in search of comfort and a public swimming pool.
Palenque. 2017. Colombia/USA. Directed by Sebastián Pinzón Silva. In Spanish/Palenquero; English subtitles. 25 min.
New York Premiere
Sebastián Pinzón Silva's ambulant, melodic documentary is set in San Basilio de Palenque, evoking the rich musical history and collective memory of the first freed slave settlement in the Americas.
Negah (Gaze). 2017. Iran/Italy. Directed by Farnoosh Samadi. In Persian; English subtitles. 14 min.
New York Premiere
A woman witnesses a crime and must decide whether to speak up in Farnoosh Samadi's taut and tense film.
Home Exercises. 2017. USA. Directed by Sarah Friedland. 21 min.
Sarah Friedland's nonfiction dance portrait of the gestural habits of elderly people in their homes is a sweet, droll, and precisely observed study of the subtle movements and choreographies of domesticity.