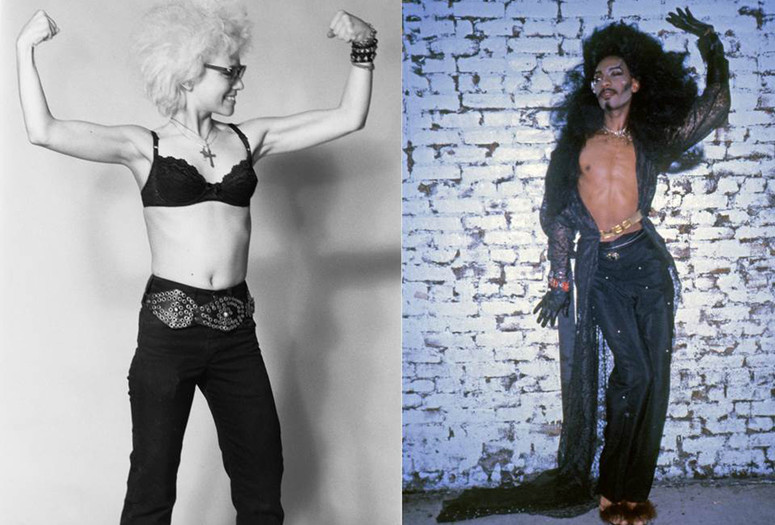 In conjunction with the exhibition Club 57: Film, Performance, and Art in the East Village 1978–1983, this symposium explores the history and legacy of gender expression and performance in 1980s New York City. During this period of fluid experimentation, Club 57 was one in a constellation of post-punk social clubs, artist collectives, and galleries united by an interdisciplinary, collaborative approach to artistic production.
The symposium will include screenings, panel discussions, audience dialogue, and a reception. Moderators, including writer, curator, and archivist Sur Rodney (Sur), performance artist and scholar Holly Hughes, and curator Travis Chamberlain, will be joined by performers, theater artists, and veterans of the Downtown scene to consider this crucial moment in the evolution of gender culture and its relevance today. Attendees are encouraged to come early to see the exhibition, an open screening of Diane Torr's documentary Man for a Day, and a performance of Gender Fuck by Bradley Wester.
Featured speakers include Moe Angelos, Jordan Arseneault, Brian Butterick aka Hattie Hathaway, Travis Chamberlain, Peter Cramer, Reina Gossett, Erin Markey, Carmelita Tropicana, Martha Wilson, Jack Waters and Peter Cramer, and Rafael Sánchez.
Please enter through the Film entrance, at 11 West 53 Street.
Tickets ($15; $10 members and Corporate members; $5 students, seniors, and staff of other museums) can be purchased online, at the information desk, or at the Film desk on the day of the program.
This event will be live-streamed.
Schedule
Pre-Symposium Programming
10:30 a.m.–12:30 p.m.
The Yoshio and Akio Morita Gallery, Floor T1
Come early to see the exhibition Club 57: Film, Performance, and Art in the East Village, 1978–1983, and catch these screenings and performances. No tickets are required for the pre-symposium programming.
10:30–12:00
A Documentary on Diane Torr: Man for a Day. 2012. Germany/Great Britain. Directed by Katarina Peters. 96 min.
10:30–12:00
Exhibition viewing with screenings of Clayton Patterson Club Performance Videos
12:00–12:30
Bradley Wester performs Gender Fuck
Symposium
1:30–2:00
Welcome and Opening Remarks
Ron Magliozzi and Sophie Cavoulacos
2:00–3:15
XX Rated: Legacies of Feminist and Queer Women in East Village
Performance
Holly Hughes, Moderator
Moe Angelos
Carmelita Tropicana
Martha Wilson
Audience Q&A
3:15–3:30
Break
3:30–4:45
Gender Play: Social Spheres and Art in 1980s New York
Sur Rodney (Sur), Moderator
Brian Butterick aka Hattie Hathaway
Peter Cramer
Rafael Sánchez
Jack Waters
Audience Q&A
4:45–5:00
Break
5:00–6:15
The Downtown Scene as Studio, Subject, and Fantasy, 40 Years Later
Travis Chamberlain, Moderator
Jordan Arseneault
Reina Gossett
Erin Markey
6:30–7:30
Reception
The Marlene Hess and James D. Zirin Lounge, Floor 1
Presenters
Theater artist and writer Moe Angelos is a core member of The Builders Association, a New York–based theater company that makes innovative, large-scale, media-infused performances. She's one of The Five Lesbian Brothers, an Obie Award–winning theater company, and she has been a member of the Wow Café Theater since 1981. She has collaborated with many Downtown NYC performers, including Lisa Kron, Carmelita Tropicana, Anne Bogart, Holly Hughes, Lois Weaver, Kate Stafford, Brooke O'Harra, Half Straddle, and The Ridiculous Theatrical Company. She is a mentor in Queer/Art/Mentorship and she will appear this fall with The Builders Association at BAM.
Jordan Arseneault is a performer and film curator in Montréal. He employs song, cello, drag, and a mix of original and found text in his stage work. He has developed two social practice workshops, Fear Drag (2010–present), and Disclosure Cookbook (with the artist Mikiki). His collaborative performances, (Serocene, MIX NYC, 2014; Propositions for the AIDS Museum, 2014–17) and participatory works address issues of criminalization, stigma, HIV/AIDS, addiction, queerness, and community. His agitprop poster SILENCE=SEX was part of the Rubin Foundation's 2017 VOICE = SURVIVAL exhibition at the 8th Floor Gallery. Arseneault will perform at the La Mama Galleria/VisualAIDS exhibition Cell Count in June 2018.
New York–born Brian Butterick (aka Hattie Hathaway) has been a performer, actor, writer, producer, and personality working in Downtown art, theater, film, and nightlife for over 40 years. He currently sits on the executive board of HOWL! Arts, and made his Broadway debut in 2006 in The Threepenny Opera. In the 1980s, Butterick cofounded The Pyramid Club, a venue that owed much to Club 57; cofounded and produced Wigstock; and composed and performed with the post-punk band 3 Teens Kill 4. Butterick is currently working on a memoir of his life with the late artist David Wojnarowicz.
Sophie Cavoulacos joined The Museum of Modern Art in 2012 and has been an assistant curator in the Department of Film since 2016. She is the co-organizer of Club 57: Film, Performance, and Art in the East Village, 1978–1983 and its accompanying film and live programming. She organized the film series Beyond the Frame: International Cinema by Magnum Photographers (2017), Films from Here: Recent Views from the Arab World (2015), and Critical Reverie: The Films of Isaac Julien (2014). She is on the selection committee of the New Directors/New Films festival and is the lead curator for Modern Mondays, the avant-garde moving-image series for which she has organized programs with Filipa Cesar, Alexander Kluge, Raha Raissnia, and Semiotext(e), among others. Prior to joining the Museum in 2012, Cavoulacos worked at the Whitney Museum of American Art, assisting the 2012 Whitney Biennial curatorial team.
Travis Chamberlain is a curator whose work encompasses performances, residencies, exhibitions, and community organizing, with a focus on marginalized cultural histories and the advancement of emerging queer voices. Major projects have included work with artists Ishmael Houston-Jones, Dennis Cooper, Karen Finley, Julie Tolentino, Wu Tsang, Jack Ferver, Tina Satter, Young Jean Lee, and Jennifer Monson, among others. Formerly an associate curator of performance at the New Museum and artistic director of Galapagos Art Space in Brooklyn, Chamberlain is now managing director at Queer|Art, a New York–based nonprofit that supports the creative and professional development of LGBTQ artists through models of mentorship and community exchange.
Peter Cramer is a multidisciplinary artist/performer and the cofounder of the art garden Le Petit Versailles and the nonprofit Allied Productions, Inc. Cramer's work has been presented by Anthology Film Archives, Danspace Project, ABC No Rio, MIX NYC, Microscope Gallery, FRISE/Hamburg, Center for Contemporary Culture of Barcelona, New Museum, Deitch Projects, Visual AIDS, and Venice Biennale. He is a co-editor and contributor to AIDS OS Y Version 10.11.6, a zine for Lost and Found Danspace Project Platform 2016; and, with Jack Waters, he is co-creator of Spaghetti Wrestling, a mixed-media performance at Museo Hermann Nitsch, Naples, Italy.
Reina Gossett is an activist, writer, and filmmaker. Along with Sasha Wortzel, Gossett wrote, directed, and produced Happy Birthday, Marsha!, a short film about legendary trans activist Marsha P. Johnson. Gossett is a 2007 Soros Justice Fellow, a 2009 Stonewall Community Foundation Honoree, and the recipient of the 2016 Ackerman Institute Community Award. Her work has been supported by the Open Society Foundation, Art Matters Foundation, and the Astraea Foundation's Global Arts Fund. She was a 2012–13 Queer/Art/Mentorship fellow. Along with Eric Stanley and Johanna Burton, Gossett edited the New Museum anthology Trap Door, on trans art and cultural production. Gossett recently released Atlantic Is a Sea of Bones, a short film about black life in the AIDS crisis.
Holly Hughes launched her career at the WOW Café in the East Village. Her performances have been presented internationally, garnering critical acclaim as well as ire from the right wing during the Culture Wars of the 1990s. She is the author of Clit Notes: A Sapphic Sampler; and co-editor of O Solo Homo (with David Roman), Animal Acts (with Una Chaudhuri), and Memories of the Revolution: The First Ten Years of the WOW Cafe Theater (with Jill Dolan and Carmelita Tropicana.) She is a recipient of fellowships and grants from NYSCA, NYFA, the NEA, and the Guggenheim Foundation. She is a professor at the Penny W. Stamps School of Art and Design at the University of Michigan.
Sur Rodney (Sur) is a writer, curator, and archivist. A fixture on the East Village art scene, Sur was codirector, with business partner Gracie Mansion, of the celebrated Gracie Mansion Gallery (1983–88), which helped establish the international reputations of many young and emerging artists. In the late 1980s, Sur shifted his practice to work with artists affected by the growing AIDS crisis, leading to his involvement with Visual AIDS and the Frank Moore Archive Project. He also began to collaborate on curatorial projects with his longtime partner Geoffrey Hendricks, organizing a series of exhibitions related to art and AIDS in the 1990s, and he wrote about the history of institutional exhibitions related to HIV/AIDS for the traveling exhibition Art AIDS America (2015). Sur's archives are in the Special Collections at Concordia University in Montreal.
The "hilariously sociopathic" (New York Times) Erin Markey is an actress and writer/creator of live performance works with original music compositions. She is an Eliot Norton Award winner and created Artforum's pick for Best Music of 2016, and she recently completed a 2017 residency at Joe's Pub at the Public Theater. She is a performing company member of the Obie Award–winning Half Straddle and she co-composed music for and performed in Ghost Rings (New York Live Arts, 2016). Her most recent original works include Boner Killer (Under the Radar Festival at the Public Theater, 2017), A Ride on the Irish Cream (Abrons Arts Center, 2016), and the upcoming Singlet (Bushwick Starr, opening May 2018).
Ron Magliozzi, who has organized over 50 film series and gallery exhibitions at The Museum of Modern Art since 1993, joined the staff in 1979 as a supervisor of MoMA's International Film Study Center. A specialist in collections research, development, and acquisitions, he was named curator in the Department of Film in 2016. Magliozzi has organized a number of groundbreaking exhibitions at MoMA, including 100 Years in Post-Production: Resurrecting a Lost Landmark of Black Film History, on the discovery of Bert Williams's Lime Kiln Club Field Day. The previously unidentified, 101-year-old film footage was selected by The Library of Congress for preservation in the National Film Registry and won Magliozzi the 2014 Film Heritage Award from the National Society of Film Critics. He also organized the blockbuster exhibition Tim Burton (2009), which toured internationally from 2009 to 2013.
Rafael Sánchez is a Havana-born visual artist based in Manhattan. While studying at Rutgers University, Newark (1981–84), he worked on Robert Whitman's Eclipse (Dia Art Foundation, 1983). He is a founding member of Aljira, then located in Newark's Roseville neighborhood. Look Don't Touch (1985) utilized a nearby highway underpass as an interzone of existential intimacy. He has created works for rooftops, canals, barges, and urban, suburban, and rural contexts. His projects with Lia Gangitano (The Libation Bearers, Thread Waxing Space, 1999; and REVOLVER, Participant Inc, 2004) are seminal works of "Rebis" theater.
Carmelita Tropicana, a persona born at the WOW Café, is a writer and performer. Her works have been presented nationally and internationally at such venues as the Institute of Contemporary Art, London; Performance Space, New York; and Vermont Performance Lab, Vermont. Tropicana's awards include a Guggenheim Fellowship, an Obie Award, Anonymous Was a Woman, and a Creative Capital grant for a collaboration with Branden Jacobs Jenkins. She is an editor, with Holly Hughes and Jill Dolan, of Memories of the Revolution: The First Ten Years of the WOW Café Theater. She is a longtime collaborator of the filmmaker/directors Ela Troyano and Uzi Parnes.
Jack Waters has collaborated with Peter Cramer for 35 years in international collectivist culture and practice. Known for experimental, cross-disciplinary, multimedia works that encompass experimental, non-narrative, documentary, and personal history strategies, their work has been featured at the Whitney Museum of American Art, New Museum, London Film-Makers' Co-op, Center for Contemporary Culture in Barcelona, Anthology Film Archives, and MIX NYC. They were codirectors of ABC No Rio, and founders of Allied Productions, Inc. and the community art garden Le Petit Versailles. Jack last appeared at MoMA in the lead role of the 2015 feature film Jason and Shirley, and his film Fashion Is is included in MoMA's New York Film and Video: No Wave–Transgressive series.
Martha Wilson as DISBAND. Everybody was in three bands, but they all knew how to play instruments and I didn't, so I called up artist girlfriends who were long on concept and short on skills, and DISBAND, the all-girl band of artists who couldn't play any instruments, was born. Barbara Kruger wrote two wonderful songs, "The End" and "Fashions," before leaving around the summer of 1979. Diane Torr, the dancer and outspoken activist, brought in fellow live wire Ilona Granet. The remaining members were Donna Henes, known by all as the Urban Shaman; Ingrid Sischy, then-editor of Artforum; and Martha Wilson, the founding director of Franklin Furnace.
Education at MoMA is made possible by a partnership with Volkswagen of America.

Major support for Adult and Academic Programs is provided by the Estate of Susan Sabel.

Generous funding is provided by endowments established by Agnes Gund and Daniel Shapiro, The Junior Associates of The Museum of Modern Art, Walter and Jeanne Thayer, and by the gifts of Alan Kanzer. Additional support is provided by the Annual Education Fund.