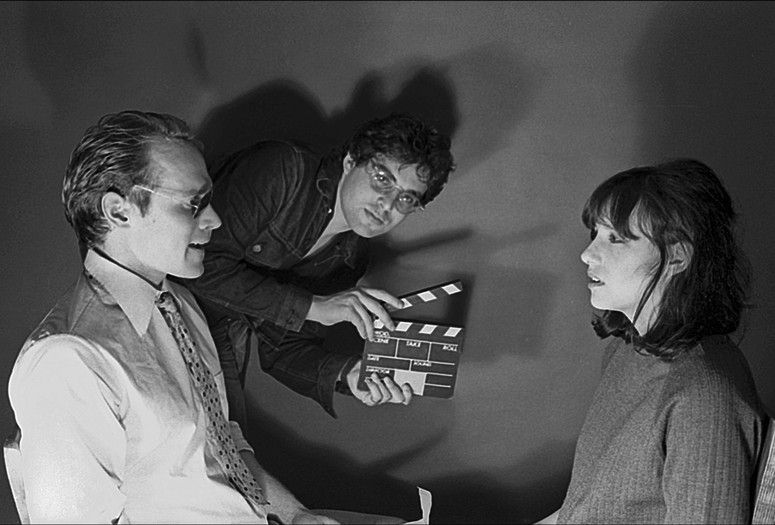 Michael Oblowitz—informed in notions of language and mind control by a childhood in apartheid South Africa and involvement in the journal *Semiotext(e)*—reigns over the semiotics-focused wing of No Wave filmmaking. His noirish featurette Minus Zero follows characters named after case studies by Sigmund Freud in an elliptical murder story. Saturated black-and-white 16mm cinematography transforms Manhattan into a science-fiction-like terrain as prostitute-informer Dora (Rosemary Hochschild) and a pair of detectives (the Wooster Group's Ron Vawter and Will Patton) traverse abandoned streets and the World Trade Center's geometric esplanade. The flatness of the characters and the plot is the key to the film's resonance as a recombining of cultural references. As Gary Indiana described it in a 1980 issue of East Village Eye, "Minus Zero is partly Raymond Chandler and Freud, Alphaville and Lacan, Wittgenstein and The Thin Man, but also manages to be Minus Zero, the end of language, life at the brink of the inexpressible, a virtuoso piece of filmmaking disguised as parody and homage." The earlier Table Conversation is a preview of similar themes. Inspired by Franz Xaver Kroetz's study of violence in the play Michi's Blood, the film chronicles a lovers' quarrel as a volley of insults are hurled across a domestic space that reflects the foul situation of its inhabitants.
Table Conversation. 1978. USA. Directed by Michael Oblowitz. Based on the play Michi's Blood by Franz Xaver Kroetz. With Rosemary Hochschild, Eric Mitchell, Anthony Piazza. 16mm. 10 min.
Minus Zero. 1979. USA. Written and directed by Michael Oblowitz. With Rosemary Hochschild, Eric Mitchell, Ron Vawter, Will Patton. Styling by Joe Shane. 16mm. 55 min.