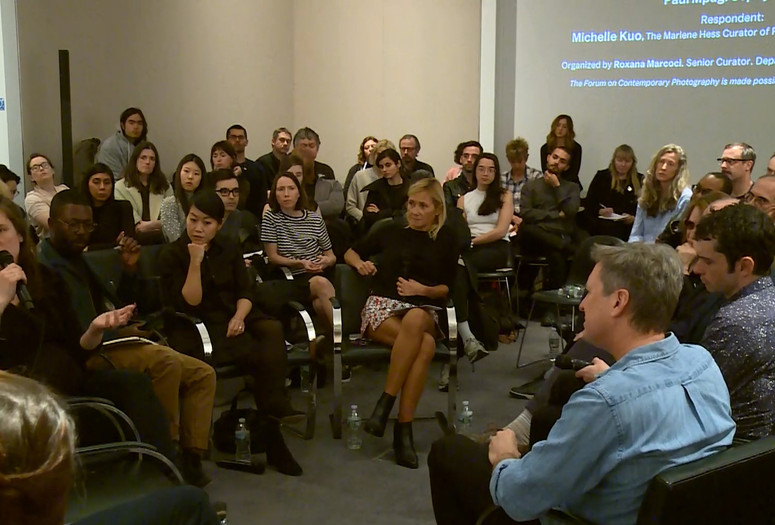 Technology increasingly mediates the ways in which knowledge, capital, ideology, and culture impact society. This session examines how digital and analog reproduction technologies, holographic re-creations, manipulated selfies, virtual reality, and alternative camera-lens representations are philosophically changing traditional modes of portraiture—and even "being" itself. This forum complements some of the themes explored in the exhibition Being: New Photography 2018, the latest edition of MoMA's longstanding New Photography series. The exhibition investigates charged and layered notions of personhood and subjectivity in recent photography and photo-based art, presenting works by 17 artists working in the US and internationally. The photo forum will focus not on the exhibition itself, but more broadly on ideas related to the intersection of human beings and technology networks.
This forum's featured speakers are artist Doug Aitken; Michael Connor, Artistic Director of Rhizome; artist Adelita Husni-Bey; Lucy Gallun, Assistant Curator, Department of Photography, MoMA; artist Lynn Hershman Leeson; screenwriter and film director James Schamus; and artist Paul Mpagi Sepuya. The respondent is Michelle Kuo, the Marlene Hess Curator of Painting and Sculpture, MoMA.
This event is invitation only, but we are very pleased to present a recording of the forum, which will allow remote friends and colleagues to hear the conversation.
Cofounded by curators Roxana Marcoci and Eva Respini on February 16, 2010, and conceived as an experimental platform for free-form critical discussions, MoMA's forums on contemporary photography are designed to encourage debate about the perspectives and scope of still and moving images and other forms of picture-making among leading artists, curators, and theorists in the field. The creative process of today is not solitary but dynamic, evolving from countless partnerships. These forums offer an intellectual milieu that values the scholarly reassessment of pivotal ideas in art, innovative practices, and complex and competing visions of modern and contemporary art.
Roxana Marcoci, Senior Curator, Department of Photography, begins each session with an introduction to the topic, providing context for the conversation. Four to seven featured speakers then present for five to 10 minutes each. The presentations are followed by a probing, critical Q&A session and a moderated discussion with all the guests.
Read an article about the Forums from Art in America.
Organized by Roxana Marcoci, Senior Curator, Department of Photography, The Museum of Modern Art.

This Forum on Contemporary Photography is made possible by the Pannonia Foundation.