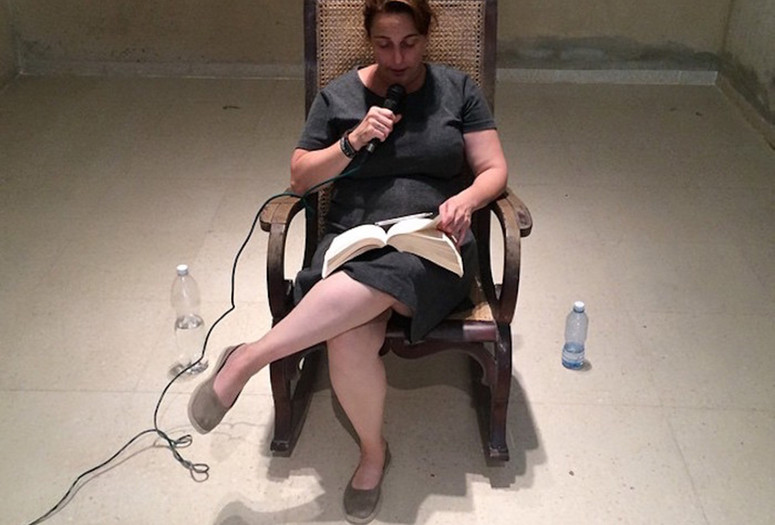 In conjunction with the exhibition Tania Bruguera: Untitled (Havana, 2000), join us for an evening with Tania Bruguera, art historian Claire Bishop, and Cuban curator and critic Gerardo Mosquera to discuss the historical, social, and political context of Bruguera's work, both in its initial site-specific iteration in Havana, and its current presentation at the Museum. The discussion is moderated by Stuart Comer, Chief Curator, Department of Media and Performance Art.
The exhibition will be open to all program ticket holders from 5:00 to 6:45 p.m. on the evening of the program. Please note that capacity will be limited to four people at a time; thank you for your patience in the queue. Admittance to the queue may close at least one hour prior to the start of the program, depending on attendance. This exhibition includes nude live performers, uneven footing, limited visibility, and fragrance. Wearing high heels in the exhibition is discouraged and bare feet are not permitted. A reception follows.
Tickets ($15; $10 members and Corporate members; $5 students, seniors, and staff of other museums) can be purchased online, at the information desk, or at the Cullman Building reception desk on the day of the program.
This event will be live-streamed.
Education at MoMA is made possible by a partnership with Volkswagen of America.

Major support for Adult and Academic Programs is provided by the Estate of Susan Sabel.

Generous funding is provided by endowments established by Agnes Gund and Daniel Shapiro, The Junior Associates of The Museum of Modern Art, Walter and Jeanne Thayer, and by the gifts of Alan Kanzer. Additional support is provided by the Annual Education Fund.