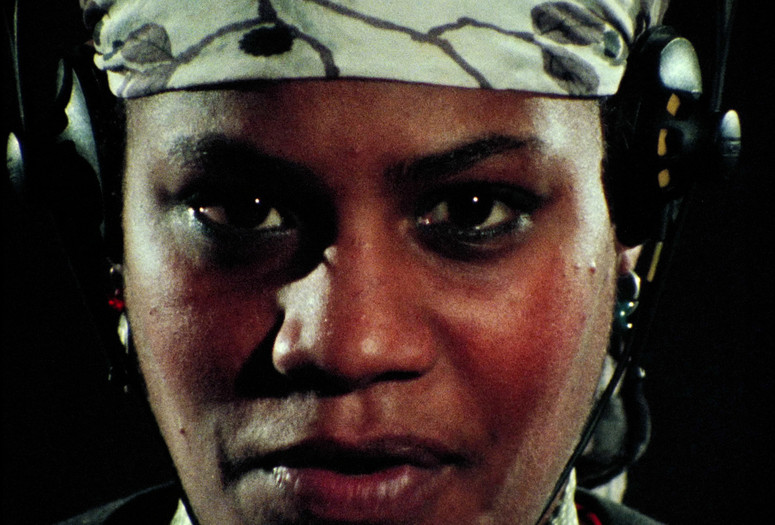 Born in Flames. 1983. USA. Directed by Lizzie Borden. With Adele Bertei, Honey, Jean Satterfield, Flo Kennedy, Hilary Hurst, Kathryn Bigelow, Becky Johnston, Eric Bogosian. Music by Red Krayola. 35mm. 90 min.
In a near-future New York, 10 years after the "social-democratic war of liberation," the promises of equality for all remain unfulfilled. The suspicious death of black women's activist Adelaide (Jeanne Satterfield) while in police custody catalyzes women across lines of race, class, and sexuality to take action and lead their own counterrevolution. Lizzie Borden's Born in Flames tells the stories of four intersecting factions of women: the vigilante group the Women's Army, the editors of the newspaper Socialist Youth Review, and the underground radio stations Phoenix Radio and Radio Ragazza. With a provocative, documentary style inspired by guerilla filmmaking, The Battle of Algiers, and the work of Jean-Luc Godard, the film captures the disruptive energy and immediacy of revolt, set to a post-punk soundtrack. Radical in both its style and politics, Born in Flames anticipated the urgency of intersectional feminism in the face of a suppressive society. Borden described the origins of the film a 1983 interview with The Independent: "I was very distraught coming to New York and living here a long time and finding that this group of feminists didn't deal with that group of feminists. …Class and race really did divide people…. So the film was really about creating a context and reason to work with very different kinds of women." Shot on color 16mm intermittently from 1978 to 1983, Born in Flames presents a diverse Downtown prior to gentrification, featuring performances by local activists and artists including Flo Kennedy, Adele Bertei, Honey, Becky Johnston, Kathryn Bigelow, and Eric Bogosian.
Preserved by Anthology Film Archives with restoration funding from the Hollywood Foreign Press Association and The Film Foundation.