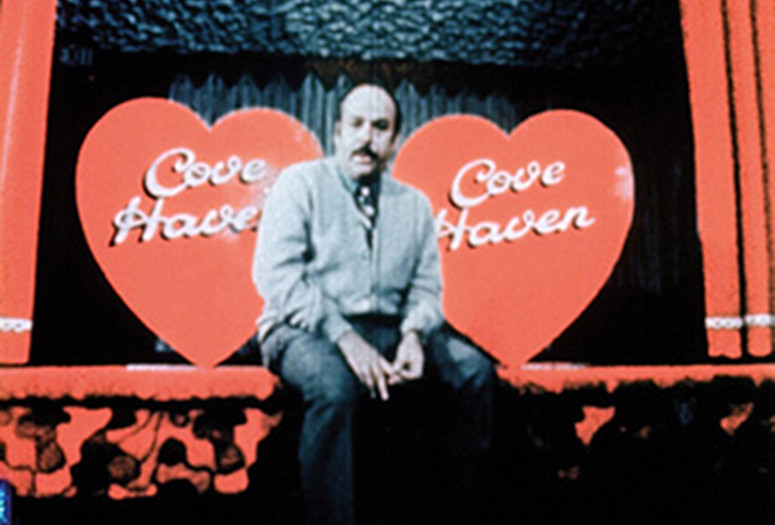 This program reprises the title of Club 57's semiregular repertory drive-in fare to consider themes of adolescence and socialization as explored across No Wave and Transgressive film. Influenced by William S. Burroughs and the study of semiotics, Columbia film grad Michael Oblowitz set out to make a cut-up film with professor and Semiotext(e) publisher Sylvere Lotringer as part of the journal's 1981 Polysexuality issue. Against the backdrop of New York's pre-AIDS gender scene—sex clubs, dominatrices, and gender bending—the pair mined sex education reels in their subversion of 1950s-era mores. The found-footage collage was overlaid with a psychologist expounding on sex offenders, analog video effects, edgy graphics, and a new wave score by the band Human Sexual Response. From a radically different perspective, Tommy Turner and David Wojnarowicz probe at suburban America and the nuclear family as a source of visceral alienation (recalling Mike Kelley's similar psycho-structural meditations). The 1984 case of a Satanist, druggy, metalhead teen murderer on Long Island begat this uninhibited feat of Super8 Trangressive cinema. After interviewing Northport teens who knew the "Satan Teen" Ricky Kasso, the pair imagine Kasso from the lead-up to the gruesome stabbing, through jail and suicide, and into the afterlife. This no-budget exploitation film achieves ambitious heights with a ventriloquist puppet, a frenzied soundtrack by J. G. Thurwell, and a cast of Downtown heavy hitters, including Rockets Redglare as Jesus and Joe Coleman as the Devil. While a pre-gentrified Williamsburg warehouse stands in for Hell, filled with bikers, rockers, and assorted scum, the film identifies the suburban home as the true birthplace of violence and victimization. Closing the program is an art bondage film by punk-feminist and dominatrix Lisa Baumgardner. Created as a Hunter College graduate project (but filmed at School of Visual Arts), the experiment in transgressive affirmation screened in an open film night at Club 57.
Program 70 min.
Too Sensitive to Touch. 1981. USA. Directed by Michael Oblowitz, Sylvère Lotringer. 16mm. 30 min.
Where Evil Dwells. 1985. USA. Directed by Tommy Turner, David Wojnarowicz. With Turner, Wojnarowicz, Joe Coleman, Rockets Redglare, Lung Leg, Baby Gregor, Nancy Coleman. Music by J. G. Thurwell. 16mm from Super8mm. 29 min.
Courtesy of David Wojnarowicz Papers, Fales Library and Special Collections, New York University.
Lisa in Bondage. c. 1981. USA. Directed by Lisa Baumgardner. 16mm. 11 min.