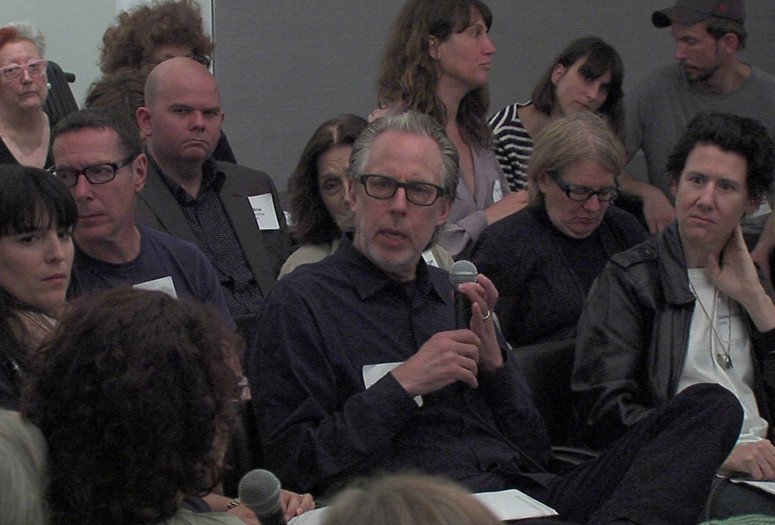 Invited speakers: Walead Beshty, artist; Collier Schorr, artist; Hank Willis Thomas, artist; and James Welling, artist Discussion was based around questions from the participants:
Walead Beshty
1. What, if anything, is to be gained by approaching photography as a discrete medium? Is there truly any solidity to a category that links together everything from the gelatin silver print, to the magazine page, the computer screen, the billboard, etc., all of which have distinctly different modes of address, access to audience, and distributive networks? Do they all require the same or similar questions? Even if the "same" image occurs in each of these instances, does it make them, for all intents and purposes, equivalent? Or is this just a vernacular misuse of the term, using the word "photograph" as though it was synonymous with picture or image, a confusion of a schematic formal similarity for material/epistemological/ideological continuity? Does it make as much sense to describe a reproduction of a painting in a magazine as a painting? Or should our approach to how to discuss that material shift be different, and if so, exactly how should it be different, since the material transformation from a painting to the printed page is akin to the transformation of the photographic print or digital file to the printed page? Does it have to do with what qualities we assume are germane to the photograph, and which are not? What qualities are these? And finally, what tacit assumptions are being made when we link these, or the multitude of other distributive forms of the photograph, together?
Are we speaking of conventions, or in other words, is it more useful to speak of conventions, rather than objects when we speak of things under the umbrella term photography? And if so, when we talk about photography in an art museum, are we really speaking of the current status of the "Western pictorial tradition" (as Jeff Wall, and others, have, with varied levels of explicitness, asserted), and by extension, should we be speaking of "pictures" and not photographs? Are the conversations about photography simply a speed bump in our ongoing negotiation with what is a trans-historical package of concerns related to pictorial conventions, and thus is it appropriate that questions pertaining to representation, semantic proximity, identification with, or degree of fidelity to an original object or moment in time persist in governing the discussion of photographs? Or is this anachronistic, and should we instead turn to questions pertaining to distribution systems, technology, function, and application; not what a photograph is "of" but how it circulates, structures its points of reception, and finds form through that circulation? Is the current state of the discussion of photographs (still caught between the language of aesthetic formalism, the politics of representation, and a certain brand of deterministic social art history) and their meaning, their modes of signification, compatible with the conversations about this larger distributed field?

Returning to question 1, if it is necessary to speak of each of these instances as, for the most part, discursive, how are they in fact linked together? How do we speak of the distinct aesthetic, political, and social implications of each while acknowledging the link between them? Are these questions—ones pertaining to the interpretation and analysis of photographic images that might be significant for an artist or critic—even similar to those that concern the institutions that maintain the histories and traditions of aesthetics? In other words, do these questions arise from the same fundamental place? Are they even allied in their respective goals? When we speak of the medium in the abstract, are we not glossing over the bureaucratic details and internal negotiations that govern the perception, or the identity of record, of the public role photography has within an art context? When one of the hundreds of thousands of viewers enters the MoMA galleries, how are the divisions between departments and their galleries understood? Are these divisions—those between photography, prints and drawings, video and film, sculpture, painting, design—helpful for a viewer? And if so, in what way? What do they imply? How do the minute specificities of the departmental dynamics of a museum affect the mass reception of the history of art? And beyond this, how helpful are these departmental distinctions for the institution itself? How do they enable the institution to maintain itself, its object of study, and its mission?
Collier Schorr
1. Sometimes I feel that curators are very reserved; like newscasters, we are never meant to know their true feelings. Are there works of art that make you feel vulnerable?
As an artist who makes fashion photography I am very much aware of similar stakes I have in making the pictures and expectations for what they will elicit. I wonder how it is for other artists, and also if curators and critics have an interest in "reading" fashion.

Can I expect a show of my work at The Museum of Modern Art in my lifetime?
Hank Willis Thomas
1. What will a photo collection look like in 2030? Do you think there will come a time when collecting a photographic object will be obsolete? If so, how soon? If not, why?
At a moment in time when more photographs are produced in a minute than any of us could consume in our entire lives, what makes an image important?

To other photographers: Do you feel that it is possible to have the same attention to detail when shooting digital as you do when you are shooting film and have more limitations? How has this affected the editing process for you?
James Welling
1. What is the legacy of the Pictures Generation for photography? By Pictures Generation, I don't mean only the artists in Douglas Eklund's eponymous exhibition, but the generation that came of age in the 1970s, who challenged the more normative ideas about what a photograph was and how it functioned. This generation, I'd argue, did not look to, say, Robert Frank or Walker Evans for inspiration, but rather to Warhol, Rauschenberg, and Conceptual practitioners like John Baldessari and Douglas Huebler. Is the lasting impact of this generation the emptying out of photography's authenticity for a more staged or constructed view, one closer to painting? Or does the Pictures Generation have some other, wider-ranging effect?
I'd like to return to Joel Sternfeld's question about color. After 35 years of color photography, more or less, has color evolved beyond simply recording the colors of the everyday? Is there anything new in color photography? It's safe to say that color has been revolutionized by Photoshop. By offering absolute control over the image, has Photoshop become too powerful an image-making tool?

Many of us have imagined (and are preparing for) the demise of analog, chemical-based photography. When film and sensitized paper cease to be part of photography's equation, what constitutes a photograph? Will photography become exclusively camera based? Does technology drive photography's history? Is an inkjet printer a photographic technology or is it closer to a loom?
Cofounded by curators Roxana Marcoci and Eva Respini on February 16, 2010, and conceived as an experimental platform for free-form critical discussions, MoMA's forums on contemporary photography are designed to encourage debate about the perspectives and scope of still and moving images and other forms of picture-making among leading artists, curators, and theorists in the field. The creative process of today is not solitary but dynamic, evolving from countless partnerships. These forums offer an intellectual milieu that values the scholarly reassessment of pivotal ideas in art, innovative practices, and complex and competing visions of modern and contemporary art.
Roxana Marcoci, The David Dechman Senior Curator, The Robert B. Menschel Department of Photography, MoMA, begins each session with an introduction to the topic, providing context for the conversation. Four to seven featured speakers then present for five to 10 minutes each. The presentations are followed by a probing, critical Q&A session and a moderated discussion with all the guests.
Read an article about the Forums from Art in America.
Organized by Roxana Marcoci, Curator, Sarah Meister, Curator, and Eva Respini, Associate Curator, Department of Photography, The Museum of Modern Art