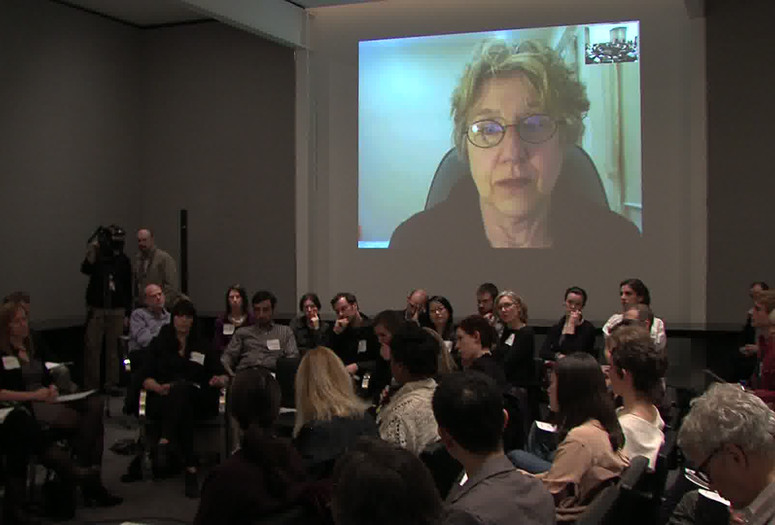 Invited speakers: Deana Lawson, artist; Martha Rosler, artist; Joel Sternfeld, artist; Sara VanDerBeek, artist; and JoAnn Verburg, artist.
Discussion was based around questions from the participants:
Deana Lawson
1. What is too sacred for photography to touch? What are our own individual boundaries? How do we set them up? Is there a collective boundary? (I'm thinking of Seiichi Furuya's pictures of his wife's suicide and Werner Herzog's film White Diamond, in which he resists the impulse to film a sacred waterfall in Brazil.)
The history (or rather histories) of photography is both magical and dark. With regard to difference, multiculturalism, and the marketplace, how have we grown from our legacies? How can we challenge ourselves individually as invested image makers? How can we challenge ourselves as representatives of institutional, academic, and commercial platforms? How can the collective group be imaginative in responding to these questions?

We often think of the vulnerability of the human subject within documentarian practices of strangers. Where can we locate the photographer's vulnerability? I'm thinking of the gap that can often exist between the photographer's socioeconomic, cultural, and personal background and that of his/her subject. Do we acknowledge and take responsibility for that gap enough? In a contemporary context, how does that gap become a part of the meaning of pictures, and possibly enrich discourse?
Martha Rosler
1. I would like to start by asking how we conceive of the relationship between photography and truth. Even without engaging in metaphysical speculation, can we speak of photography making any claim to truth today? And, if not, can we then say that this amounts to the truth of photography? How much of this is a kind of professional requirement and how much is grounded in everyday life? In other words, is our skepticism of photographic truth a professional requirement—a necessary showing of humility or of professional distance—or just the inevitable result of practical knowledge, of our knowing how to create and manipulate images?
What is the function of photography once it has been shorn of its claims to verity? What does photography do, today, if it can no longer testify directly to the state of things (except in exigent circumstances or mediated by time and space)? If we have abandoned the "windows" side of Szarkowski's famous divide between photographs as mirrors and windows and see them as, at best, simply "mirrors" of the artist's self? Do we think of photography now as a somewhat specialized instance of the productively overdetermined artwork, inexhaustible by any one interpretation, the way we've historically conceived of poetry or painting? Is this the case for photography in general, or only in the eyes of the educated but highly restricted art audience?

What can we predict about the viability of photographic practices in art when gallery and museum photography has sought to mimic everything from putatively naive popular forms such as cellphone images to surveillance-camera images (and so forth), on the one hand, and grand traditions in history painting, movies, and still lifes, on the other? Do the traditional understandings of art photography simply fall away as those traditions have been undermined, by the ubiquitous domestication of photographic imagery and by art-market demands for universalization and depoliticization?
Joel Sternfeld
1. As a medium modern color photography may be considered to be only 35 years old, and yet it seems as if formal inventiveness in color is no longer taking place. Is this so? If so, why? Is color photography more displastic than black and white, or is it our apprehension of the world that fails us?
What is the art object now: the individual print, the book, the website, the oeuvre across a lifetime? Any chance for aura these days?

For all the great interest in Robert Frank's seminal work The Americans, one might argue that it is a work without progeny. Does it have descendants? If not, why not? Could another Frank come along now?
Sara VanDerBeek
1. Is photography the most universal medium? One could say it's easier for anyone around the world to find a mark-making tool and a surface upon which to make marks, but most people in the industrialized world aren't looking at drawings every day, they are looking at photographic images—either in their surrounding environment, on their computer screen, or in publications—and these images are informing their experience of the world, their perceptions of themselves, and their knowledge of the medium. What responsibility do we have as practitioners, scholars, curators, and writers toward the universality of the medium? Do we embrace its expansive nature, or do we push to continue to distinguish and isolate the various ways and means of image making? If so, is this then reinforcing an exclusivity that is counter to the medium's strengths?
As we go deeper into the re-use of images and the further abstraction of the medium, are we investigating and pushing the medium in a way that is thoughtful and provocative or are we in danger of self-sabotage and a disconnect from its most primary function of representation and communication? Or is it, in its abstraction, actually evolving into a more universal form?

Photography has a very distinctive voice within MoMA and that is due to all of the department's efforts within the exhibition space and now with these forums. The general questioning, the continual re-evaluation and reshaping of these forums, also shows your strength as a department that is responsive, elastic, and progressive rather than merely reactive; it's not something I believe most would expect, and it is exciting. The challenge is to figure out how the forums could be translated so that aspects of it can retain the strength of its intimate and informal dialogue yet reach a larger audience. (What about a photo festival or a series of photography panels that were both live in-house and Skyped? A digital newsletter, blog, or a month of discussions, screenings, artists talks that occur at the Museum but could be viewed online simultaneously?) In what ways could this be open to the public that were more experimental yet easily implemented within currently available structures? If that doesn't work, how can a distillation of the ideas that are generated from these talks be conveyed to a larger public audience through the exhibition program? That being said, would the public really be interested in the ideas we are discussing at these forums? How do we make it interesting?
JoAnn Verburg
1. My first set of questions is about forms, starting with the form at MoMA, at this moment in our history: In our digital age, what is the usefulness of being here together face-to-face? Are photographic objects necessary? Are gallery walls still a viable and relevant venue? How can photographic institutions keep up, by which I mean continue to play a significant role as midwife between artist and the many diverse human beings who could benefit from seeing art?
My second set of questions have to do with the function of art: how to serve the big questions, such as being vulnerable, finding personal balance, connecting with others across boundaries, and living with death. How do we as artists find a home—or at least a place—to participate? How can we mutually, as artists, curators, and writers, use the venues at hand or create different new ones to make this a better world?

My third question is personal. How can I use photography to connect in a vital, meaningful way with another person at another time in another space?
Cofounded by curators Roxana Marcoci and Eva Respini on February 16, 2010, and conceived as an experimental platform for free-form critical discussions, MoMA's forums on contemporary photography are designed to encourage debate about the perspectives and scope of still and moving images and other forms of picture-making among leading artists, curators, and theorists in the field. The creative process of today is not solitary but dynamic, evolving from countless partnerships. These forums offer an intellectual milieu that values the scholarly reassessment of pivotal ideas in art, innovative practices, and complex and competing visions of modern and contemporary art.
Roxana Marcoci, Senior Curator, Department of Photography, begins each session with an introduction to the topic, providing context for the conversation. Four to seven featured speakers then present for five to 10 minutes each. The presentations are followed by a probing, critical Q&A session and a moderated discussion with all the guests.
Read an article about the Forums from Art in America.
Organized by Roxana Marcoci, Curator, Sarah Meister, Curator, and Eva Respini, Associate Curator, Department of Photography, The Museum of Modern Art