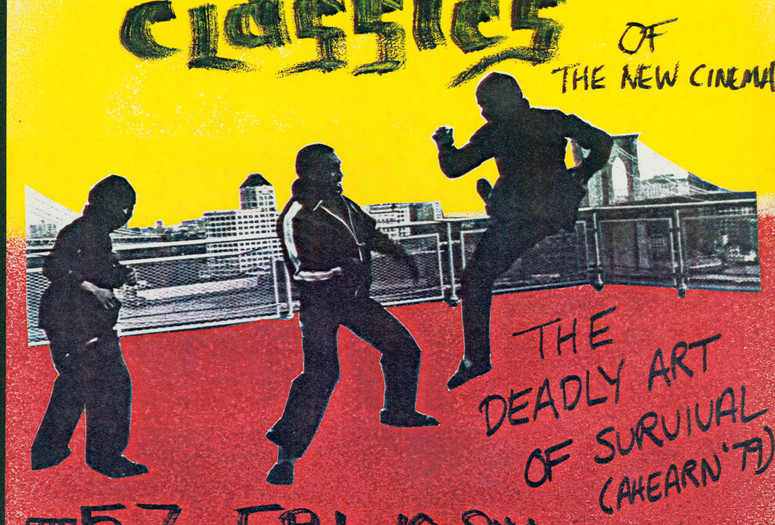 Among the works to screen at the Colab-affiliated New Cinema in its brief but influential 1979 season is The Deadly Art of Survival, a no-budget kung fu film by Charlie Ahearn. Ahearn came to know local black and Puerto Rican youths from filming in the Lower East Side, and he developed this Super8 feature around a community center martial-arts group. Housing projects and handball courts (painted by Lee Quinones, soon to star in Ahearn's Wild Style) are the backdrop for this homage to the genre, which animated the minds of neighborhood youths as much as audiences flocking to the period's grindhouse theaters in Times Square (to which Deadly Art would return via the Colab-sponsored Times Square Show in 1980). The loose camerawork, amateur acting, and dramatic subplots contribute to the film's plucky evocation of the neighborhood's struggles, as the protagonists dodge rival karate crews and drug zones. For a contrasting view on the neighborhood, Coleen Fitzgibbon's LES is a documentary-style critique of the fiscally and physically devastated island of Manhattan. By way of a mock-anthropological survey, Robin Winters narrates a survey of a capitalist and consumerist society in disarray.
The Deadly Art of Survival. 1979. USA. Directed by Charlie Ahearn. Digital video from Super8mm. 75 min.
Preserved by Anthology Film Archives.
LES. 1976. USA. Directed by Coleen Fitzgibbon. With Tom Sigal, Diego Cortez, Robin Winters. Digital video from Super8mm. 17 min.
Courtesy of the artist.