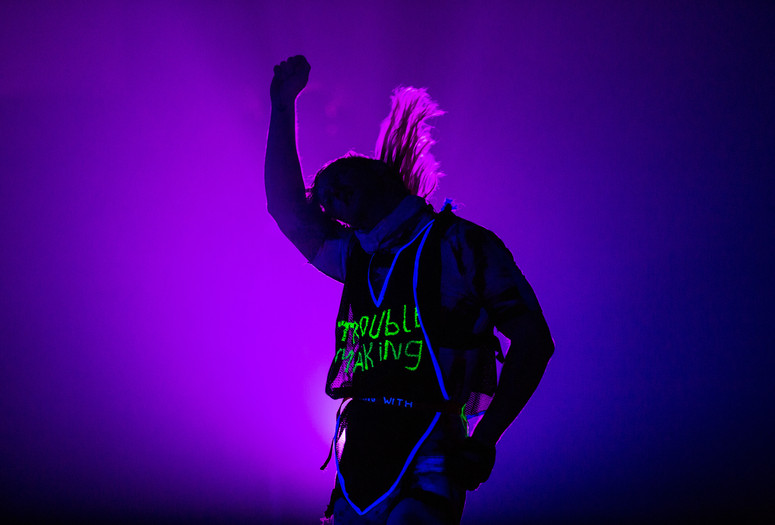 For the 2018 VW Sunday Sessions commission, artist and performer Colin Self presents Siblings, the sixth and final part of The Elation Series, a sci-fi opera encompassing, performance, music, sculpture, and video that he has been developing since 2011.
Structured like a game, Siblings functions as a participatory performance, assigning the audience roles and responsibilities. Divided into analysts, activists, archivists, and spies, these groups expand their subjective encounters of text, song, and dance into ruptures of narrative analysis. A playful examination of Donna J. Haraway's recent book Staying with the Trouble: Making Kin in the Chthulucene, the performance offers new ways of re-configuring our relationship to the earth and its inhabitants in the wake of ecological devastation, foregrounding the necessity of new narrative structures to realize a better world.
Informed by the artist's epistemological research, Siblings places a non-biological family at its center. The characters, bound together by curiosity and queer kinship, navigate living collectively on a damaged planet. Self describes how "the worlds I am interested in writing into existence are continuous, irresolute, and fragmented strategies. These strategies are not utopic. They are non-holistic, celebratorily subjective, and ideologically beyond the will to measure."
Presented in collaboration with performers Lyra Pramuk, Tara-Jo Tashna, Sam Banks, and lexi welch, this new iteration is conceived specifically for the VW Dome.
Tickets: $15 (MoMA Members $13)
MoMA PS1's acclaimed VW Sunday Sessions program welcomes visitors to experience art live and in real time. Embracing performance, music, dance, conversations, and film, the program vividly demonstrates how these art forms can push us to engage with our contemporary world in creative, illuminating ways. With an emphasis on artistic practices that blur and break traditional genre boundaries, the program supports and commissions new work, inviting artists, curators, and other cultural instigators to share their latest projects. MoMA PS1 offers one of the most extensive museum programs dedicated to live art in the world, representing a core component of the institution's mission since its founding.
VW Sunday Sessions is organized by Taja Cheek, Curatorial Assistant, MoMA PS1; and Alex Sloane, Curatorial Assistant, MoMA PS1, with Alexandra Rosenberg, Associate Producer.

VW Sunday Sessions and the VW Dome at MoMA PS1 are made possible by a partnership with Volkswagen of America, who have supported the program for six years since its inception.