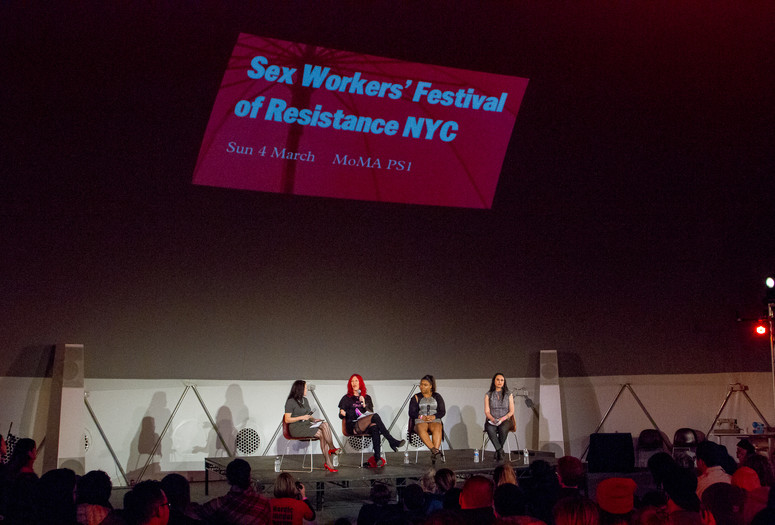 For this day-long festival, sex workers and their allies from New York, the tri-state area, and Europe will gather at MoMA PS1 to debate, perform, dance, strategize, and share knowledge. Addressing this pressing global human rights issue, the afternoon seeks to create a communal space in which advocacy groups, sex workers, allies, and guests can work to expand awareness and continue to build crucial alliances.
Emceed by Ceyenne Doroshow, the event is built around two panel discussions, organized with and featuring sex workers, their allies, and participating advocacy groups. The talks will examine how the desires and struggles of sex workers become embodied in everyday acts of creativity and solidarity.
The first panel, Sex Work, Migration and Trafficking in New York City, is facilitated by Melissa Ditmore, Ph.D, a consultant specializing in issues of gender, development, health, and human rights, particularly in relation to marginalized populations such as sex workers and migrants. Ditmore is joined by Heidi Hoefinger, Ph.D, visiting scholar in anthropology at John Jay College, where she is the lead researcher on ethnographic research into sex work, migration, and anti-trafficking efforts in New York City; Jenna Torres, the project coordinator at the Red Umbrella Project and long-time advocate for sex workers rights and decriminalization, who will speak about her own experiences with the New York Anti-Trafficking Courts; and Shirley McLaren, Secretary of Aprosex (Association of Sex Professionals) Barcelona, Co-Convenor of International Committee on the Rights of Sex Workers in Europe (ICRSE), and co-host of the radio show "El Puticlub."
The second panel, Hoes in Different Area Codes: A Panel of Diversity in Sex Work, focuses on the variety of occupations within the sex work industry and the possibilities for solidarity. Facilitated by Melissa Sontag Broudo, Co-Director of SOAR Institute and long-time participant in the sex workers' rights and harm reduction movements, the panel will feature Mistress Leigh, a professional dominatrix and fetish wrestler; RJ Thompson, Director of the Sex Workers Project; Ceyenne Doroshow, the Director of GLITS and a former sex worker; Gizelle Marie, a dancer and lead organizer of the New York City Stripper Strike; and Shirley McLaren.
Alongside the panels, The Incredible, Edible, (MF) Akynos a New York-raised stripper and performance artist and founder of the Black Sex Workers Collective will present a specially conceived new film and dance performance She's A Bitch: On the gaze of sex workers in modern society and forming a #himtoo movement. Additionally, Jheanelle Garriques, poet, dancer, Black feminist, and the Executive Director of the Naked Narratives International Narrative Therapy Project, presents a new performance entitled Queer Gaze.
The program will also feature two presentations of short films and key scenes that highlight sex workers' struggles from around the world, coordinated by PJ Starr from Moral High Ground Productions and featuring contributions from J. Leigh Brantly, Ceyenne Doroshow, Carol Leigh (San Francisco Bay Area Film and Art Festival), Laure McElroy (POOR Magazine/POOR News Network and the San Francisco Bay Area Film and Art Festival), Anna Saini (BPPP), Shirley McLaren and Luca Stevenson (SWARM).
Organized with Aprosex (Spain), Arika (UK), Black Sex Workers Collective (New York), Gays and Lesbians Living In a Transgender Society (New York), International Committee on the Rights of Sex Workers in Europe (ICRSE) (Europe), New Jersey Red Umbrella Alliance (New Jersey), Red Umbrella Project (New York), and Sharmus Outlaw Advocacy and Rights (SOAR) Institute (New York).
Across racial, cultural, and national differences, sex workers of all genders and their allies discuss their desire to live free of stigma and criminalization.
Tickets: $15 (MoMA Members $13)
If you identify as part of the sex worker community and the ticket cost is a barrier to your participation, please email [email protected] to request access. All requests will be treated as confidential.
For more information, to notify our staff of any special needs, or for any access questions you might have, please call the front desk during regular public hours at (718) 784-2085 or email [email protected]
Building accessibility information can be found here. Seating will be provided.
MoMA PS1's acclaimed VW Sunday Sessions program welcomes visitors to experience art live and in real time. Embracing performance, music, dance, conversations, and film, the program vividly demonstrates how these art forms can push us to engage with our contemporary world in creative, illuminating ways. With an emphasis on artistic practices that blur and break traditional genre boundaries, the program supports and commissions new work, inviting artists, curators, and other cultural instigators to share their latest projects. MoMA PS1 offers one of the most extensive museum programs dedicated to live art in the world, representing a core component of the institution's mission since its founding.
VW Sunday Sessions is organized by Taja Cheek, Curatorial Assistant, MoMA PS1; and Alex Sloane, Curatorial Assistant, MoMA PS1, with Alexandra Rosenberg, Associate Producer.

VW Sunday Sessions and the VW Dome at MoMA PS1 are made possible by a partnership with Volkswagen of America, who have supported the program for six years since its inception.