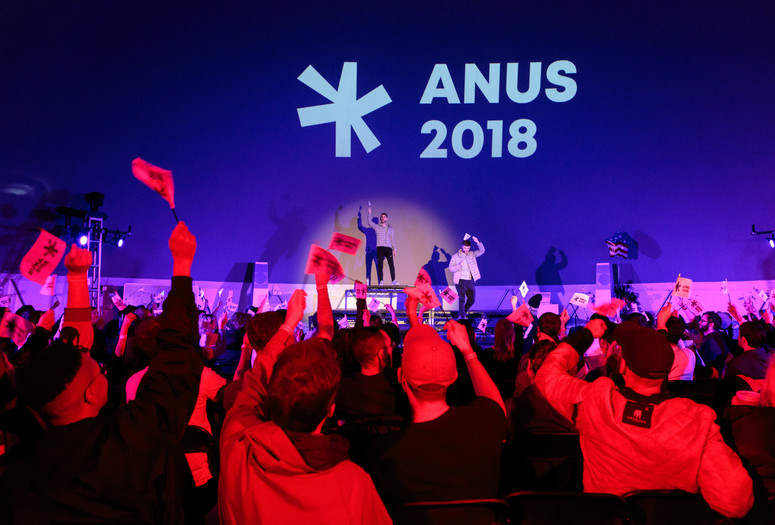 Steven Phillips-Horst and Eric Schwartau, better known as the comedy duo TALK HOLE, host what they call "the world's first global summit on influencer culture" as part of VW Sunday Sessions.
TALK HOLE describes the event as "an interrogation of both the very nature of influence and the pratfalls of the summit economy. This one-day invitational seeks—through performances, panel discussions, museum-wide engagements, and small bites—to finally answer the crucial question, 'why don't they follow me?'"
Featuring Julio Torres, Ana Fabrega, Catherine Cohen, Ruby McCollister, Alex Tatarsky, Lily Marotta, Alexandra Schmidt, Mitra Jouhari, and DJ Physical Therapy.
Tickets: $15 (MoMA Members $13)
Programming throughout the building free with museum admission
MoMA PS1's acclaimed VW Sunday Sessions program welcomes visitors to experience art live and in real time. Embracing performance, music, dance, conversations, and film, the program vividly demonstrates how these art forms can push us to engage with our contemporary world in creative, illuminating ways. With an emphasis on artistic practices that blur and break traditional genre boundaries, the program supports and commissions new work, inviting artists, curators, and other cultural instigators to share their latest projects. MoMA PS1 offers one of the most extensive museum programs dedicated to live art in the world, representing a core component of the institution's mission since its founding.
VW Sunday Sessions is organized by Taja Cheek, Curatorial Assistant, MoMA PS1; and Alex Sloane, Curatorial Assistant, MoMA PS1, with Alexandra Rosenberg, Associate Producer.

VW Sunday Sessions and the VW Dome at MoMA PS1 are made possible by a partnership with Volkswagen of America, who have supported the program for six years since its inception.