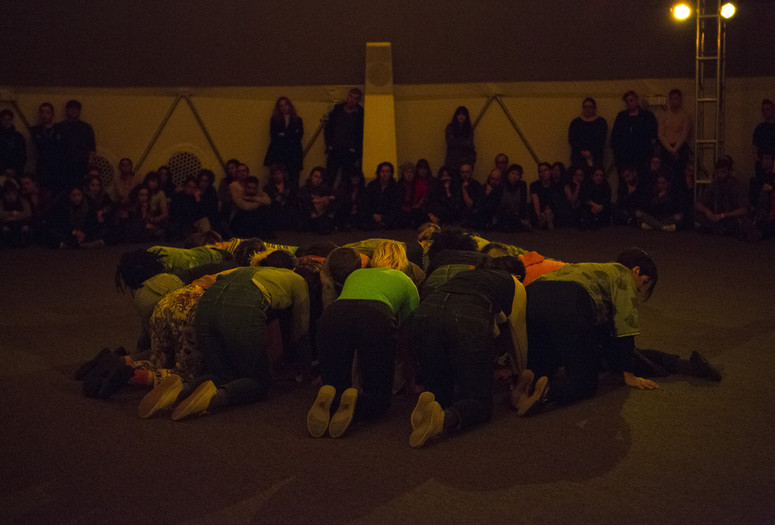 VW Sunday Sessions presents the premiere of Problems, a new work from New York based choreographer Kim Brandt. Moving between the individual and the collective, performers execute movement-based scores that connect our spatial and temporal understandings of place. The performance focuses on building and dismantling a set of kinetic structures created specifically for the VW Dome.
Problems is developed in conjunction with Brandt's three-month residency at MoMA PS1, expanding upon recent work presented at SculptureCenter, Movement Research, Issue Project Room, and Pioneer Works.
Performed by Anna Adams Stark, Laurel Atwell, Liz Charky, Meg Clixby, Jessica Cook, Courtney Cooke, Leslie Cuyjet, Katie Dean, Lillie De, Greer Dworman, Tess Dworman, Ayano Elson, devynn emory, Lydia Okrent, Angie Pittman, and Nora Stephens. Music Composition by Nate Wooley.
Tickets: $15 (MoMA Members $13)
MoMA PS1's acclaimed VW Sunday Sessions program welcomes visitors to experience art live and in real time. Embracing performance, music, dance, conversations, and film, the program vividly demonstrates how these art forms can push us to engage with our contemporary world in creative, illuminating ways. With an emphasis on artistic practices that blur and break traditional genre boundaries, the program supports and commissions new work, inviting artists, curators, and other cultural instigators to share their latest projects. MoMA PS1 offers one of the most extensive museum programs dedicated to live art in the world, representing a core component of the institution's mission since its founding.
VW Sunday Sessions is organized by Taja Cheek, Curatorial Assistant, MoMA PS1; and Alex Sloane, Curatorial Assistant, MoMA PS1, with Alexandra Rosenberg, Associate Producer.

VW Sunday Sessions and the VW Dome at MoMA PS1 are made possible by a partnership with Volkswagen of America, who have supported the program for six years since its inception.