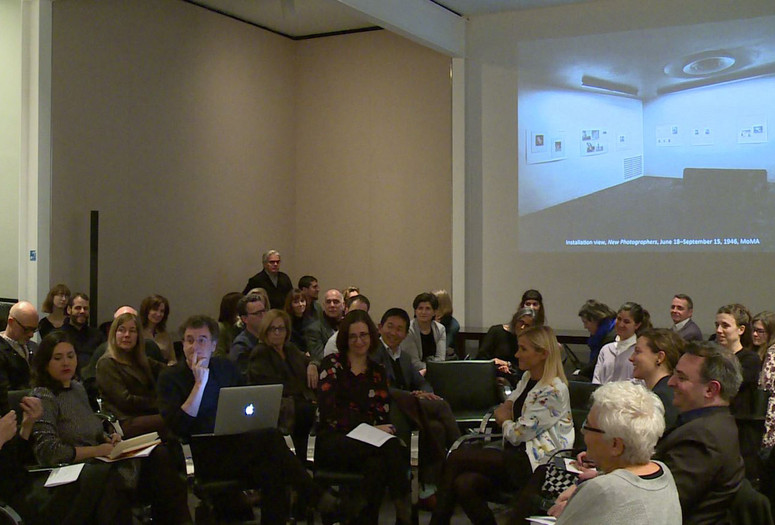 This forum will examine the exceptional breadth and depth of the innovation, experimentation, conceptual underpinnings, and political engagement of Latin American artists working with photographic and other lens-based mediums. MoMA has a longstanding history of research, acquisition, and exhibition of Latin American art, established by Director Alfred H. Barr, Jr., in the 1930s. That tradition continues today under the leadership of Director Glenn D. Lowry, with the founding in 2006 of the Latin American and Caribbean Fund and generous endowments and donations that have enabled new curatorial and research positions and projects in the field, the founding of C-MAP Latin American group in 2009, and the forthcoming establishment of the Patricia Phelps de Cisneros Research Institute for the Study of Art from Latin America.
This forum's featured speakers are Esther Gabara, E. Blake Byrne Associate Professor of Romance Studies, Duke University; Marcela Guerrero, Assistant Curator, Whitney Museum of American Art; Pablo Helguera, artist and Director, Adult and Academic Programs, Department of Education, The Museum of Modern Art; Alfredo Jaar, artist, architect, and filmmaker; Sarah Meister, Curator, Department of Photography, The Museum of Modern Art; Liz Munsell, Lorraine and Alan Bressler Curator of Contemporary Art, Museum of Fine Arts, Boston; and Liliana Porter, multi-range media artist.
This event is invitation only, but we are very pleased to present a recording of the forum, which will allow remote friends and colleagues to hear the conversation.
Cofounded by curators Roxana Marcoci and Eva Respini on February 16, 2010, and conceived as an experimental platform for free-form critical discussions, MoMA's forums on contemporary photography are designed to encourage debate about the perspectives and scope of still and moving images and other forms of picture-making among leading artists, curators, and theorists in the field. The creative process of today is not solitary but dynamic, evolving from countless partnerships. These forums offer an intellectual milieu that values the scholarly reassessment of pivotal ideas in art, innovative practices, and complex and competing visions of modern and contemporary art.
Roxana Marcoci, The David Dechman Senior Curator, The Robert B. Menschel Department of Photography, MoMA, begins each session with an introduction to the topic, providing context for the conversation. Four to seven featured speakers then present for five to 10 minutes each. The presentations are followed by a probing, critical Q&A session and a moderated discussion with all the guests.
Read an article about the Forums from Art in America.
Organized by Roxana Marcoci, Senior Curator, Department of Photography, The Museum of Modern Art.

This Forum on Contemporary Photography is made possible by the Pannonia Foundation.