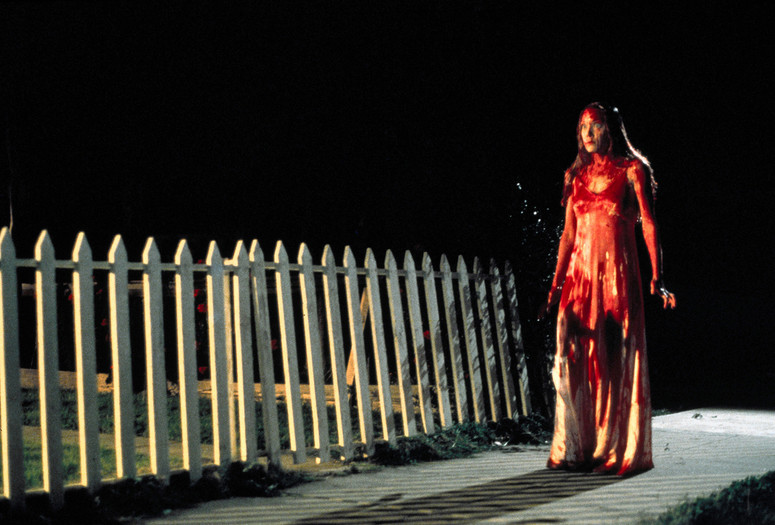 It's prom night at The Museum of Modern Art! PopRally is hosting a HallowSCREENing of Brian DePalma's Carrie (1976), plus an exclusive viewing of the Louise Bourgeois prints and spider sculptures in the Museum's Marron Atrium. Polish your tiara, break out your spookiest prom attire, and join us for drinks, candy, dancing, and the obligatory awkward prom photo before enjoying one of the most unforgettable prom scenes in movie history.
Based on Stephen King's debut novel, Carrie is a typical high school tale of teen angst, bullying, and horrifying supernatural powers. Sissy Spacek, in the title role, and Piper Laurie, as her abusive mother, both earned Academy Award nominations, and the cast also includes a young Amy Irving and John Travolta.
Tickets ($20) are available online. Admission includes an open bar, the film screening, and access to the Marron Atrium. This event is part of the PopRally program and regular film ticketing policies do not apply. There will be no additional tickets released for this special screening.
Carrie. 1976. USA. Directed by Brian DePalma. 98 min.
PopRally is a series of events at The Museum of Modern Art and MoMA PS1 that serve as a gateway for young and diverse audiences to engage with MoMA. Led by a cross-departmental committee of Museum staff, PopRally produces dynamic programs including artist collaborations, performances, film screenings, and digital content that encourage new and experimental ways of encountering modern and contemporary art.