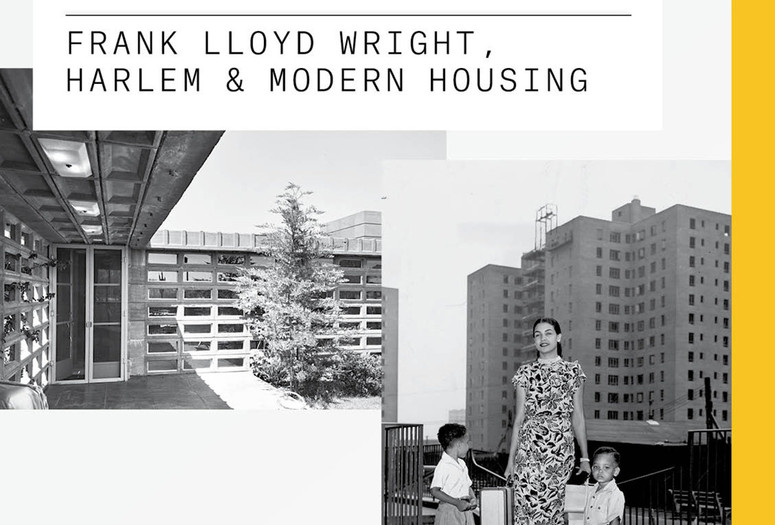 The question of how to live in America preoccupied many architects and planners, from Frank Lloyd Wright to the consortium behind Harlem's first public housing proposals in the mid-20th century. Dianne Harris of the University of Utah addresses this history in her lecture "Where Was Jim Crow? Living in Frank Lloyd Wright's America," the keynote presentation of a September 29 symposium accompanying the exhibition Living in America: Frank Lloyd Wright, Harlem, and Modern Housing, currently on view at Columbia University's Wallach Art Gallery. The symposium gathers scholars of mid-20th-century housing for a conversation that bridges what might otherwise seem like disparate realms of inquiry in order to reassess received histories and provoke new questions about how we live in America, together, today.
Living in America was organized by The Temple Hoyne Buell Center for the Study of American Architecture at Columbia University's Graduate School of Architecture, Planning, and Preservation (GSAPP), and is co-presented by The Buell Center, The Miriam and Ira D. Wallach Art Gallery, and Avery Architectural and Fine Arts Library. The exhibition is presented in correlation with the MoMA exhibition Frank Lloyd Wright at 150: Unpacking the Archive. The symposium is co-presented by the above organizations, along with Columbia University School of the Arts.
A 6:00 p.m. viewing of Frank Lloyd Wright at 150 will be followed by the lecture at 7:00. Please RSVP before September 25 by emailing [email protected].