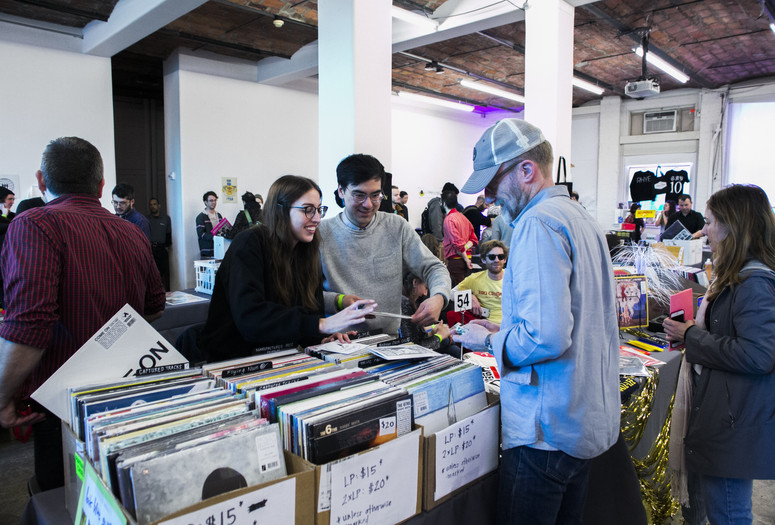 MoMA PS1 and iconic record shop Other Music have teamed up to present the second annual Come Together: Music Festival and Label Market, offering live performances, films, workshops, and panels that celebrate the interactive ecosystem of local and international music communities, along with a label market. This season's event will include more than 75 record labels, expanded live programming, and extended hours. Reasserting the central and essential role that communities play in both the creation and consumption of new sounds, Come Together recasts the fading record store experience for the current moment.
Come Together will also feature a number of special project spaces. In celebration of music label Mexican Summer's ten year anniversary, the label, alongside its imprint reissue label Anthology Recordings and publishing division Anthology Editions, present an interactive reading and listening room. This space will offer attendees access to new books and records, limited edition releases, and test pressings. Record store Human Head invokes the spirit of their Bushwick shop with an interactive experience of rare musical artifacts excavated from basements, garages, and closets. A hub for cutting-edge music in New York City for 20 years, Other Music hosted hundreds of intimate in-store performances from artists of every background. A selection of these filmed performances from 1995 through the store's closing in 2016 will be screened throughout the day. Azikiwe Mohammed continues his performative installation of a fictional thrift store, Jimmy's Thrift of New Davonhaime, which will include a music library that visitors can contribute to and take from over the course of the day.
Come Together will feature a series of performances in the VW Dome from some of the most innovative and groundbreaking artists working today. The afternoon session from 3:00 to 6:00 p.m. will be headlined by Vagabon, the indie-pop project of Laetitia Tamko. Born in Cameroon, Tamko moved to New York City as a teenager with her family and was inspired to begin recording and performing her original songs after discovering the DIY scene at the Bushwick venue Silent Barn. Her powerfully personal songs, buoyed by a soaring, emotional tenor and intricate guitar work, explore questions of community and family from her distinct and original perspective. Her 2017 debut LP, on Father/Daughter Records, was one of last year's critical breakout albums.
The extended evening session from 6:00 to 9:00 p.m. will be headlined by the Ethiopian piano luminary Hailu Mergia. Mergia led one of Addis Ababa's best-known groups of the 1960s and '70s, combining the haunting minor chords and swirling dance grooves of Ethiopian jazz with the emerging international sounds of American funk, Nigerian Afrobeat, and Afro-Latin rhythms. With Ethiopia submerged in political turmoil, Mergia migrated to the US in the '80s and stopped performing altogether by the early '90s. His career was rejuvenated with the 2013 re-release, by the American label Awesome Tapes From Africa, of his sublime 1985 LP Hailu Mergia and his Classical Instrument. Mergia has since returned to performing around the world, and this will be his first New York City appearance since the release of his new album Lala Belu, his first original recording in more than thirty years.
Oregon based trio Dead Moon (1987-2006) continues to inspire artists and fans with their raw and emotional punk rock, and their uncompromising approach to both art and life. Fred Cole, the band's legendary frontman, passed away in 2017, and to celebrate his life, Dead Moon's music, and the comprehensive new book on the band being released by Mississippi Records, Come Together and Artbook will host a book release event and archival exhibition. Toody Cole, Fred's musical and life partner, will be present throughout the day, participating in an interview with Jenn Pelly that will explore her powerful DIY ideology. Artbook will also display a never-before-seen archive of Dead Moon memorabilia, including Fred Cole's original album artwork collages, work-in-progress sketches of the iconic Dead Moon logo, band instruments, and more.
Come Together's programming also includes the New York premiere of The Potential of Noise, a documentary about innovative German sound designer and producer Conny Plank, providing rare and intimate insight from the perspective of his son and many of the diverse artists Plank has worked with over the years—including Kraftwerk, Neu!, Can, Devo, Whodini, Brian Eno, and the Eurythmics.
Additionally, the event will offer a series of limited-capacity workshops with people who work in varied ways to build community and support artists beyond the financing and distributing of music. The Creative Independent is a growing resource of emotional and practical guidance for creative people. A 60-minute guided conversation, led by TCI Editor in Chief Brandon Stosuy, Priests' frontwoman Katie Alice Greer, and music writer Jenn Pelly, will offer tips on how to stay afloat in the music industry. Marco Gomez, also known as False Witness, leads a workshop and collective sound design experiment that gives participants historical context for undercurrents in contemporary DJ culture, a technological tutorial on DJ equipment, and an opportunity to create a collective sound sculpture. Suzi Analogue's Never Normal Soundsystem partners with wearable audio technology company SUBPAC to create a multisensory listening experience uniting sound and body as a single supportive emphatic system. Eric Isaacson, founder of prolific Oregon based label Mississippi Records, will present A Cosmic and Earthly History of Recorded Music According to Mississippi Records, a multimedia lecture on the history of recorded music from the birth of the universe to the current technological age. Suffragette City, a feminist collective of artists, writers, and musicians, will lead a zine-making workshop with artist Lily Gist, in which participants can learn multiple zine-folding techniques and join in a collaborative zine project.
DJs throughout the event also provide a diverse soundtrack to the program, featuring sets by Yo La Tengo, phoneg1rl b2b NK Badtz Maru, Sal P, and Duane Harriott.
Anonymous absurdist prank call artist and sound collagist Longmont Potion Castle loops previously released and brand new work in the MoMA PS1 elevator.
To commemorate the constellation of music communities gathered for Come Together, MoMA PS1 and Other Music have produced a collaboratively designed zine, featuring artwork and advertisements from labels and zines participating in the label market. The zine will be available for free throughout the building.
Over 75 labels will sell records, merchandise, and special limited items. Headphones provided courtesy of Sennheiser will be positioned at listening stations throughout the fair to highlight releases from participating labels. Participants include:
!K7 | 2MR | 4AD | Akashik Records & Tapes | Anthology Recordings | Astro Nautico | AUM Fidelity | Awesome Tapes From Africa | Ba Da Bing Records | Bar/None Records | Big Crown Records | Big Dada | Blankstairs | Brainfeeder | Brassland | Bunny Jr. | Cantaloupe Music | Captured Tracks | Counter Records | Daptone Records | Dead Oceans | DFA Records | Dischord Records | DISCWOMAN | Don Giovanni Records | Empty Editions | Fat Possum | Ghostly International | Glassnote Records | Gold Bolus Recordings | Goner Records | Human Head | International Anthem | Jagjaguwar | JASS | Joyful Noise Recordings | KFR | King of Truth Records | The Kitchen | Loma Vista Recordings | Lovely Music | luaka bop | LUNA RIO | Matador Records | Mexican Summer | Mississippi Records | Mode Records | Never Normal Records | New Amsterdam Records | New World Records | Ninja Tune | NNA Tapes | Nonesuch Records | Northern Spy Records | Not Just A Boys Club | Nublu Records | The Numero Group | Omnian Music Group | Other Music Recording Co. | Palto Flats | PAN | Partisan Records | Paxico Records | Prayers Zine | PTP | Rough Trade | RVNG Intl. | Sacred Bones Records | SARVNAZ Press | Secretly Canadian | Sister Polygon Records | Smithsonian Folkways Recordings | STRUT Records | Sub Pop Records | Suffragette City | Technicolour | Third Man Records | Unseen Worlds | Warp Records | Wharf Cat Records | Wyeth Moss | XL Recordings | Young Turks | Youngbloods
#ComeTogetherFest
Tickets:
12:00 p.m.-6:00 p.m.
Music Festival and Label Market
$10 (MoMA Members $8)
6:00 p.m.-9:00 p.m.
Extended Festival Programming
$10 (MoMA Members $8)
Combined Ticket
$15 (MoMA Members $13)
MoMA PS1's acclaimed VW Sunday Sessions program welcomes visitors to experience art live and in real time. Embracing performance, music, dance, conversations, and film, the program vividly demonstrates how these art forms can push us to engage with our contemporary world in creative, illuminating ways. With an emphasis on artistic practices that blur and break traditional genre boundaries, the program supports and commissions new work, inviting artists, curators, and other cultural instigators to share their latest projects. MoMA PS1 offers one of the most extensive museum programs dedicated to live art in the world, representing a core component of the institution's mission since its founding.
VW Sunday Sessions is organized by Taja Cheek, Curatorial Assistant, MoMA PS1; and Alex Sloane, Curatorial Assistant, MoMA PS1, with Alexandra Rosenberg, Associate Producer.

VW Sunday Sessions and the VW Dome at MoMA PS1 are made possible by a partnership with Volkswagen of America, who have supported the program for six years since its inception.