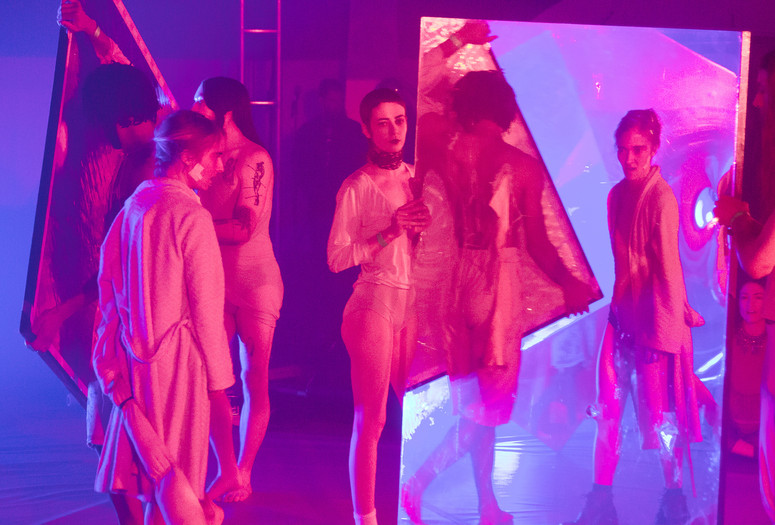 Organized with Caitlin Baucom—founder of Brooklyn-based performance series TREVORSHAUS—Spittle of the Moon embraces communities founded on the basis of collaboration. Situating recent partnerships and established collectives alongside solo artists, the program brings together movement and sound-based practices in an immersive and sensorial concert.
The afternoon features original work from the collective MSHR, electronic R&B duo Dey, and a new project from choreographer and musician Sigrid Lauren and Emil Bognar Nasdor. These performances are presented alongside solo pieces from Baucom; writer and media theorist DeForrest Brown Jr. in collaboration with The Actual School; composer and perfumier Ziemba; and an only child, the solo project from choreographer and musician Quenton Stuckey. The program highlights a selection of artists whose practices have been formed by and nurtured in New York's alternative and artist-run spaces. Together, they seek to create a sustainable future for their work and its audiences that is not reliant upon mainstream culture.
Tickets: $15 (MoMA Members $13)
MoMA PS1's acclaimed VW Sunday Sessions program welcomes visitors to experience art live and in real time. Embracing performance, music, dance, conversations, and film, the program vividly demonstrates how these art forms can push us to engage with our contemporary world in creative, illuminating ways. With an emphasis on artistic practices that blur and break traditional genre boundaries, the program supports and commissions new work, inviting artists, curators, and other cultural instigators to share their latest projects. MoMA PS1 offers one of the most extensive museum programs dedicated to live art in the world, representing a core component of the institution's mission since its founding.
VW Sunday Sessions is organized by Taja Cheek, Curatorial Assistant, MoMA PS1; and Alex Sloane, Curatorial Assistant, MoMA PS1, with Alexandra Rosenberg, Associate Producer.

VW Sunday Sessions and the VW Dome at MoMA PS1 are made possible by a partnership with Volkswagen of America, who have supported the program for six years since its inception.