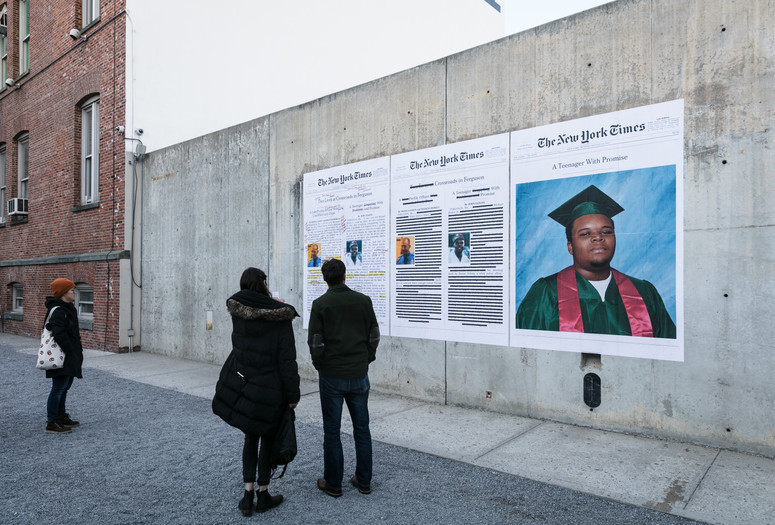 An afternoon of screenings, performances, and discussions with five artists and writers whose work counters racist narratives and foregrounds a reassessment of our collective cultural memory.
Taking Alexandra Bell's public art project, Counternarratives, as a point of origin, the program features Bell, along with Sable Elyse Smith, Kameelah Janan Rasheed, D0UZE, and Devin N. Morris—founding editor of 3 Dot Zine—who will discuss how visual and written languages inform cultural perceptions. Through written text, video, installation, and performance, each of the participating artists seeks to negate language that perpetuates prejudices and to propose more equitable narratives.
Works from Alexandra Bell's current public art series, Counternarratives, are on view from November 9 through December 4 in the MoMA PS1 courtyard. A Teenager With Promise, Annotated, (2017) and Olympic Threat explore how language can perpetuate racist narratives and highlights mainstream media's latent bias.
Tickets: $15 (MoMA Members $13)
MoMA PS1's acclaimed VW Sunday Sessions program welcomes visitors to experience art live and in real time. Embracing performance, music, dance, conversations, and film, the program vividly demonstrates how these art forms can push us to engage with our contemporary world in creative, illuminating ways. With an emphasis on artistic practices that blur and break traditional genre boundaries, the program supports and commissions new work, inviting artists, curators, and other cultural instigators to share their latest projects. MoMA PS1 offers one of the most extensive museum programs dedicated to live art in the world, representing a core component of the institution's mission since its founding.
VW Sunday Sessions is organized by Taja Cheek, Curatorial Assistant, MoMA PS1; and Alex Sloane, Curatorial Assistant, MoMA PS1, with Alexandra Rosenberg, Associate Producer.

VW Sunday Sessions and the VW Dome at MoMA PS1 are made possible by a partnership with Volkswagen of America, who have supported the program for six years since its inception.