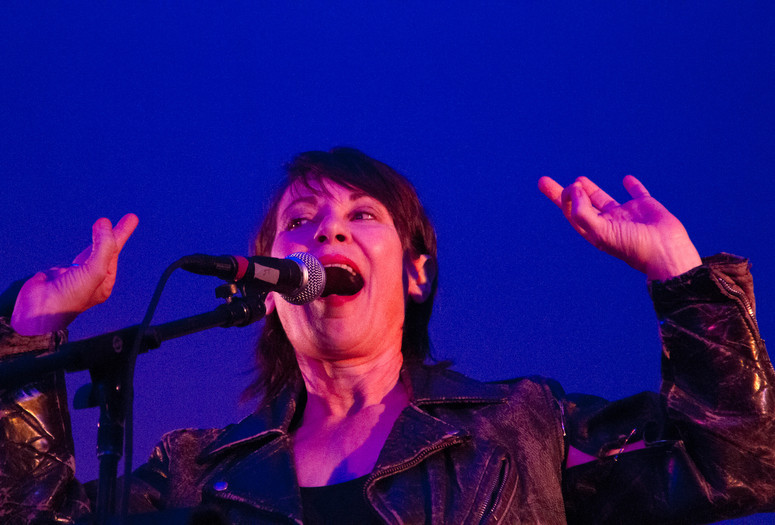 In conjunction with Club 57: Film, Performance, and Art in the East Village, 1978–1983, Sunday Sessions presents a program of film, poetry, performances, discussion, and music rooted in the counterculture synonymous with downtown Manhattan in the 1970s and 1980s.
Club 57, like MoMA PS1 in the same era (then known simply as P.S.1), was a hive of interdisciplinary creation in which music, performance, film, theater, and art came together. Reuniting legends including Strange Party, fronted by Joey Arias, Adele Bertei, and Bob Holman of the Poetry Project, this program recaptures the spirit of the club scene and celebrates the legacy of New York's alternative spaces alongside the art and artists they embraced.
Thursday, November 2–Saturday, November 4, 2017
12:00–6:00 p.m.
Throughout MoMA PS1's regular opening hours, a selection of videos and films from Club 57 and its surrounding scene will be screened in the VW Dome. The selections are moving image works recently acquired and preserved by the The Museum of Modern Art's Department of Film, featuring performance documentation, music videos, cable programs, and Super8 films.
Free with Museum admission
Sunday, November 5, 2017
This day-long program of poetry, performances, discussion, and music brings together artists who were part of Club 57 and New York's Downtown community in the late 1970s and early 1980s, as well as younger artists emerging out of contemporary counterculture.
A recital organized by Bob Holman, poet and former host of the St Marks Poetry Project, (1978–84), features poets and musicians including Eszter Balint, Chris Cochrane, Mohamad Hodeib, Ashley August and Vito Ricci. Screenings and a discussion focused on the legacy of club culture and alternative spaces with MoMA PS1 founder Alanna Heiss, curator Lia Gangitano, and artist John Ahearn will take place alongside a temporary installation by Man Parrish and a performance by Brant Kingman that originally premiered at MoMA PS1 in the early 80s. The day culminates with a live performance from Adele Bertei and a one-off reunion concert from the iconic club band Strange Party led by Joey Arias.
Tickets: $15 (MoMA members $13)
MoMA PS1's acclaimed VW Sunday Sessions program welcomes visitors to experience art live and in real time. Embracing performance, music, dance, conversations, and film, the program vividly demonstrates how these art forms can push us to engage with our contemporary world in creative, illuminating ways. With an emphasis on artistic practices that blur and break traditional genre boundaries, the program supports and commissions new work, inviting artists, curators, and other cultural instigators to share their latest projects. MoMA PS1 offers one of the most extensive museum programs dedicated to live art in the world, representing a core component of the institution's mission since its founding.
VW Sunday Sessions is organized by Taja Cheek, Curatorial Assistant, MoMA PS1; and Alex Sloane, Curatorial Assistant, MoMA PS1, with Alexandra Rosenberg, Associate Producer.

VW Sunday Sessions and the VW Dome at MoMA PS1 are made possible by a partnership with Volkswagen of America, who have supported the program for six years since its inception.