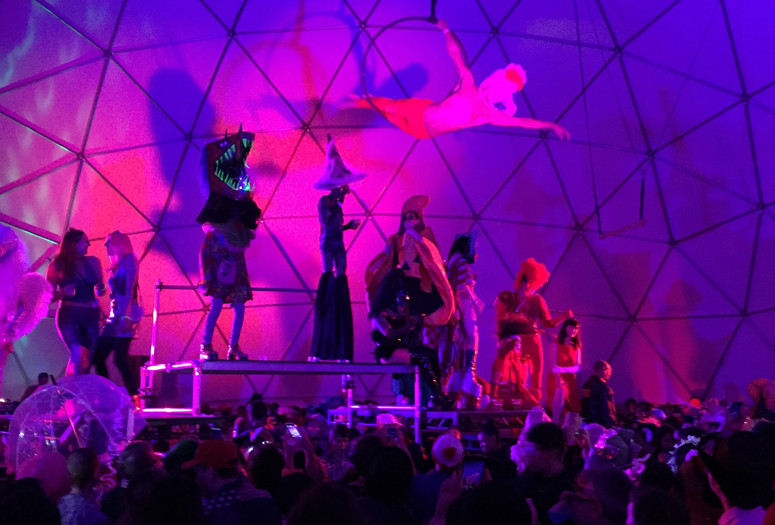 Calling all creatures of the night for an evening of futuristic fantasy, exploring the vast reaches of the creative cosmos with performances, DJs, dancing, and the most out-of-this-world costumes in NYC! Join MoMA PS1 and the legendary Susanne Bartsch for an otherworldly gathering of sci-fi cyber babes, glam-rock robots, and arty extraterrestrials.
The Sixth Annual Halloween Ball will feature a dance party with DJ sets by Eli Escobar, W Jeremy, Tom Peters, Amber Valentine, and Bridget Marie Zazaza Disco.
Performers include Julie Atlas Muz, Fou York, Fightclubny, Sateen, Sister Dimension, Shequida, Leonid the Magnificent, Cornelius Loy, Amanda Lepore, Hana Quist, Suzie Hart, Ryan Burke, Archie Robertson, CT Hedden, Kiss, Devin Kelly, Spacebabe, Joe!, Forrest Wu, Linux, Casey Yalater, Rify Royalty, Brent Ray Fraser, Sandflower, Harajuku, Dolly Dharma, Radical Pom, Munroe Lily, Miscellaneous Domtop, Brandon Olson, Gage of the Boone, Jarrett Edward & Zac Weiss, Family Jewels, Renee Masoomian, Joseph Graham, A.E. Kieren.
Hosted by Animal X, Korakrit Arunanondchai, Klaus Biesenbach, Raul de Nieves, Peter Eleey, Angela Goding, Lypsinka, Ryan McNamara, Eliza Ryan, Sam Roeck, Jacolby Satterwhite, Jeremy Kost, Dorian Grinspan, Casey Spooner, BCALLA, Imogene Strauss, Amanda Lepore, KAIMIN, TABBOO!, Stewart Uoo, and David Velasco.
The museum's galleries will be open for visitors to view special exhibitions, and cash bars will serve beer, wine, cocktails, and a signature punch.
MoMA PS1's acclaimed VW Sunday Sessions program welcomes visitors to experience art live and in real time. Embracing performance, music, dance, conversations, and film, the program vividly demonstrates how these art forms can push us to engage with our contemporary world in creative, illuminating ways. With an emphasis on artistic practices that blur and break traditional genre boundaries, the program supports and commissions new work, inviting artists, curators, and other cultural instigators to share their latest projects. MoMA PS1 offers one of the most extensive museum programs dedicated to live art in the world, representing a core component of the institution's mission since its founding.
VW Sunday Sessions is organized by Taja Cheek, Curatorial Assistant, MoMA PS1; and Alex Sloane, Curatorial Assistant, MoMA PS1, with Alexandra Rosenberg, Associate Producer.

VW Sunday Sessions and the VW Dome at MoMA PS1 are made possible by a partnership with Volkswagen of America, who have supported the program for six years since its inception.