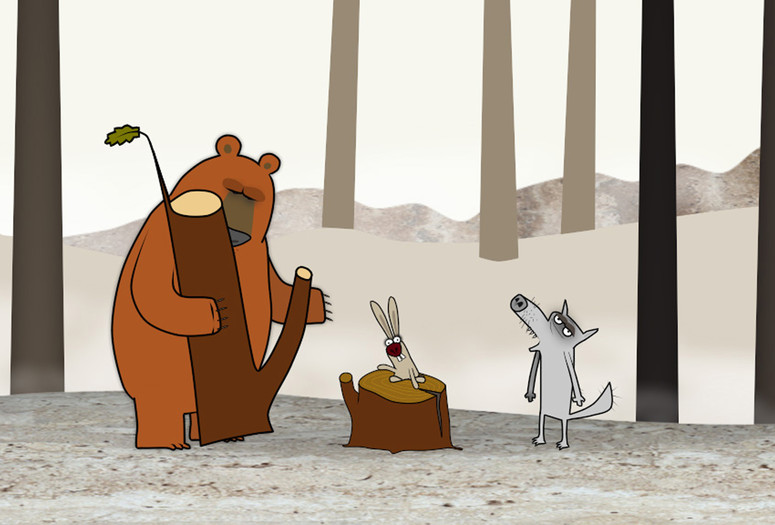 Log Jam KJFG No. 5. 2007. Hungary. Directed by Alexei Alexeev. 2 min.
Three "professional" musicians—a bear, a rabbit, and a wolf—are practicing their art in the forest, but suddenly a hunter turns up on the scene . . .
Kuumba. 1978. USA. Directed by Bob Bloomberg and Jane Aaron. 8 min.
Using cutouts created by children, which were animated by adults, this is an origins tale from the island of Trinidad. Set on the evening of Carnival, which is known elsewhere as Mardi Gras, the film tells a delightful story of problem-solving and discovery.
Musical Max. 1993. USA. Directed by Virginia Wilkos. 9 min.
Based on the book by Robert Kraus, this film features a young hippopotamus who happens to be very musically inclined. Max can play any instrument and loves to practice. He likes to practice so much that his blowing, plinking, and banging annoys his father (and the neighbors too!). See what happens when Max decides to give up practicing.
The Day I Beat the Sky. 2016. France. Directed by Hughes Valin. 3 min.
While he is fascinated by every resonating thing, a boy must face his greatest fear: a storm. He's then going to use his gift for rhythms and sounds to beat his phobia.
Begone Dull Care. 1949. Canada. Directed by Evelyn Lambart and Norman McLaren. 8 min.
This masterpiece of hand drawn animation features colors, shapes, and patterns painted directly onto clear 35mm film stock and set to the jazz music of the Oscar Peterson Trio.
Enjoy new and classic family-friendly short films, engaging discussions, and suggestions for follow-up activities in the Museum's galleries. This program is for individual families of up to two adults and up to three kids.
View more Family Programs.

Tickets: Free tickets are distributed on a first-come, first-served basis starting at 10:00 a.m. on the day of the program at the information desk in the Education and Research Building, at 4 West 54 Street.

Contact: (212) 708-9805 or [email protected]

Accessibility: Sound amplification devices are available for all programs. All theaters are equipped with loop systems and are wheelchair accessible.