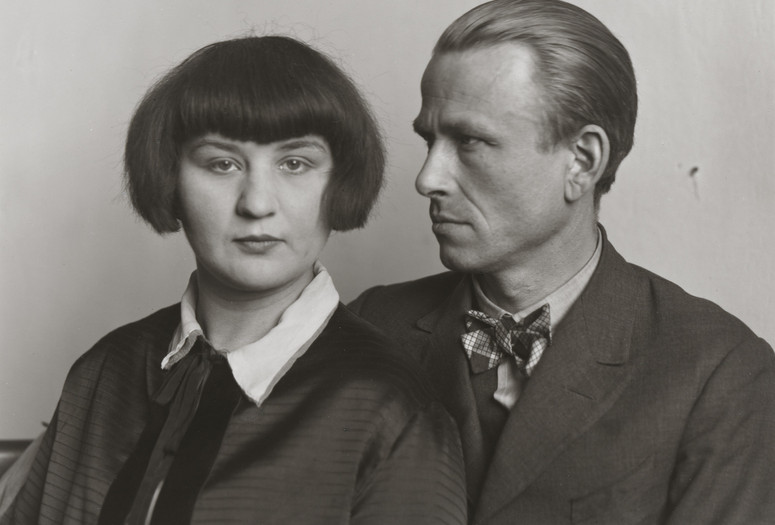 2017 Presenters and Portfolios
Adam Kirsch: The Small-Town Dweller (I/6)
Adam Kirsch is a poet and critic who has taught at Columbia University and Sarah Lawrence College. He is the author of three books of poetry, including most recently Emblems of the Passing World: Poems after Photographs by August Sander (Other Press), and several books of criticism, including The People and the Books: 18 Classics of Jewish Literature (WW Norton). His work appears regularly in The New Yorker, the New York Review of Books, and other publications.
Martha Rosler: Working Types - Physical and Intellectual (II/11)
Martha Rosler's work focuses on the public sphere and landscapes of everyday life, especially as they affect women. Many of her projects center on representation and subjectivity, as in the photomontage series Body Beautiful, or Beauty Knows No Pain (1966–72) and House Beautiful: Bringing the War Home (c. 1967–72; new series, 2003-2008) and her photo-text work The Bowery in two inadequate descriptive systems (1974/75). Other works look at urbanism and gentrification. In 2012, Rosler staged the Meta-Monumental Garage Sale at MoMA — the latest in a series of Garage Sales. She lives and works in Brooklyn.
Sarah Meister: Woman and Man (III/13)
Sarah Meister is Curator of Photography at MoMA. Her exhibition Making Space: Women Artists and Postwar Abstraction (co-organized with Starr Figura) closed last month. Recent publications include One and One Is Four: The Bauhaus Photocollages of Josef Albers and Arbus Friedlander Winogrand: New Documents, 1967. She is a co-editor of and contributing author to the three-volume Photography at MoMA publication series (1960 to Now; 1920 to 1960; and the forthcoming 1840 to 1920). Her current research revolves around Brazilian modernist photography. Along with Noam Elcott, she directs the August Sander Project.
Fazal Sheikh: The Family (III/15)
Fazal Sheikh is an artist who uses photographs to document people living in displaced and marginalized communities around the world. His principle medium is the portrait, although his work also encompasses personal narratives, found photographs, archival material, sound, and his own written texts. He works from the conviction that a portrait is an act of mutual engagement, and that a meaningful series is made only through a long-term commitment to a place and a community. Fazal Sheikh's work has been exhibited in galleries and museums around the world. Among other awards, in 2005 he was named a MacArthur Foundation Fellow and in 2012 a Guggenheim Fellow.
Elizabeth Otto: The Elegant Woman (III/16)
Elizabeth Otto is Associate Professor of Modern Art History and Visual Studies at the University at Buffalo, State University of New York. Her publications treat topics from the male body in Weimar-era visual culture to Leni Riefenstahl's Nazi neoclassicism. Otto's books include Tempo, Tempo! The Bauhaus Photomontages of Marianne Brandt (Berlin, 2005) and the coedited volumes The New Woman International: Representations in Photography and Film from the 1870s through the 1960s (with Vanessa Rocco; Ann Arbor, 2011) and Passages of Exile (with Burcu Dogramaci; Munich, 2017). In 2017-18 she is a Fellow at the National Humanities Center completing her book, Haunted Bauhaus.
James Crump: The Scholar (IV/19)
James Crump is an acclaimed director, filmmaker and art historian. His films include Black White + Gray: A Portrait of Sam Wagstaff and Robert Mapplethorpe (2007), Troublemakers: The Story of Land Art (2015) and Antonio Lopez 1970: Sex Fashion & Disco premiering October 5 at the 2017 BFI London Film Festival. He has organized exhibitions and published books on numerous artists including Doug Aitken, Nan Goldin and the estates of Robert Mapplethorpe and Walker Evans. His recent publications include Carlo Mollino: Polaroids (2014), James Welling: Monograph (2013) and Doug & Mike Starn: Gravity of Light (2012). Crump resides in New York and Los Angeles.
Robin Kelsey: The Judge and the Attorney (IV/22)
Robin Kelsey is Shirley Carter Burden Professor of Photography and Dean of Arts and Humanities at Harvard University. He holds a PhD from Harvard and a JD from Yale Law School. A specialist in the histories of photography and American art, Professor Kelsey has published on such topics as the role of chance in photography, geographical survey photography, landscape theory, ecology and historical interpretation, picture theory, and the nexus of art and law. In 2016 he was named a Walter Channing Cabot Fellow, in recognition of achievement and scholarly eminence in the study of literature, history, or art, for his book Photography and the Art of Chance.
Omer Fast: The National Socialist (IV/23a)
Omer Fast is an artist and filmmaker living in Berlin. His short film in 3D, August, was commissioned by the Berliner Festspiele for the artist's solo exhibition at the Martin Gropius Bau in Berlin, which closed in March of this year. Following the screening at MoMA, the film will also be shown at the James Cohan Gallery in New York and the Minneapolis Institute of Art.
Brian Wallis: Traveling People – Gypsies and Itinerants (VI/38)
Brian Wallis is a writer, curator, and historian of photography. He is Curator for the Walther Collection, New York / Ulm, and was formerly Deputy Director and Chief Curator at the International Center of Photography, New York, 2000-15. He previously worked at the Solomon R. Guggenheim Museum, the Museum of Modern Art, and the New Museum of Contemporary Art. Wallis is the author and editor of numerous books, including The Order of Things (2015), Weegee: Murder is My Business (2012), and Miroslav Tichy (2010). He is currently organizing a retrospective exhibition of the documentary photographs of Mary Ellen Mark.
Thomas Struth: The Persecuted (VI/44)
German artist Thomas Struth started his career in the 1970s, studying at the Kunstakademie Düsseldorf. The themes of his photographic oeuvre range from urban architecture, visitors looking at iconic works of art, portraiture and landscape to, most recently, sites of technological and scientific research. In the past three years his work has been presented in solo exhibitions at The Metropolitan Museum of Art, New York; High Museum of Art, Atlanta; Mody Center for the Arts, Houston; Haus der Kunst, Munich; Martin-Gropius-Bau, Berlin, and Museum Folkwang, Essen. Struth's work is held in major museum collections worldwide including New York, Dallas, Atlanta, Zürich, Seoul, Tokyo, Madrid, London, Paris, Düsseldorf, Essen, Frankfurt, and Munich.
Moderators:
Leah Dickerman is the Marlene Hess Curator of Painting and Sculpture at The Museum of Modern Art and the Director of The Museum Research Consortium, a MoMA partnership with graduate art history programs supported by the Andrew W. Mellon Foundation. Over the course of her career, Dickerman has organized acclaimed exhibitions that offer new perspectives on the modern, most recently Robert Rauschenberg: Among Friends (2017), One-Way Ticket: Jacob Lawrence's Migration Series (2015), Inventing Abstraction, 1910-1925 (2012-2013), Diego Rivera: Murals for the Museum of Modern Art (2011-2012) and Bauhaus: Workshops for Modernity (2008-2009). She has served on the editorial board of the journal October since 2000.
Alex Alberro is the Virginia Wright Professor of Modern and Contemporary Art History at Barnard College. His most recent book, Abstraction in Reverse: The Reconfigured Spectator in Mid-Twentieth Century Latin American Art, is published by University of Chicago Press. He has also written and edited numerous volumes on contemporary art, and contributed essays to a broad array of critical journals and exhibition catalogues.
Co-Directors:
Noam M. Elcott (Columbia University) and
Sarah H. Meister (The Museum of Modern Art)
The August Sander Project is made possible through the generous support of David Dechman and Artur Walther.