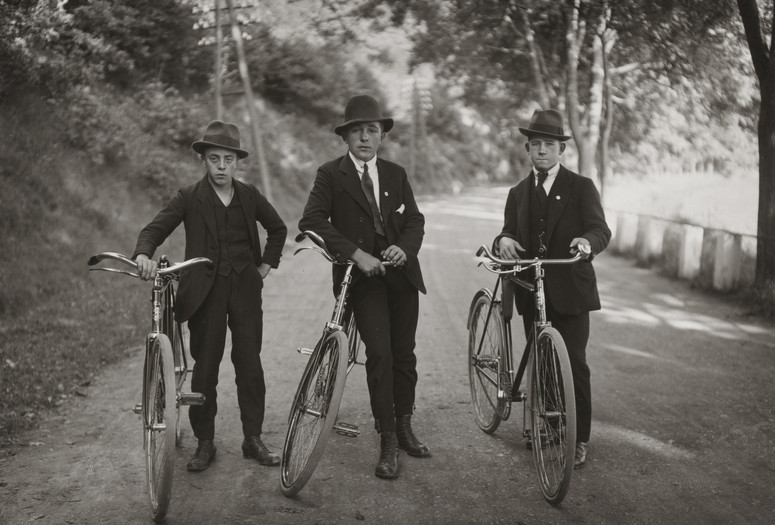 2016 Presenters and Portfolios
Tina Barney: The Young Farmer (I/1)
Tina Barney is a photographer whose career began in the mid-1970s while living in Sun Valley, Idaho. She began photographing in color with a large format view camera before returning to New York in 1983. Her iconic tableaus portraying the daily life of the social elite are in the permanent collections of numerous institutions including the MoMA, the Whitney Museum of American Art, LACMA, and the MFA Boston. Barney participated in the 1987 Whitney Biennial, and recently she has had solo exhibitions at the New Orleans Museum of Art, the Frist Center in Nashville, and the Barbican Art Gallery in London. In 2017 Rizzoli is publishing a monograph of her photographs.
Quentin Bajac: Sports (I/7)
Quentin Bajac is The Joel and Anne Ehrenkranz Chief Curator of the Department of Photography at MoMA. His recent exhibitions include Scenes for a New Heritage: Contemporary Art from the Collection (2015), Modern Photographs from the Thomas Walther Collection, 1909–1949 (2014), and A World of Its Own: Photographic Practices in the Studio (2013). Prior to MoMA, Bajac was Chief Curator of Photography at the Centre Pompidou in Paris where he curated or co-curated a large number of shows on modern and contemporary photography, including Bernd and Hilla Becher; William Klein; La subversion des images: Surrealism, Photography, Film; and Brancusi: Images sans fin. Bajac has extensively published on aspects of historical, modern and contemporary photography including A History of Photography in 3 Volumes (Gallimard, 2003-2010).
Noam Elcott: The Worker – His Life and Work (II/10)
Noam Elcott is Associate Professor of Art History and Archaeology at Columbia University and an editor of the journal Grey Room. His first book Artificial Darkness: An Obscure History of Modern Art and Media (University of Chicago Press 2016) traverses the late-nineteenth and early-twentieth centuries to argue that darkness has a history and a uniquely modern form. He is at work on Art in the First Screen Age: László Moholy-Nagy and the Cinefication of the Arts (University of Chicago Press). Along with Sarah Meister, he directs the August Sander Project.
Roxana Marcoci: The Painter (V/33)
Roxana Marcoci is Senior Curator of Photography, and Chair of Central and Eastern European C-MAP Group at MoMA. Her exhibitions include Zoe Leonard (2015), Christopher Williams (2014), Taryn Simon (2012), Sanja Iveković (2011), Olafur Eliasson (2008), and Thomas Demand (2005), and surveys such as The Shaping of New Visions: Photography, Film, Photobook (2012), and The Original Copy: Photography of Sculpture, 1839 to Today (2010). She is at work on a critical anthology of art and theory of post-1989 Central and Eastern Europe, and the exhibitions A Revolutionary Impulse: The Rise of the Russian Avant-Garde (2016), and Louise Lawler: WHY PICTURES NOW (2017).
Deb Willis: Traveling People—Fair and Circus (VI/37)
Deb Willis is University Professor and Chair of the Department of Photography & Imaging at New York University/Tisch and has an affiliated appointment with Africana Studies, where she teaches courses on photography and imaging, iconicity, and cultural histories visualizing the black body, women, and gender. Her research examines photography's multifaceted histories, visual culture, the photographic history of Slavery and Emancipation, contemporary women photographers and beauty. A MacArthur Fellow, she received a Guggenheim Fellowship and was a Richard D. Cohen Fellow at Hutchins Center at Harvard University in 2015. Professor Willis books include Posing Beauty, Reflections in Black, and Envisioning Emancipation, among others.
Carol Armstrong: Types and Figures of the City (VI/42)
Carol Armstrong is professor in the department of History of Art at Yale University, where she teaches 19th century French painting, the history of photography, feminist theory, and the history of art criticism. She has written books and articles on Degas and Manet, 19th century photographic illustration, and women photographers of both centuries, among other things. She has been active as an art critic, a guest curator, and a photographer in her own right. She is currently at work finishing a book on Cézanne and his afterlives, and is planning a next book project on medium specificities considered from a feminist point of view.
Olivier Lugon: People who Came to my Door (VI/43)
Olivier Lugon is art historian, professor at the University of Lausanne. His research focuses on the history of photography and of exhibition design in the 20th Century. He has published widely on documentary photography, photography of the Weimar Republic, photography exhibitions and slide projection. He currently directs the Swiss National Science Foundation research projects Photography and Exhibition in Switzerland, 1920-1970 and Encapsulating World Culture: The Rise and the Imaginary of Microfilm (1920s to 1950s). He was Fellow at the CASVA, Washington, and Getty Scholar at the Getty Research Institute, Los Angeles. He is coeditor of the new journal Transbordeur.
Gerd Sander: Political Prisoners (VI/44a)
Gerd Sander is the grandson of August Sander and one of the leading scholars and promoters of the artist's work. His first experience with the work of August Sander was at the age of 6 when his grandfather showed him how to develop prints in his dark room. In 1986 Gerd established the August Sander Archive. Along with the Photographische Sammlung/ SK Stiftung Kultur, Cologne, Gerd Sander spearheaded a revised and expanded seven-volume version of People of the Twentieth Century (2001). From 1990 to 1999, he and Jean-Luc Differdange reprinted all 619 photographs for People of the Twentieth Century from the artist's original glass plate negatives. He continues to research and curate the work of his grandfather in the August Sander Stiftung in Cologne together with his son Julian Sander.
Walead Beshty: Idiots, the Sick, the Insane and Matter (VII/45)
Walead Beshty is an artist and writer working in Los Angeles, and Associate Professor in Graduate Art at
Art Center College of Design. Recent solo exhibitions have been presented at the Barbican Centre, London; Ullens Center for Contemporary Art, Beijing; and Malmö Konsthall, Sweden. Beshty's work is held in permanent museum collections worldwide, including the Guggenheim Museum, New York; the Museum of Contemporary Art, Chicago; the Museum of Contemporary Art, Los Angeles; the Museum of Modern Art, New York; the Tate, London; and the Whitney Museum of American Art, New York, among others. His collected writings, 33 Texts: 93,614 Words: 581,035 Characters: Selected Writings (2003–2015) was recently published by JRP|Ringier.
Moderators:
Hal Foster is Townsend Martin Class of 1917 Professor of Art and Archaeology at Princeton University,
coeditor of the journal October, and author of The Art-Architecture Complex (Verso, 2011) and The First Pop Age: Painting and Subjectivity in the Art of Hamilton, Lichtenstein, Warhol, Richter, and Ruscha (Princeton University Press, 2012), among other books. His Bad New Days: Art, Criticism, Emergency (Verso) appeared last fall.
Molly Nesbit is Professor of Art History in the Department of Art at Vassar College and a contributing
editor of Artforum. Her books include Atget's Seven Albums (Yale University Press, 1992) and Their Common Sense (Black Dog, 2000). The Pragmatism in the History of Art (Periscope, 2013) is the first volume of Pre-Occupations, a series collecting her essays. The second volume, Midnight: The Tempest Essays, will be published this winter by Inventory Press. Since 2002, together with Hans Ulrich Obrist and Rirkrit Tiravanija, she has curated Utopia Station, an ongoing collective book, exhibition, seminar, website and street project, opening next at the Brooklyn Museum in April 2017.
Co-Directors:
Noam M. Elcott (Columbia University) and
Sarah H. Meister (The Museum of Modern Art)
Photographs
August Sander (German, 1876–1964) created the most ambitious and influential portrait of the people of the 20th century. This encyclopedic photographic project—anchored in the farmers of the Westerwald but extending to the furthest reaches of professional, bohemian, and polite society—was never completed. And its most comprehensive form—over 600 photographs divided into seven volumes and nearly 50 portfolios—has never been exhibited in North America. In 2015 MoMA acquired all 619 photographs that comprise People of the Twentieth Century.
Project
We plan to gather leading art historians, curators, artists, and other scholars and writers once a year for five years. At each daylong meeting, 9–10 participants will each present a single portfolio according to her or his expertise and insight. Over the course of five years, we will return to Sander's seven basic groupings (The Farmer, The Skilled Tradesman, The Woman, Classes and Professionals, The Artists, The City, The Last People) from multiple perspectives: historical and curatorial, artistic and poetic, philosophical and conceptual.
Format
Each annual, daylong gathering combines 9–10 focused presentations of individual portfolios. An intimate group of approximately 50 scholars, curators, and artists will meet at The Museum of Modern Art, surrounded by the portfolios selected by each year's presenters. Talks and discussions will be recorded and transcribed, and we are exploring ways of sharing this information with a broader audience.
Themes
No theme is off limits. Among the numerous topics summoned by Sander's People of the Twentieth Century are portraiture; the Weimar republic; gender, class, and other social structures; photo-books and archives; documents and documentary; physiognomy (the art and "science" of reading faces); humanism and anti-humanism; Sander's post-WWII aesthetic legacy; and the multifarious contemporary efforts—honorific and repressive—to compile and organize photographs of faces.
The August Sander Project is made possible through the generous support of David Dechman and Artur Walther.