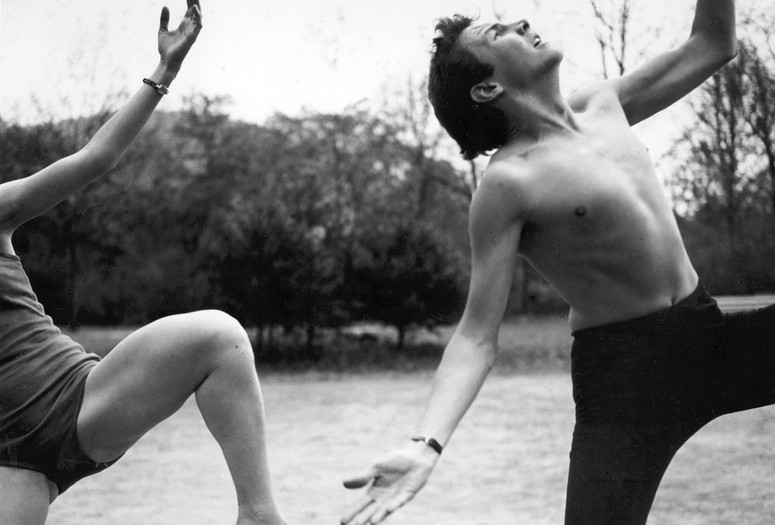 "I've always been attracted and tempted into nearly any situation where the final work is the result of more than one person's doing." – Robert Rauschenberg
Robert Rauschenberg's six-decade career was shaped by his friendships and collaborations with avant-garde choreographers and dancers. Over extended periods, he worked with Trisha Brown, Merce Cunningham, and Paul Taylor, contributing sets, costumes, lighting design, and sound to their dances. These projects in turn focused his interest in time and motion, and helped define his approach to painting, sculpture, printmaking, and photography. In conjunction with the exhibition Robert Rauschenberg: Among Friends, this performance program unites the choreography of Brown, Cunningham, and Taylor—three icons of American modern dance rarely seen side by side—in some of their most significant collaborations with Rauschenberg to explore how dance shaped his art, and vice versa.
This event is free and open to the public.
In the event of inclement weather, the performance will take place on Thursday, September 7. Please check the website for the most up-to-date information.
Bios:
Trisha Brown (1936–2017) moved to New York in 1961, where she soon helped found the avant-garde Judson Dance Theater, where Rauschenberg and Brown were frequent collaborators. In 1970, Brown formed the Trisha Brown Dance Company; she invited Rauschenberg to work on her first dance for the proscenium stage in 1979. Over the next 16 years, they worked together on seven dances.
Merce Cunningham (1919–2009), who began his professional dance career as a soloist in the Martha Graham Dance Company, presented his first solo concert with John Cage in 1944 and formed the Merce Cunningham Dance Company in 1953. Cunningham and Rauschenberg first spent time together at Black Mountain College, near Asheville, North Carolina, in the summer of 1952, and they collaborated on 23 dances between 1954 and 2007.
Paul Taylor (b. 1930) danced in the early 1950s with Martha Graham and Merce Cunningham. In 1954 he founded the Paul Taylor Dance Company, of which he remains Artistic Director. Taylor and Rauschenberg met at New York's Stable Gallery in 1953, and they collaborated on 10 dances between 1956 and 1962.
Program:
Merce Cunningham
Changeling. 1958
Performed by Silas Riener
Music: Christian Wolff. Suite (I). 1954
Costumes: After the design by Robert Rauschenberg
Excerpts from Antic Meet (1958) and Travelogue. 1977
Performed by Dylan Crossman, Daniel Madoff, Melissa Toogood
Music: John Cage. Concert for Piano and Orchestra. 1957–58
Costumes: After the design by Robert Rauschenberg
Changeling reconstructed by Jean Freebury, Silas Riener.
Antic Meet and Travelogue arranged and staged by Andrea Weber.
All choreography © Merce Cunningham Trust. All rights reserved.
Paul Taylor
Three Epitaphs. 1956
Performed by Alana Allende, Rei Akazawa, Amanda Stevenson, Princeton McCurtain, Irving Amigon
Music: Traditional New Orleans jazz
Costumes: After the design by Robert Rauschenberg
Tracer. 1962
Performed by Jake Deibert, Alana Allende, Rei Akazawa, Amanda Stevenson
Music: James Tenney
Costumes: After the design by Robert Rauschenberg
Set design: Robert Rauschenberg
Tracer reconstructed by Kim Jones, supervised by Ruth Andrien. Reconstruction made possible by UNC Charlotte, the Wells Fargo Foundation, and the National Endowment for the Arts.
Trisha Brown
You Can See Us. 1995
Performed by Cecily Campbell, Leah Morrison
Sound and costume design: Robert Rauschenberg
Organized by Jenny Harris, Curatorial Assistant, and Emily Liebert, Curatorial Assistant, Department of Painting and Sculpture; and produced by Lizzie Gorfaine, Assistant Director and Producer, Performance and Live Programs

Select programs in conjunction with Robert Rauschenberg: Among Friends at The Museum of Modern Art are made possible in part through a grant from the Robert Rauschenberg Foundation.