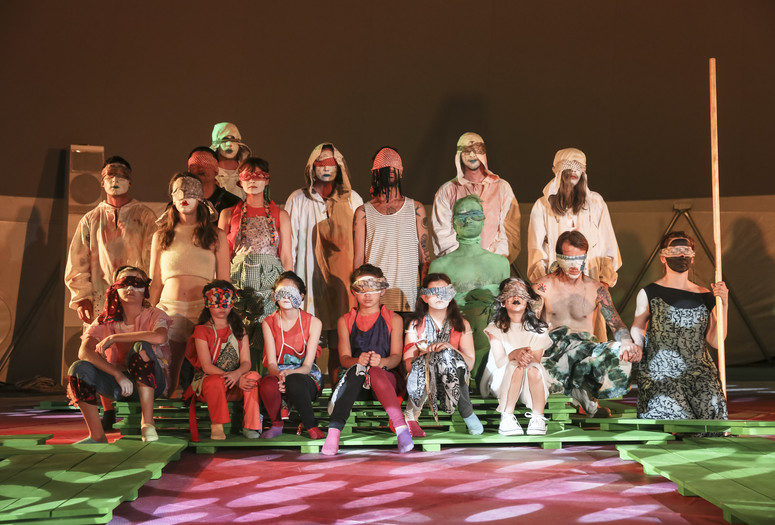 Throughout April 2016, Madison and Lutz-Kinoy, together with a group of collaborators, have been revisiting Terayama's legacy through film screenings, historical research, an outdoor display, musical scores and theater rehearsals, culminating in two live performances of the play, Kegawa no Marii ("La Marie-Vison"), 1967.
In the play, Marie, a middle-aged prostitute enamored of all things Western, is raising an adopted son, Kin'ya. Kin'ya is kept behind locked doors, while Marie simulates the outside world for him. A cast of hired helpers and supernatural beings support her to keep the simulation going while she plays out her manipulative character. The play casts the family unit as a structure of deception and control, and as a metaphor for other social institutions that must be abandoned, a theme which runs through Terayama's entire oeuvre.
Focused less on historical accuracy, Madison and Lutz-Kinoy's interpretation embraces the spirit of collaboration and communal creativity advocated by Terayama and his Tokyo-based company Tenjo Sajiki. Founded in 1967 and mainly consisting of runaway teens, the amateur theater group functioned in its many different constellations as the breeding ground for Terayama's prolific output until his untimely death at the age of 47.​
Lutz-Kinoy and Madison are joined by Berlin-based director Ariel Efraim Ashbel and two of his regular actors, Jessica Gadani and $hubi, the Tokyo-based performance artist Cobra, New York-based performer Ezra Azrieli Holzman, New York-based band, STEIKETO, comprised of Stefan Tcherepnin, Veit Laurent Kurz(Steit) and Taketo Shimada, San Antonio-based writer William Z Saunders, New York-based artists Leigha Mason, Elizabeth Orr, Jessie Stead and Hanna Törnudd, fashion label ECKHAUS LATTA, and New York-based child performers Charlotte Beede, Maeve Press, Amaya Press, Miles Sherr-Garcia and Bette Sherr-Garcia.
In conjunction with this project Sunday Sessions screens Shūji Terayama's feature film, Throw Away Your Books, Rally in the Streets, 1971 on Saturday April 16 at 6.30 p.m.
Sunday Sessions is a weekly presentation of performance, moving images, dance, music, and discursive programs. Its mission is to embrace live arts as an integral aspect of contemporary practice and ask how art forms, which unfold in the here and now, produce specific ways of thinking and useful means to engage with the broader world. Every Sunday different artists, curators, thinkers and a range of other cultural agents are invited to share their latest projects and ideas with the MoMA PS1 audience.
With Special Thanks to Pro Helvetia.

Tobias Madison and Matthew Lutz-Kinoy, Rotting Wood, the Dripping Word: Shūji Terayama's Kegawa no Marii, 2016, is a MoMA PS1 Commission as part of Sunday Sessions.

Sunday Sessions is organized by Jenny Schlenzka, Associate Curator; Alex Sloane, Curatorial Assistant; Taja Cheek, Curatorial Assistant; Rosey Selig-Addiss, Associate Producer; and Lucy Lie, Production Assistant.

Sunday Sessions and the VW Dome at MoMA PS1 are made possible by a partnership with Volkswagen of America.