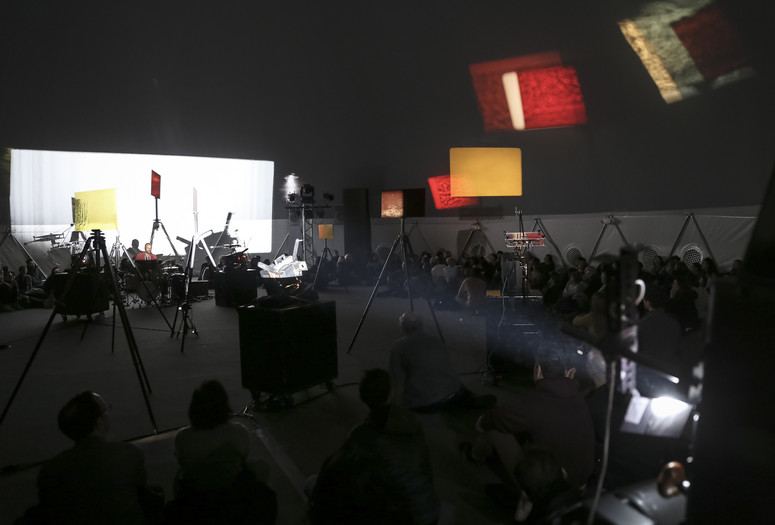 Live performances by the artists take place within the installation at 4:00 p.m. and 5:00 p.m..
Rosa Barba presents the first performance of White Museum – Live in which she plays with the light emitted from a 70mm projector as though it were an instrument. The work is a continuation of Barba's series White Museum that began in 2010 with long-term projections of empty white film onto surrounding landscapes of different international museums. For the iteration at MoMA PS1 the artist turns the focus on the interior, illuminating the inside of the VW Dome. By synching the shutter movement of the projector with the percussions of a live drummer (Chad Taylor) and manipulating the architectural and acoustic surroundings, Barba creates her version of a drum machine that pumps light into the Dome, engulfing the space. The result is a performative installation that is both a visual concert and a sculpture of light.
Rosa Barba is a Berlin-based artist whose practice is deeply invested in the materialities, functions, and structures of cinema. Ranging from celluloid sculptures to narrative film installations, her works use cinematic tropes in order to pose larger questions about time and space.
Chad Taylor is a critically acclaimed percussionist and composer based in Brooklyn, NY. He is a co-founder of the Chicago Underground ensembles and has performed with Theaster Gates, Marc Ribot and Iron and Wine.
Sunday Sessions is a weekly presentation of performance, moving images, dance, music, and discursive programs. Its mission is to embrace live arts as an integral aspect of contemporary practice and ask how art forms, which unfold in the here and now, produce specific ways of thinking and useful means to engage with the broader world. Every Sunday different artists, curators, thinkers and a range of other cultural agents are invited to share their latest projects and ideas with the MoMA PS1 audience.
Sunday Sessions is organized by Jenny Schlenzka, Associate Curator, with Alex Sloane, Curatorial Assistant; Taja Cheek, Curatorial Assistant; Rosey Selig-Addiss, Associate Producer and Lucy Lie, Production Assistant.

Sunday Sessions and the VW Dome at MoMA PS1 are made possible by a partnership with Volkswagen of America.