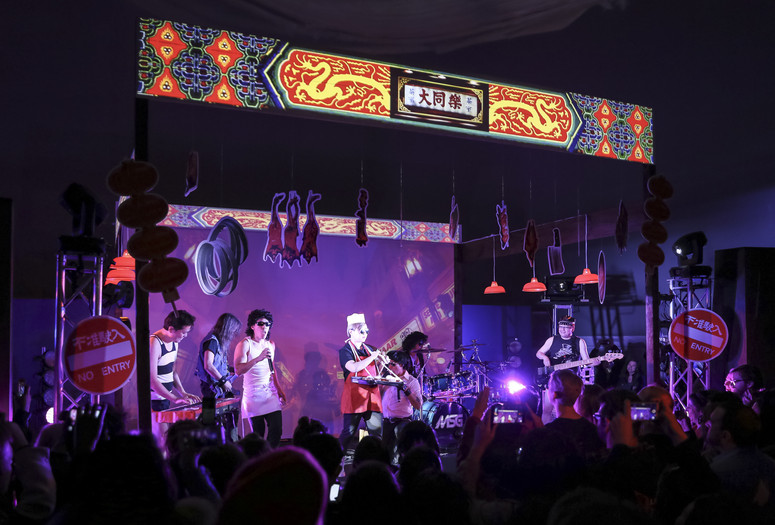 SCHEDULE
12:00 p.m. – Doors Open
3:00 p.m. – Conversation with Cao Fei and Klaus Biesenbach
4:00 p.m. – Cao Fei and The Notorious MSG, Straight Out of Times
On the occasion of the artist's first comprehensive museum solo show in the United States, Cao Fei is teams up with The Notorious MSG for a performance, Straight Out of Times.
Prior to the performance, Cao Fei joins Klaus Biesenbach, Director, MoMA PS1 and Chief Curator at Large, The Museum of Modern Art, for a conversation surrounding her work and exhibition at MoMA PS1.
The Notorious MSG is a group of performers inspired by a "gangster sensibility" and what they call the "alternative cultural imagination of Chinatown itself." New York's Chinatown gives rise to a new social order, entirely different from the social systems in place in many of the "home" countries of Chinatown's residents. This new order is underground, and provides a safe haven for immigrants and other disenfranchised groups and individuals alike (including, artists) to exist and thrive together. Out of this new camaraderie grows a kind of kinship, and also a resistant power.
In 2006, Cao Fei found The Notorious MSG's song "Straight out of Canton" on the Internet while she was producing her Hip Hop series, which takes a look at cultural vernacular as enacted by everyday workers and passersby on the street. The song was performed by the three core musicians who comprise the Notorious MSG — performers of Cantonese, Taiwanese and Korean origin who all work at restaurants in New York's Chinatown.
Upon first meeting and beginning to collaborate with Cao Fei, she quickly became their "Canton Sista!" to quote the group.
Sunday Sessions is a weekly presentation of performance, moving images, dance, music, and discursive programs. Its mission is to embrace live arts as an integral aspect of contemporary practice and ask how art forms, which unfold in the here and now, produce specific ways of thinking and useful means to engage with the broader world. Every Sunday different artists, curators, thinkers and a range of other cultural agents are invited to share their latest projects and ideas with the MoMA PS1 audience.
Sunday Sessions is organized by Jenny Schlenzka, Associate Curator, with Alex Sloane, Curatorial Assistant; Taja Cheek, Curatorial Assistant; Rosey Selig-Addiss, Associate Producer and Lucy Lie, Production Assistant.

Sunday Sessions and the VW Dome at MoMA PS1 are made possible by a partnership with Volkswagen of America.