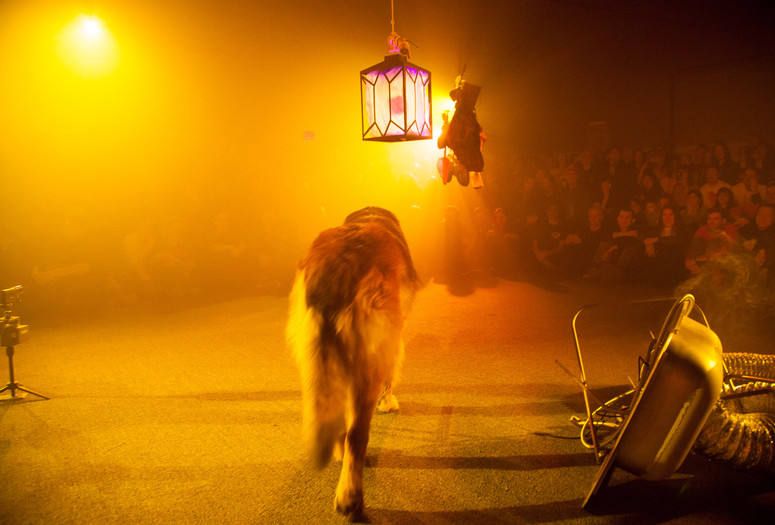 Hayley Aviva Silverman presents her ninth 'dog play', in which a small cast of untrained dogs take on well-known characters from popular culture.
This edition combines elements from the disaster film Twister, 1996, with Charles Dickens' Oliver Twist, interspersed with songs from the musical, Oliver!. Each dog carries a speaker that projects the internal monologue of its character, prerecorded by human actors, including Vaginal Davis. The play takes place against an apocalyptic backdrop, made in collaboration with Matthew Schrader.
Silverman's performances embrace and question the nostalgic spaces occupied by mainstream films, music, and literature through a performative re-telling. Creating elaborated fantasies, the series of dog plays (2010-ongoing) refashion, expand, and revise male-authored narratives.
The reconfiguration of iconic characters and exploration of cultural nostalgia is further examined in Silverman's series of small resin sculptures, created in soup bowls, currently on view as part of Greater New York.
CAST OF CHARACTERS
Charles Dickens…………………………VAGINAL DAVIS
Oliver Twist voice/actor…………………HUNTER OTT / BRONIK
Artful Dodger voice/actor….…………ELAINE B. CASHMORE/ MAGNETO
Fagin voice/actor…………MICHAEL POLLOCK / MR. AMERICA
Radio Announcer…………………………KEREN CYTTER
Mama……………………………RACHEL KOZLOWSKI
Orphan…………………………..FRANCIS
Orphan…………………………..WALKER
Orphan……………………………..LOGAN
Orphan…………………………..MARVIN
Orphan……………..MR. HOLLYWOOD
Orphan…………………………MURRAY
---
Set Design: MATTHEW SCHRADER and HAYLEY SILVERMAN
Stageplay: MIKE SPRETER and HAYLEY SILVERMAN
Poster Design: NOEL FREIBERT
Sunday Sessions is a weekly presentation of performance, moving images, dance, music, and discursive programs. Its mission is to embrace live arts as an integral aspect of contemporary practice and ask how art forms, which unfold in the here and now, produce specific ways of thinking and useful means to engage with the broader world. Every Sunday different artists, curators, thinkers and a range of other cultural agents are invited to share their latest projects and ideas with the MoMA PS1 audience.
Sunday Sessions is organized by Jenny Schlenzka, Associate Curator, with Alex Sloane, Curatorial Assistant; Rosey Selig-Addiss, Associate Producer and Lucy Lie, Production Assistant.

Sunday Sessions and the VW Dome at MoMA PS1 are made possible by a partnership with Volkswagen of America.

Major support for Greater New York is provided by MoMA's Wallis Annenberg Fund for Innovation in Contemporary Art through the Annenberg Foundation.

Generous funding is provided by The Contemporary Arts Council of The Museum of Modern Art, The Friends of Education of The Museum of Modern Art, and The Junior Associates of The Museum of Modern Art.

Additional support is provided by the MoMA PS1 Annual Exhibition Fund.

Special thanks to Elham and Tony Salamé.