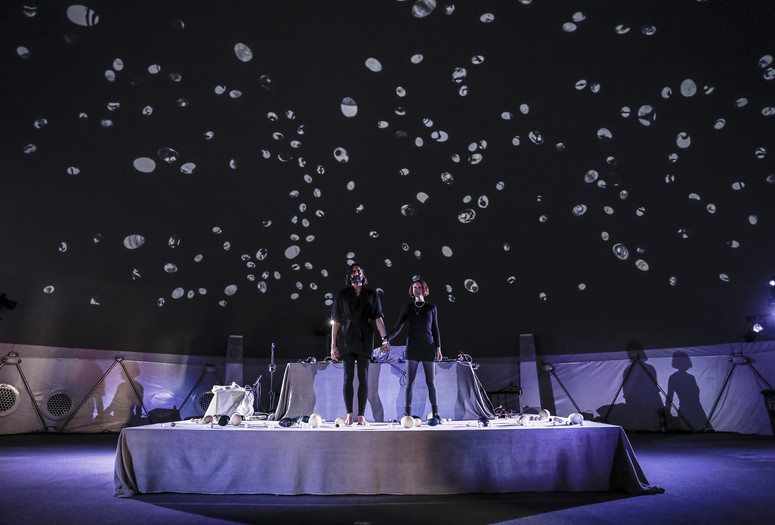 With Hisham Bharoocha, Xander Duell, Heather Goldin of Beau, Damon McMahon aka Amen Dunes, *Lykke Li, Charlotte Kemp Muhl, Empress Of, Akwetey O.T. of D.O.Z., Zanna Van Vorstenbosch, Charli XCX and Nick Zinner
Sunday Sessions presents VALIUM VALENTINE; a collaboration between acclaimed songwriter/producer and Miike Snow lead singer Andrew Wyatt and artist Sarah Ortmeyer in celebration of Valentine's Day's insipid power.
Throughout the six-hour musical performance Andrew Wyatt is joined by a cast of musicians for an improvised durational piece. Every hour a different female musician joins the group to lend a voice to a set of songs Andrew Wyatt created especially for the occasion.
In her artistic practice Sarah Ortmeyer often explores moments of ritualized happiness. In exaggeration of Valentine's Day's normative spirit, she transforms the VW Dome into a planetarium of egg-shaped stars within a grey-colored set that is as romantic as it is sad.
*recorded
Sunday Sessions is a weekly presentation of performance, moving images, dance, music, and discursive programs. Its mission is to embrace live arts as an integral aspect of contemporary practice and ask how art forms, which unfold in the here and now, produce specific ways of thinking and useful means to engage with the broader world. Every Sunday different artists, curators, thinkers and a range of other cultural agents are invited to share their latest projects and ideas with the MoMA PS1 audience.
Sunday Sessions is organized by Jenny Schlenzka, Associate Curator; with Nadja Rangel, Guest Curator; Alex Sloane, Curatorial Assistant; Taja Cheek, Curatorial Assistant; Rosey Selig-Addiss, Associate Producer; and Lucy Lie, Production Assistant.

Sunday Sessions and the VW Dome at MoMA PS1 are made possible by a partnership with Volkswagen of America.

Projections for VALIUM VALENTINE are made possible by Karl Mehrer and K2imaging.

Special thanks to Pedro Zaz and Blendy Dome VJ.

Sarah Ortmeyer, MONSTER SKY, 2016 is comprised of visual materials from MONSTER, 2015 by Kerstin Brätsch and Sarah Ortmeyer.