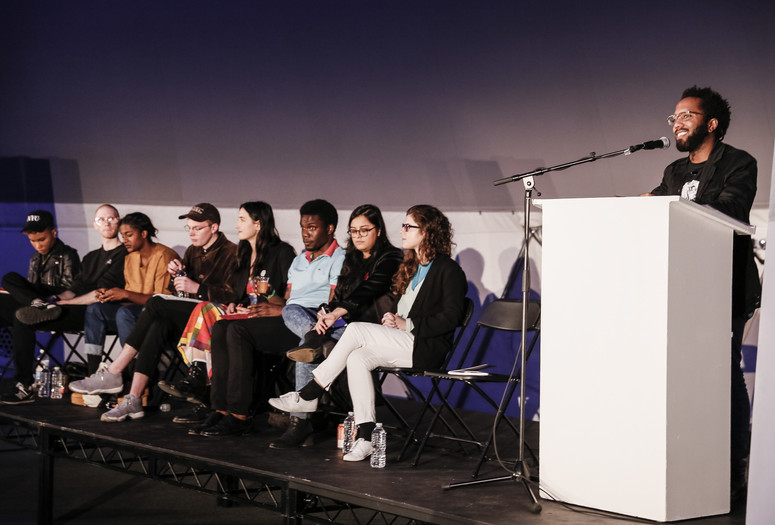 With Andrea Arrubla, Bearcat, Taja Cheek, Angelina Dreem, Jesse Hlebo, Conor Messinger, Joygill Moriah and Tygapaw.
Devin Kenny moderates a panel discussion centered upon the intersections of gentrification, education, cultural production and community building for subcultures, microcommunities, and the under-served. In a city that historically brings together people of all backgrounds but is also the site of rapid gentrification and displacement, how do artists, educators, and other cultural producers initiate and sustain alternative spaces and projects that retain their specific intent and agency?
Kenny is joined in the panel by artist and sonic curator Tygapaw, who organizes Fake Accent and Shottas; artist and organizer of Heat Ritual, Jesse Hlebo; founder of digital art collaboratory, POWRPLNT, Angelina Dreem; poet and co-organizer of Hero Systems and the Sbarro Chica nomadic poetry series, Conor Messinger; curator and event organizer of Happenings Contemporary Joygill Moriah; artist and Facilities Manager & Student Liaison for BHQFU, Andrea Arrubla; cultural producer, of Throw Shade, Taja Cheek.
DJ set by Bearcat follows the discussion.
This event is presented in conjunction with Greater New York.
Sunday Sessions is a weekly presentation of performance, moving images, dance, music, and discursive programs. Its mission is to embrace live arts as an integral aspect of contemporary practice and ask how art forms, which unfold in the here and now, produce specific ways of thinking and useful means to engage with the broader world. Every Sunday different artists, curators, thinkers and a range of other cultural agents are invited to share their latest projects and ideas with the MoMA PS1 audience.
Sunday Sessions is organized by Jenny Schlenzka, Associate Curator, with Alex Sloane, Curatorial Assistant; Rosey Selig-Addiss, Associate Producer, Lucy Lie, Production Assistant, and Taja Cheek.

Sunday Sessions and the VW Dome at MoMA PS1 are made possible by a partnership with Volkswagen of America.

Major support for Greater New York is provided by MoMA's Wallis Annenberg Fund for Innovation in Contemporary Art through the Annenberg Foundation.

Generous funding is provided by The Contemporary Arts Council of The Museum of Modern Art, The Friends of Education of The Museum of Modern Art, and The Junior Associates of The Museum of Modern Art.

Additional support is provided by the MoMA PS1 Annual Exhibition Fund.

Special thanks to Elham and Tony Salamé.