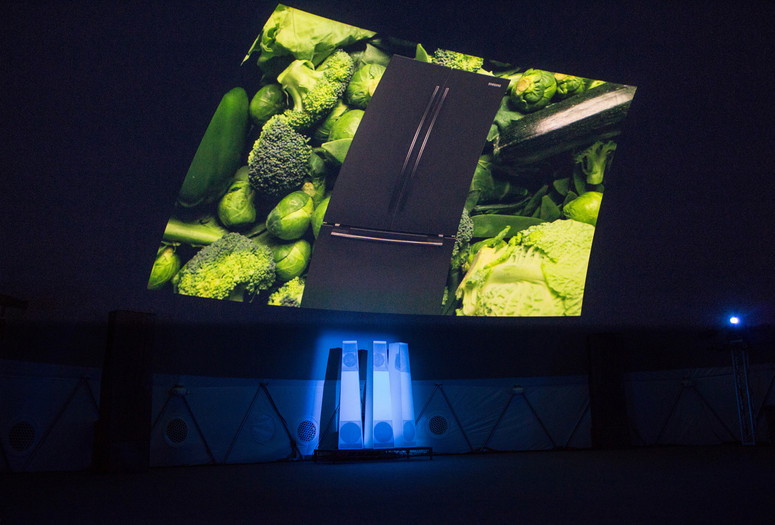 With James Hoff; Bill Kouligas; TCF; M.E.S.H.; Aleksandra Domanovic; Harm Van den Dorpel
Sunday Sessions presents the US premiere of Hecker Leckey Sound Voice Chimera as part of a day organised by Bill Kouligas, founder PAN, Berlin.
Collaborators since 2010, acclaimed sound experimentalist Florian Hecker and multidisciplinary artist Mark Leckey are both interested in the exploration of sound and its material effects. Hecker Leckey Sound Voice Chimera brings together two discrete solo works to form a mutant configuration in which Hecker decomposes, modulates, and re-synthesizes the vocal track from Leckey's 2010 performance piece GreenScreenRefrigeratorAction (for which Leckey intoned the inner monologue of a black Samsung fridge) and Hecker's own 3 Channel Chronics installation from that same year. The resulting work is a multivalent, tri-part hybrid in which heavily distorted fragments of Leckey's narrative intersperse Hecker's synthetic textures and fidgety tonal patterns.
James Hoff often engages with culture and technology through parasitic and disruptive interventions. For this event he joins Norwegian artist TCF to present a new work — a sonification and visualization of the hidden traffic of cell phone signals, radio waves, wifi signals, and electromagnetic fields.
M.E.S.H. (James Whipple) and Aleksandra Domanović present an expanded visual and audio performance of their recent collaborative installation.
Bill Kouligas performs a live refactoring of music from PAN, specifically focusing on the artists involved with the event and drawing connections between radically disparate releases. Examining the role of the label as an artist-run initiative, Kouligas filters the works of label artists through his own creative practice.
In conjunction with this event Harm van der Dorpel streams content from, Deli Near PAN Franchise (Autosurfing) β, which maps decaying actor-network theory visuals across the VW Dome.
SCHEDULE
James Hoff
TCF
Bill Kouligas
M.E.S.H. and Aleksandra Domanović, FKK in Jugoslawien, 2015
Conversation with Jenny Schlenzka, Bill Kouligas, Mark Leckey and Florian Hecker
Mark Leckey, GreenScreenRefrigerator, 2010
Florian Hecker, 3 Channel Chronics, 2010
Florian Hecker and Mark Leckey, Hecker Leckey Sound Voice Chimera, 2015
Sunday Sessions is a weekly presentation of performance, moving images, dance, music, and discursive programs. Its mission is to embrace live arts as an integral aspect of contemporary practice and ask how art forms, which unfold in the here and now, produce specific ways of thinking and useful means to engage with the broader world. Every Sunday different artists, curators, thinkers and a range of other cultural agents are invited to share their latest projects and ideas with the MoMA PS1 audience.
Sunday Sessions is organized by Jenny Schlenzka, Associate Curator, with Alex Sloane, Curatorial Assistant; Rosey Selig-Addiss, Associate Producer and Lucy Lie, Production Assistant.

With special thanks to PAN.

Sunday Sessions and the VW Dome at MoMA PS1 are made possible by a partnership with Volkswagen of America.