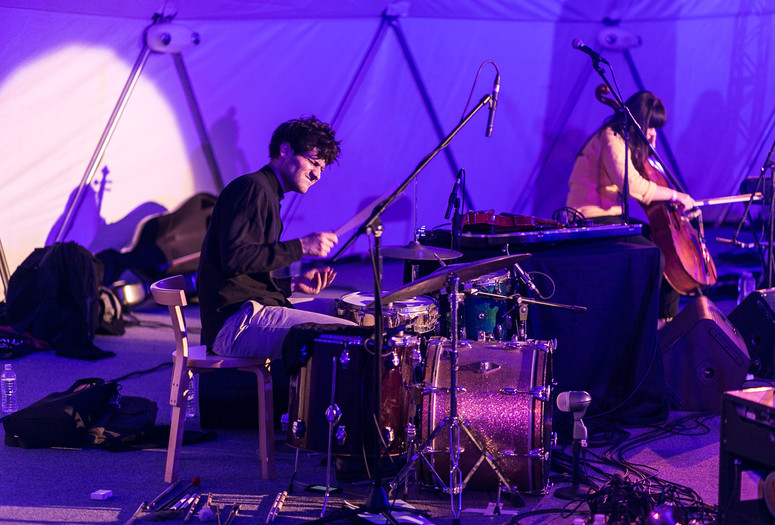 With Keith Fullerton Whitman (electronics), David Grubbs (guitar), Eli Keszler (drums, percussion, and electronics), Okkyung Lee (cello), Nate Wooley (trumpet) and C. Spencer Yeh (violin and voice).
1+2+3 is an afternoon-long event featuring six New York City-based improvising musicians in a choreography of solo, duo, and trio performances.
Real time is cheap, and improvisers are by nature expansive. Five decades after the changes wrought by the emergence of free jazz and improvised musics, improvisation is crucial to the working methodology of all stripes of musicians prone to experiment. It's part of the day-to-day operation of saying yes to playing with folks you respect and admire and definitely wouldn't mind spending time with, and as a practice it has never seemed less ideological.
Mark Beasley, Guest Curator MoMA PS1, will provide the musicians with an itinerary of performing combinations at the start of the event.
This event is presented in conjunction with Greater New York.
Sunday Sessions is a weekly presentation of performance, moving images, dance, music, and discursive programs. Its mission is to embrace live arts as an integral aspect of contemporary practice and ask how art forms, which unfold in the here and now, produce specific ways of thinking and useful means to engage with the broader world. Every Sunday different artists, curators, thinkers and a range of other cultural agents are invited to share their latest projects and ideas with the MoMA PS1 audience.
Sunday Sessions is organized by Jenny Schlenzka, Associate Curator, with Mark Beasley, Guest Curator; Alex Sloane, Curatorial Assistant; Rosey Selig-Addiss, Associate Producer and Lucy Lie, Production Assistant.

Sunday Sessions and the VW Dome at MoMA PS1 are made possible by a partnership with Volkswagen of America.

Major support for Greater New York is provided by MoMA's Wallis Annenberg Fund for Innovation in Contemporary Art through the Annenberg Foundation.

Generous funding is provided by The Contemporary Arts Council of The Museum of Modern Art, The Friends of Education of The Museum of Modern Art, and The Junior Associates of The Museum of Modern Art.

Additional support is provided by the MoMA PS1 Annual Exhibition Fund.

Special thanks to Elham and Tony Salamé.