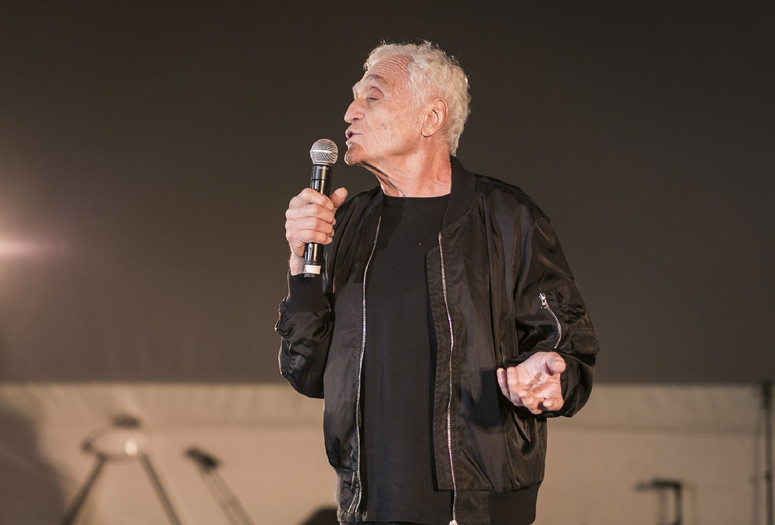 Poet, visual artist and originator of Performance Poetry John Giorno is joined by peers and a contemporary generation of New York based poets. Giorno's seminal Dial-A-Poem Poets (1968) in which an audience dialed individual answering machines to hear poems by poets such as William S. Burroughs, Allen Ginsberg and John Cage while his record label and American artist collective Giorno Poetry Systems broadened the 'venues' for poetry to records, television and radio. Giorno's poetic use of the technology of the day mirrors a contemporary generation's use of language deploying twitter like phraseology with the fluid and malleable text of the internet as poems and text migrates from text box to text box and page to page: text and the staging of language is no longer a form fixed by the printed page. Organized by John Giorno and Mark Beasley.
SCHEDULE
12.30 p.m.: Andrew Durbin
1:00 p.m.: Sophia Le Fraga with Rin Johnson, Jameson Fitzpatrick, and Die Dragonetti.
1.30 p.m.: Todd Colby
2:00 p.m.: Fanny Howe
2.30 p.m.: John Giorno
3:00 p.m.: Paolo Javier with Listening Center
3.30 p.m.: Tan Lin with Íñigo López Vázquez
4:00 p.m.: Harry Burke with Holly White, Julien Ceccaldi, Samia Mirza and SADAF.
4.30 p.m.: Morgan Parker
5:00 p.m.: Ben Fama
5.30 p.m.: Bunny Rogers
This event is presented in conjunction with Greater New York.
Sunday Sessions is a weekly presentation of performance, moving images, dance, music, and discursive programs. Its mission is to embrace live arts as an integral aspect of contemporary practice and ask how art forms, which unfold in the here and now, produce specific ways of thinking and useful means to engage with the broader world. Every Sunday different artists, curators, thinkers and a range of other cultural agents are invited to share their latest projects and ideas with the MoMA PS1 audience.
Sunday Sessions is organized by Jenny Schlenzka, Associate Curator, with Mark Beasley, Guest Curator; Alex Sloane, Curatorial Assistant; Rosey Selig-Addiss, Associate Producer and Lucy Lie, Production Assistant.

Sunday Sessions and the VW Dome at MoMA PS1 are made possible by a partnership with Volkswagen of America.

Major support for Greater New York is provided by MoMA's Wallis Annenberg Fund for Innovation in Contemporary Art through the Annenberg Foundation.

Generous funding is provided by The Contemporary Arts Council of The Museum of Modern Art, The Friends of Education of The Museum of Modern Art, and The Junior Associates of The Museum of Modern Art.

Additional support is provided by the MoMA PS1 Annual Exhibition Fund.

Special thanks to Elham and Tony Salamé.