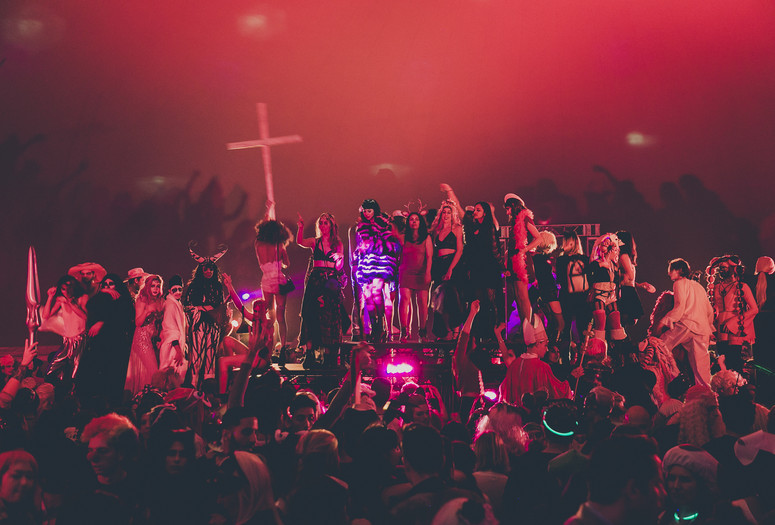 The clock strikes midnight, and your cab just turned into a pumpkin.
"Come one come all to the 4th annual MoMA PS1 Halloween Ball!"
We invite you to dress in every manner of fantastical finery or dastardly devilry and join us for a sumptuously wicked Halloween spectacular.
It will be a fairy tale night you will never forget.
Hosted By: ALLGOLD, Keegan Allen, Sarah Arison, Darren Aronofsky, Korakrit Arunanondchai, Klaus Biesenbach, Adrien Brody, Telfar Clemens, Douglas Crimp, Maria Cornejo, Simon Denny, Peter Eleey, Genesis Breyer P. Orridge, Angela Goding, Chuck Grant, Dorian Grinspan, David Hallberg, Mia Locks, Lypsinka, Ryan McNamara, Mauricio Padilha, Roger Padilha, Kembra Pfahler // The Voluptuous Horror of Karen Black, Sylvia Plachy, Desi Santiago, Jenny Schlenzka, Casey Spooner, Michael Stipe, Carl Swanson, Sam Valenti IV, David Velasco, Francesco Vezzoli, Kristen Joy Watts and Zaldy
DJ Sets by: Valissa Yoe and W Jeremy
Live Performance: SANDFLOWER
Performers: Marzia Aloisi, Aquaria, Archie and his Prince, Dolly Dharma, Renato Dicent, Misc Allaneous Domtop, Jarrett Edwards, Exquisite, Jeanise Piggy Huggums, Kiss, Jessica Love, Danielle Mahoney, Dylan Monroe, Lily Munroe, William Noguchi, Brandon Olson, Duo Raw, Rify Royalty, Beverly Sage, Sussi, Sateen, Jordan Stawecki, Zac Weiss and Casey Yalater
With Dancing, Costumes, Pageantry and much much more.
Sunday Sessions is a weekly presentation of performance, moving images, dance, music, and discursive programs. Its mission is to embrace live arts as an integral aspect of contemporary practice and ask how art forms, which unfold in the here and now, produce specific ways of thinking and useful means to engage with the broader world. Every Sunday different artists, curators, thinkers and a range of other cultural agents are invited to share their latest projects and ideas with the MoMA PS1 audience.
Sunday Sessions is organized by Jenny Schlenzka, Associate Curator, with Alex Sloane, Curatorial Assistant; Rosey Selig-Addiss, Associate Producer and Lucy Lie, Production Assistant.

Sunday Sessions and the VW Dome at MoMA PS1 are made possible by a partnership with Volkswagen of America.