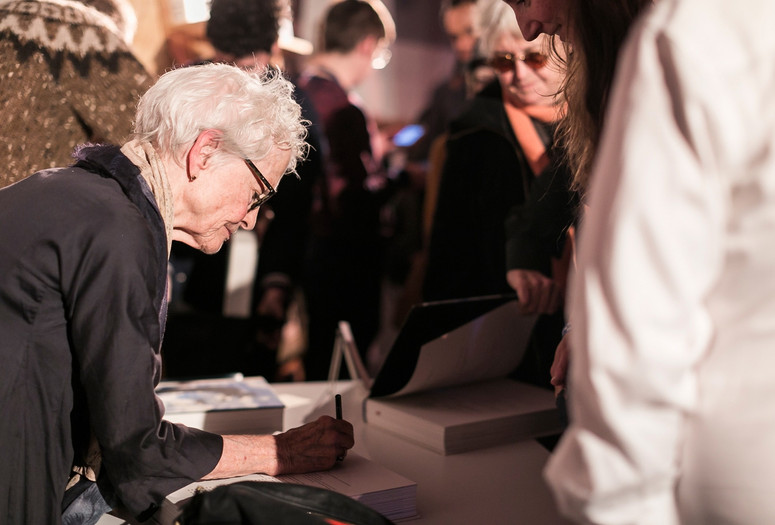 With Johanna Burton; Douglas Crimp; Delusional Downtown Divas; David Michael DiGregorio; Sung Hwan Kim; Alicia Hall Moran; and Joan Simon.
As one of the most influential American artists of the past half century, Joan Jonas has had a profound impact on successive generations. Not only through her ground breaking performances, films, videos, installations and video sculptures, but also as a collaborator, friend, and longtime art professor, Jonas has been continuously engaged in a generative dialogue with younger artists.
On the occasion of the publication of her most comprehensive monograph to date, In the Shadow a Shadow: The Work of Joan Jonas, Sunday Sessions invites artists, Alicia Hall Moran and Sung Hwan Kim and David Michael DiGregorio to make individual tributes to Jonas' work and her influence on theirs.
Editor Joan Simon presents a screening of The Jonas Mother! an episode of the web series Delusional Downtown Divas and moderates a conversation with contributing writers Johanna Burton and Douglas Crimp about Jonas' work and its legacy.
The conversation is followed by a book signing of the new monograph In the Shadow a Shadow: The Work of Joan Jonas, published by Gregory R. Miller & Co.
Sunday Sessions is a weekly presentation of performance, moving images, dance, music, and discursive programs. Its mission is to embrace live arts as an integral aspect of contemporary practice and ask how art forms, which unfold in the here and now, produce specific ways of thinking and useful means to engage with the broader world. Every Sunday different artists, curators, thinkers and a range of other cultural agents are invited to share their latest projects and ideas with the MoMA PS1 audience.
Sunday Sessions is organized by Jenny Schlenzka, Associate Curator, with Alex Sloane, Curatorial Assistant; and Rosey Selig-Addiss, Associate Producer.

Sunday Sessions and the VW Dome at MoMA PS1 are made possible by a partnership with Volkswagen of America.