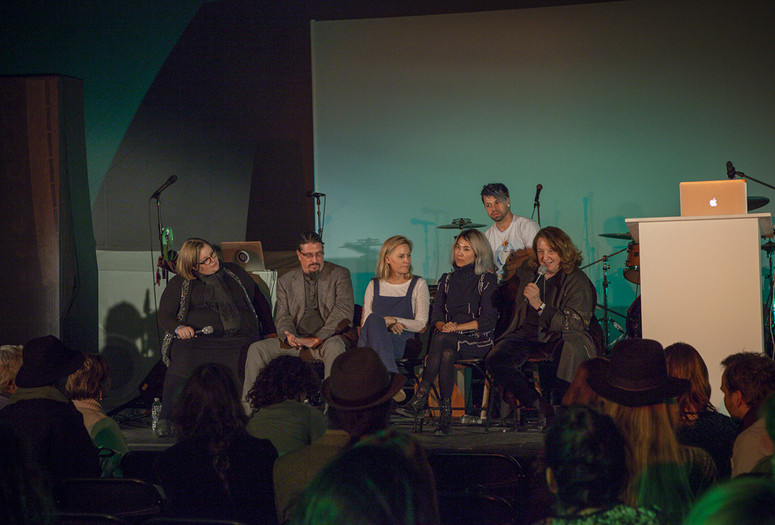 With Karen Archey; Dr. Oron Catts; Melissa Logan (Chicks on Speed); Luke Massella; Aimee Mullins; Keith Murphy; Anicka Yi; and NASA scientist Dr. Josiah P. Zayner
SCHEDULE
2:00 p.m. – Panel 1
"The Origins Of Life, From The Inside Out"
Lynn Hershman Leeson, Melissa Logan, Luke Massella, Keith Murphy and Dr. Josiah Zayner
3:15 p.m. – Break
3:30 p.m. – Performance: Melissa Logan (Chicks on Speed)
*4:00 p.m. – Panel 2
"Life From The Outside In, The New Second Nature"
Lynn Hershman Leeson, Karen Archey, Dr. Oron Catts, Aimee Mullins and Anicka Yi
The future is now. To most people recent scientific progress reads like a pulp sci-fi novel: a teenager in the UK has managed to clone himself, human bodies merge with implanted computer chips and the military developed a technology to print organic skin for victims of war.
For decades, artist Lynn Hershman Leeson has followed technological and scientific progress and its effects on our lives. For Sunday Sessions she presents an afternoon with artists, musicians and scientists who have firsthand knowledge of innovations in biomedical engineering to explore what their experiences reveal about our possible futures.
In an era of programmable DNA when human organs can be printed and banked, limbs regenerated and new life forms created daily, who will have the power to make decisions that affect us all? Will wealth alone determine who benefits from biological engineering? What will it mean to be human?
Enhancement or extinction? To Hershman Leeson there is still a choice.
Sunday Sessions is a weekly presentation of performance, moving images, dance, music, and discursive programs. Its mission is to embrace live arts as an integral aspect of contemporary practice and ask how art forms, which unfold in the here and now, produce specific ways of thinking and useful means to engage with the broader world. Every Sunday different artists, curators, thinkers and a range of other cultural agents are invited to share their latest projects and ideas with the MoMA PS1 audience.
Sunday Sessions is organized by Jenny Schlenzka, Associate Curator with Alex Sloane, Curatorial Assistant and Rosey Selig-Addiss, Associate Producer.

Sunday Sessions 2014-15 is dedicated to Mike Skinner, 1974-2014

Sunday Sessions and the VW Dome at MoMA PS1 are made possible by a partnership with Volkswagen of America.

Major support is provided by MoMA's Wallis Annenberg Fund for Innovation in Contemporary Art through the Annenberg Foundation.