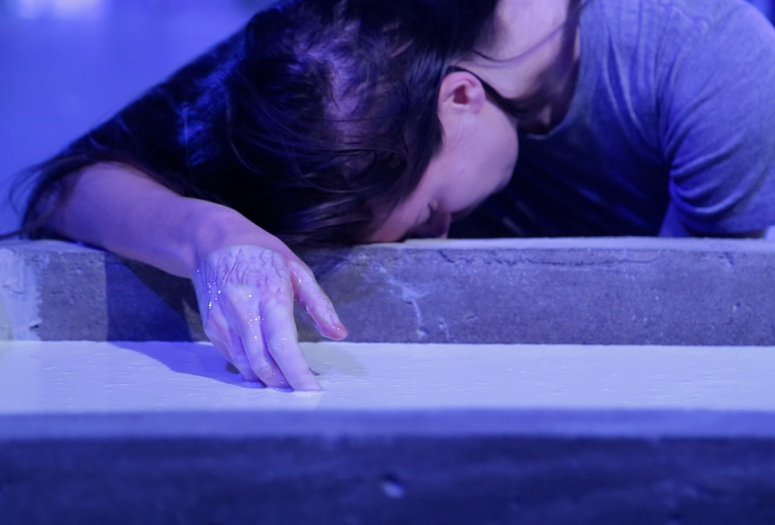 With: Franziska Aigner, Lauren Bakst, Billy Bultheel, Frances Chiaverini, Ian Edmonds, Niall Jones, Mickey Mahar, Olga Pedan, Justin Tate and Lea Welsch
In her inaugural U.S. solo project, Anne Imhof works with a group of performers, composers, lawyers, and a family of rabbits. Incorporating sequences from the artist's earlier works, School of the Seven Bells (SOTSB) (2013) and Rage (2014), DEAL unfolds over the course of two days and in two different locations simultaneously. Through the continuous reintroduction of structural motifs the work focuses on coded transactions between participants. The result is an image that gradually emerges in time.
In the artist's own words:
"Palms, clenched fists, rabbits, liquid and light blue light.
A character, twilight-generated, omnipresently palpable and shared by all. Pressed to talk he utters demands, assertions, promises.
A Seducer, who knows how to bend down: 'how do you feel?'
Sluggish movements, repetitive, discontinuous. Mouths, liquids, mouths. INF for infection instead of infinity.
Temporality appears in more than one dimension; different spaces emerge.
Whereas RAGE makes relations between players visible along a diagonal line in space, DEAL negotiates the constitution of equals. Horizontal.
The fists of open palms. Autonomously proceeding, (without any parents) the head last. FEED HEAD; EASE HEAD.
Bodies under tension, repeating themselves, ultimately giving in to their very own brokenness and nonetheless revolting through their own beauty.
Disorder, fall, sinking, zigzag. Rabbits that could be dogs- if they were dogs they would have been too obtrusive, unpredictable or aesthetically exaggerated.
Down down down.
The claim that everybody was equal in a deal; interest vs interest coincides with the subjective capability to resist seduction."
DEAL is MoMA PS1's third commission of a new work by an upcoming international artist.
Sunday Sessions is a weekly presentation of performance, moving images, dance, music, and discursive programs. Its mission is to embrace live arts as an integral aspect of contemporary practice and ask how art forms, which unfold in the here and now, produce specific ways of thinking and useful means to engage with the broader world. Every Sunday different artists, curators, thinkers and a range of other cultural agents are invited to share their latest projects and ideas with the MoMA PS1 audience.
Sunday Sessions is organized by Jenny Schlenzka, Associate Curator with Alex Sloane, Curatorial Assistant and Rosey Selig-Addiss, Associate Producer.

Sunday Sessions 2014-15 is dedicated to Mike Skinner, 1974-2014

Sunday Sessions and the VW Dome at MoMA PS1 are made possible by a partnership with Volkswagen of America.

Major support is provided by MoMA's Wallis Annenberg Fund for Innovation in Contemporary Art through the Annenberg Foundation.