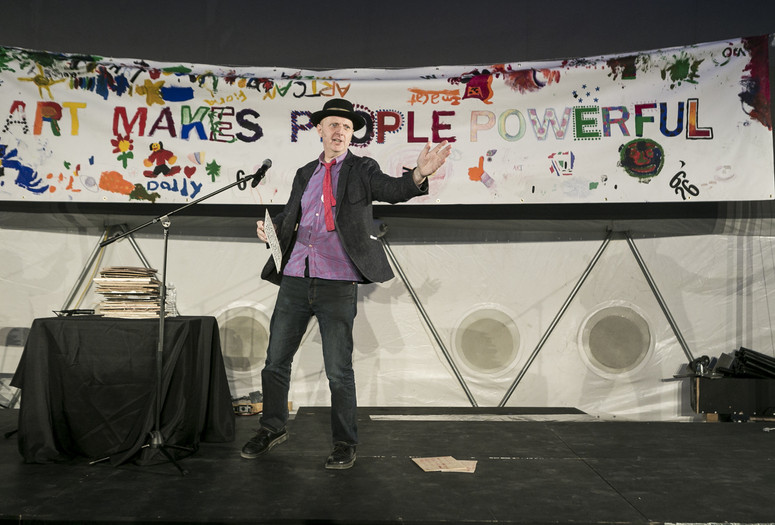 Join us on October 26 for our Fall Open House to celebrate our Fall exhibitions, Retrospective by Xavier Le Roy, Zero Tolerance, Francesco Vezzoli: Teatro Romano, Samara Golden: The Flat Side of the Knife, The Little Things Could Be Dearer, and Bob and Roberta Smith: Art Amnesty. The opening celebration features Art Party hosted by Bob and Roberta Smith.
Art Party hosted by Bob and Roberta Smith
12:00 p.m. – 1:30 p.m. Screening of Bob and Roberta Smith's: Art Party Feature Film
2:00 p.m. – 5:00 p.m. All-ages group art making in support of arts education
5:00 p.m. – 6:00 p.m. Bob and Roberta Smith Lecture and performances
VW Dome
Bob and Roberta Smith have organized an Art Party at MoMA PS1 as a part of Sunday Sessions, at which children will be encouraged to make art with their families using art materials available at the event. Beginning at the Art Party and throughout the run of the Art Amnesty, a third pledge form will be available for signing, which states "I WILL ENCOURAGE CHILDREN TO BE ALL THAT THEY CAN BE. CHOOSE ART AT SCHOOL". These pledges will be collected, along with "first drawings" children make and wish to contribute, and mailed to local politicians to encourage arts funding and arts education.
Thoughts on the 21st Century Museum with Laurent Goldring and Xavier Le Roy
3:00 p.m., MoMA PS1 Cinema
This event features a screening of Laurent Goldring's in progress film, LA RENCONTRE, 2014, 59:32 min, shot during the 4-week long presentation of Retrospective at La Centre Pompidou in the spring of 2014.
In conjunction with Retrospective by Xavier Le Roy, the artist joins filmmaker Laurent Goldring for a conversation focused on the state of the contemporary museum.
LA RENCONTRE attempts to show what it means for an art institution to accept and house a performance based exhibition like Retrospective and asks what type of museum is required for artists working today.
Sunday Sessions is a weekly presentation of performance, moving images, dance, music, and discursive programs. Its mission is to embrace live arts as an integral aspect of contemporary practice and ask how art forms, which unfold in the here and now, produce specific ways of thinking and useful means to engage with the broader world. Every Sunday different artists, curators, thinkers and a range of other cultural agents are invited to share their latest projects and ideas with the MoMA PS1 audience.
Sunday Sessions is organized by Jenny Schlenzka, Associate Curator with Alex Sloane, Curatorial Assistant and Rosey Selig-Addiss, Associate Producer.

Sunday Sessions 2014-15 is dedicated to Mike Skinner, 1974-2014

Sunday Sessions and the VW Dome at MoMA PS1 are made possible by a partnership with Volkswagen of America.

Major support is provided by MoMA's Wallis Annenberg Fund for Innovation in Contemporary Art through the Annenberg Foundation.