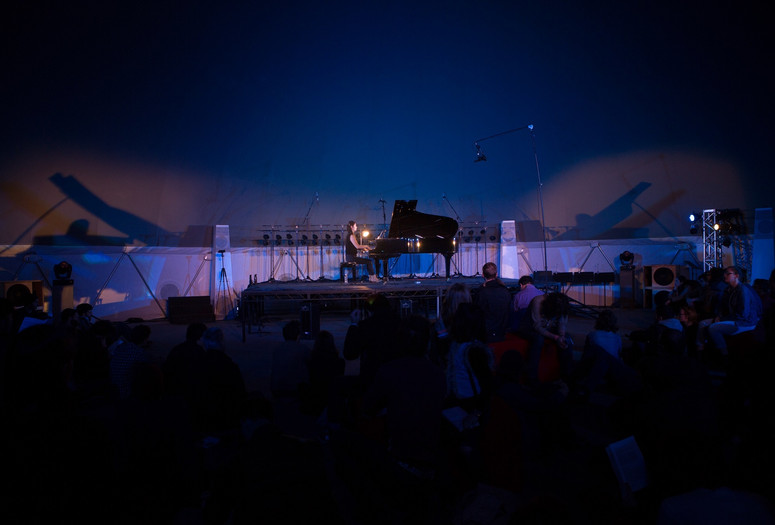 VW DOME
1:00 p.m. Alvin Lucier's I am sitting in a room, performed by Olga Bell
2:00 p.m. Vicky Chow performs Tristan Perich's Surface Image
3:00 p.m. panel discussion with composer Paul Lansky and Sound / Source artists
4:00 p.m. Selections from Paul Lansky's Idle Chatter series, performed by members of Roomful of Teeth / Holly Herndon's Idle Chatter response
5:00 p.m. Tyondai Braxton
PRINT SHOP
All Day Moog Interactive Installation
6:00 p.m. Shadowbox
7:00 p.m. Huerco S.
8:30 p.m. Awesome Tapes from Africa
DURATIONAL INSTALLATIONS
BOILER ROOM
Nate Boyce and Daniel Lopatin (Oneohtrix Point Never)
TERRACE
Lesley Flanigan, Maria Chavez, and MV Carbon
Performances at 12:00 p.m. and 4:45 p.m.
ELEVATOR
Lucky Dragons
ROOF
Daniel Wohl with Olga Bell and Caroline Shaw
Video by Lily Morris and Lily Fang
Performances at 2:30 p.m. and 5:30 p.m.
Sound / Source is a day-long exploration of electroacoustic music in all its forms, featuring collaborations between legends, luminaries, and newcomers as they examine the interplay between human and machine sounds. Using the elasticity of the human voice and the endless expanse of its interpretation through electronic processing as a guiding principle, Sound / Source takes at its center a rare live performance of pieces from Paul Lansky's series of Idle Chatter compositions on the 30th anniversary of the series' birth, including a new live vocal arrangement performed by members of Roomful of Teeth as well as an 8-channel surround sound arrangement performed by Lansky himself. The significant, continued resonance of these compositions will be explored in a panel with the composer and in a new interpretation by artist/composer Holly Herndon.
A special performance of Alvin Lucier's classic piece I am sitting in a room, which was recently acquired by MoMA's collection, will launch the day's festivities by exploring the resonant frequencies of MoMA PS1's geodesic dome. Additional performances, including sets by Tyondai Braxton and pianist Vicky Chow, will showcase new and vital pathways being forged in the electronic field. Chow will perform composer and visual artist Tristan Perich's Surface Image on the occasion of the piece's release on New Amsterdam Records.
Complementing the performances in the dome will be a collection of new, site-specific sound installations filling the MoMA PS1 building from top to bottom, created by some of today's most talented and challenging electronic artists. Nate Boyce and Daniel Lopatin (Oneohtrix Point Never) will collaborate on an installation in MoMA PS1's basement Boiler Room. Daniel Wohl will present a live, performative installation with Olga Bell and Caroline Shaw in MoMA PS1's Richard Serra room on the museum roof. A special score of elevator music created by electronic duo Lucky Dragons will ferry viewers between the museum's basement and rooftop spaces. Sound sculptors Lesley Flanigan, Maria Chavez, and MV Carbon will join forces to perform on the MoMA PS1 Terrace. In addition to these artist installations, MOOG will create an interactive installation of handcrafted electronic instruments.
An after party in the Print Shop will include sets by Shadowbox, Huerco S., and Awesome Tapes from Africa.
Sunday Sessions is a weekly presentation of performance, moving images, dance, music, and discursive programs. Its mission is to embrace live arts as an integral aspect of contemporary practice and ask how art forms, which unfold in the here and now, produce specific ways of thinking and useful means to engage with the broader world. Every Sunday different artists, curators, thinkers and a range of other cultural agents are invited to share their latest projects and ideas with the MoMA PS1 audience.
Sound / Source is organized by Jocelyn Miller, Curatorial Assistant / Editorial Manager, MoMA PS1, Michael Hammond, Label Manager, New Amsterdam Records and Daniel Wohl, Composer.

Sound / Source is produced in collaboration with L3M.

Special thanks to MOOG Music and Union Beer Distributors/Great Brewers

Alvin Lucier's I am sitting in a room (1969. Performance, Audio recording, and Archival Material) was recently acquired through the Department of Media and Performance Art for the collection of the Museum of Modern Art.

Sunday Sessions is organized by Jenny Schlenzka, Associate Curator with Alex Sloane, Curatorial Assistant and Rosey Selig-Addiss, Associate Producer.

Sunday Sessions 2014-15 is dedicated to Mike Skinner, 1974-2014

Sunday Sessions and the VW Dome at MoMA PS1 are made possible by a partnership with Volkswagen of America.

Major support is provided by MoMA's Wallis Annenberg Fund for Innovation in Contemporary Art through the Annenberg Foundation.