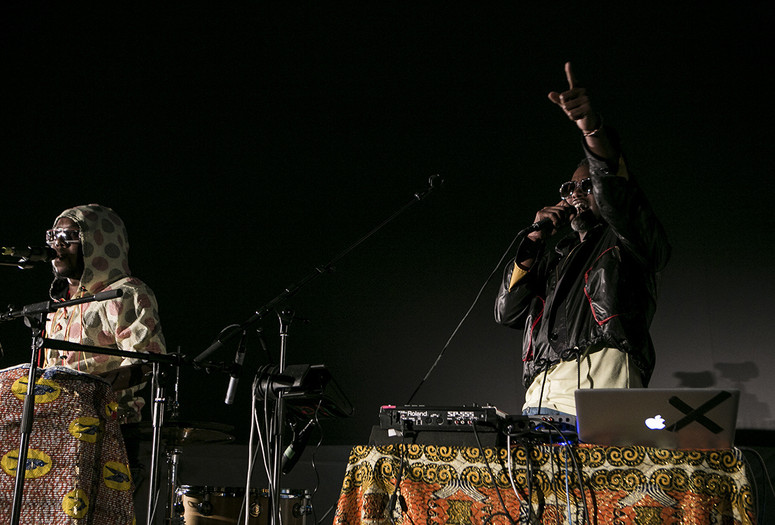 Afrofuturism, a term first used by Mark Dery in his essay Black to the Future, addresses African American themes within the context of science fiction, techno-culture and sci-fi aesthetics. The history of African Americans is reflected sharply within the core concepts of speculative fiction, which frequently explore notions of the Other and of abducted peoples facing intolerance and violence by oppressors in an alien land. From Sun Ra's Omniverse Arkestra to Funkadelic, Octavia Butler to Kwodo Eshun and Jean-Michael Basquiat to Wangechi Mutu, African American artists and musicians continue to look to futuristic technology and iconography in their work, imagining an Afrofuture from within the fractured world.
MOONDANCE is a celebration of Afrofuturism within contemporary culture. The journey is in three parts featuring lecture, dance and live music, each of which highlights the depth to which our popular culture is indebted to the ideas of a black alter destiny. King Britt, a key figure within the sonic movement of Afrofuturism, presents a program featuring artists and thinkers who represent the continued influence of an Afrofuturistic aesthetic and mythology within our cultural and academic institutions.
Speakers, Ytasha Womack, Dr Alondra Nelson and Hank Shocklee, discuss the true definition of the word, afrofuturism, and its major influences on pop culture.
Interdisciplinary choreographer D. Sabela Grimes gives a truly unique performance on the influences of afrofuturism in dance.
Live music performances by Shabazz Palaces, Fhloston Paradigm featuring Pia Ercole, Ursula Rucker, HPrizm and Ras G, complete the journey. Visuals provided by Mike Todd.
SCHEDULE
12:00 p.m. – Ambient Recording
12.15 p.m. – HPrizm live
12.45 p.m. – D. Sabela Grimes Dance Piece
1:15 p.m. – Hank Shocklee DJ Set
1.45 p.m. – Panel discussion with Ytasha Womack, Dr Alondra Nelson, Hank Shocklee and Ursula Rucker
2:30 p.m. – Fhloston Paradigm featuring Pia Ercole live
3:30 p.m. – Ursula Rucker live
4:15 p.m. – Ras G live
4:45 p.m. – Shabazz Palaces live
Sunday Sessions is a weekly presentation of performance, moving images, dance, music, and discursive programs. Its mission is to embrace live arts as an integral aspect of contemporary practice and ask how art forms, which unfold in the here and now, produce specific ways of thinking and useful means to engage with the broader world. Every Sunday different artists, curators, thinkers and a range of other cultural agents are invited to share their latest projects and ideas with the MoMA PS1 audience.
MOONDANCE is organized by guest curator King Britt with special assistance from Eliza Ryan, former Assistant Curator, MoMA PS1.

MOONDANCE is made possible through sponsorship with Red Bull Studios New York.

Sunday Sessions is organized by Jenny Schlenzka, Associate Curator with Mike Skinner, Producer, Alex Sloane, Live Programming Coordinator and Rosey Selig-Addiss, Production Assistant.

Sunday Sessions and the VW Dome at MoMA PS1 are made possible by a partnership with Volkswagen of America.