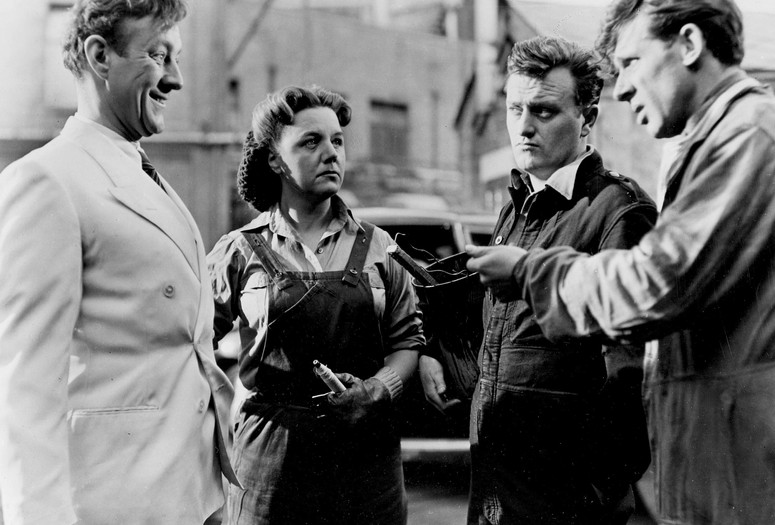 The Man in the White Suit. 1951. Great Britain. Directed by Alexander Mackendrick. Screenplay by Roger MacDougall, John Dighton, Mackendrick, based on the play by MacDougall. With Alec Guinness, Joan Greenwood, Cecil Parker. 35 mm. 85 min.
Postwar Britain's Ealing Studios produced one of the great sci-fi satires. Alec Guinness is the idealistic but clueless inventor who creates a fabric that never stains and never wears out. Wealthy mill owners and trade unionists realize the threat of an indestructible textile to their future prosperity and join forces to crush the dreams of the little man. Alexander Mackendrick would later observe, "Each character in the story was intended as a caricature of a separate political attitude, covering the entire range from Communist, through official Trades Unionism, Romantic Individualism, Liberalism, Enlightened and Unenlightened Capitalism to Strong-arm Reaction. Even the central character was intended as a comic picture of Disinterested Science." Archival print; courtesy of Rialto Pictures.
Ropáci (Oil Gobblers). 1988. Czechoslovakia. Written and directed by Jan Sverák. With Lubomir Benes, Ivo Kaspar, Emil Nedbal. 35 mm. In Czech; English subtitles. 20 min.
In Czech filmmaker Jan Sverák's subversively funny "documentary," a team of scientists and filmmakers searches for an elusive creature whose rapacious appetite for fossil fuels promises to solve the world's pollution crisis. 35mm print from the Czech FIlm Archive; courtesy of Kratky Film Praha.